The New 'Bombshell' Trailer Depicts the Fox News Scandal From Multiple Perspectives
The full trailer for the upcoming film Bombshell is here. And this movie looks incredible. It tells the story of the 2016 Fox News scandal from the perspectives of three women, played by Charlize Theron, Nicole Kidman, and Margot Robbie. Here's a look.
'Bombshell' is based on a true story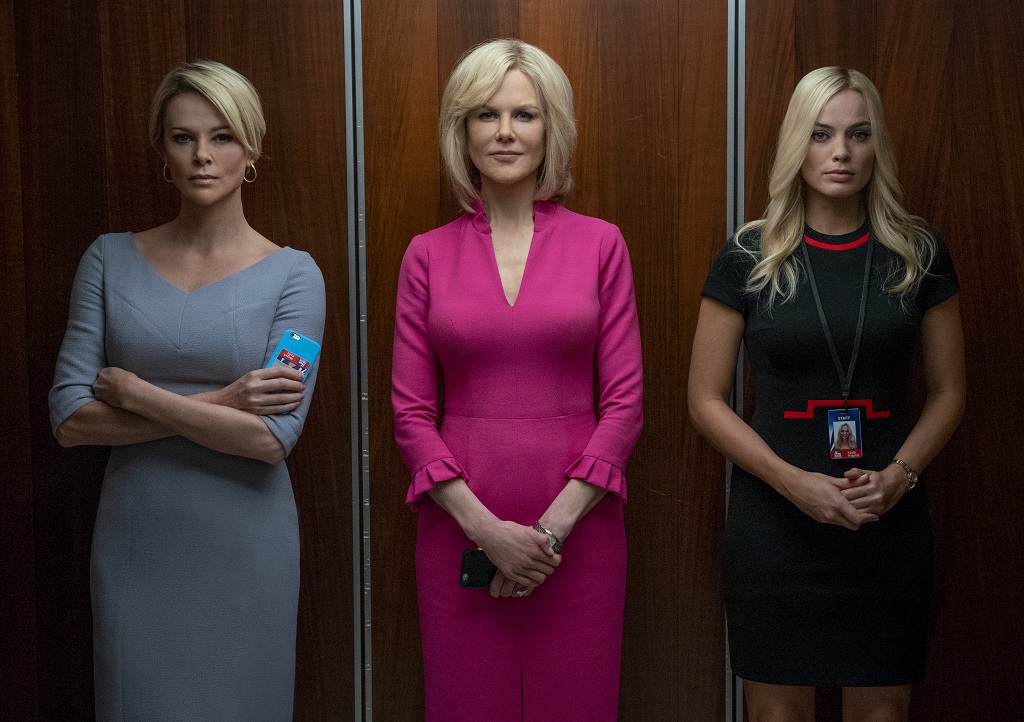 In 2016, Fox News CEO Roger Ailes was accused of sexual harassment. Following this, more allegations began to surface. Over the course of just a couple of weeks, Ailes went from a highly regarded figure to a disgraces former employee, resigning on July 21, 2016.
Numerous women, including anchors Gretchen Carlson and Megyn Kelly, came forward over this time. Because the timing of the scandal lined up with the 2016 Presidential Election, and because it preceded the Harvey Weinstein scandal and the rise of the Me Too Movement, the Fox News scandal is a notable segment of recent history.
Charlize Theron is Megyn Kelly
You may not have recognized her in that first image. That's how much of a transformation Theron underwent to portray Megyn Kelly. Theron's production company, Denver + Delilah Productions, is behind the film.
Kelly's part in all of this began when she criticized then-presidential candidate Donald Trump, who fired back at her with a disturbing comment. All of this came in the months prior to the allegations against Ailes, which Kelly was confirmed to have been a part of. Her 2016 memoir, Settle for More, revealed this to be true.
Nicole Kidman is Gretchen Carlson
Kidman didn't undergo quite the transformation that Theron did. However, she still bears quite a resemblance to Gretchen Carlson, the Fox News anchor who is responsible for filing the lawsuit against Ailes that kicked off the scandal.
After Carlson was let go from Fox News in June 2016, she filed the suit against Ailes and the network, claiming that she was let go because she refused his sexual advances. Fox settled with Carlson in Sept. 2016 for $20 million. She too wrote a book about her experiences, titled Be Fierce: Stop Harassment and Take Your Power Back.
Margot Robbie is Kayla Pospisil
Not every character in the film is based on a real-life person. Robbie portrays Kayla Pospisil, who appears to be a new employee at Fox News as seen in the trailer, attempting to learn the ropes amidst the rise of the scandal.
Numerous women spoke out about Ailes' harassment, both prior to Carlson's lawsuit and following it. Some spoke to Gabriel Sherman, who wrote The Loudest Voice in the Room: How the Brilliant, Bombastic Roger Ailes Built Fox News – and Divided a Country published in 2014, and others came out after. We can assume that Robbie's character is an amalgamation of them.
Who else stars in the film?
Bombshell is undoubtedly a star-studded production, given the three women at the forefront of it all. But there are plenty more notable names, many of whom are portraying other real figures from the scandal.
John Lithgow is Ailes himself, Malcolm McDowell is Rupert Murdoch, and Richard Kind is Rudy Giuliani. Other Fox News personalities appear, including Alice Eve as Ainsley Earhardt, Spencer Garrett as Sean Hannity, and Ashley Greene as Abby Huntsman.