Who Are the New Characters in Disney Plus' 'High School Musical: The Musical: The Series'?
They're all in this together. Viewers join the students of East High as they put on their own production of the Disney Channel original movie, High School Musical. Who are the new character in this Disney Plus series? Here's what we know about the characters and actors behind High School Musical: The Musical: The Series.
Nini will be playing Gabriella in their production of 'High School Musical'
After performing as totally awesome background characters, (we've all dreamed about being a fork in Beauty and the Beast,) Nini is finally ready to step into the spotlight. Maybe. With her new boyfriend, EJ (portrayed by Matt Cornett,) at her side, Nini auditions for Gabriella in her high school's production of High School Musical. She gets the part and her ex-boyfriend Ricky gets the role of Troy. Talk about drama.
Actress Olivia Rodrigo portrays the role of Nini. Previously, the actress appeared in the Disney Channel series, Bizaardvark. She also briefly appeared in the television show, New Girl.
Nini's ex-boyfriend, Ricky, will be playing Troy in their 'High School Musical'
Another lead character in this series, Ricky is skateboarding, easy-going guy who completely blew it when Nini told him she loved him last summer. Now, Ricky is on a mission to win Nini back from her current boyfriend, EJ. He's willing to do whatever it takes to show Nini that he cares about her. That even means auditioning for their school's production of High School Musical. Sure, Ricky's never performed in a musical before, but the director sees a spark between him and Nini. He gets the part of Troy.
Joshua Bassett portrays the lead role of Ricky. Previously, he acted in multiple television series', including Grey's Anatomy, Stuck in the Middle, and Lethal Weapon. Additionally, fans can see clips of Bassett performing on his Instagram account.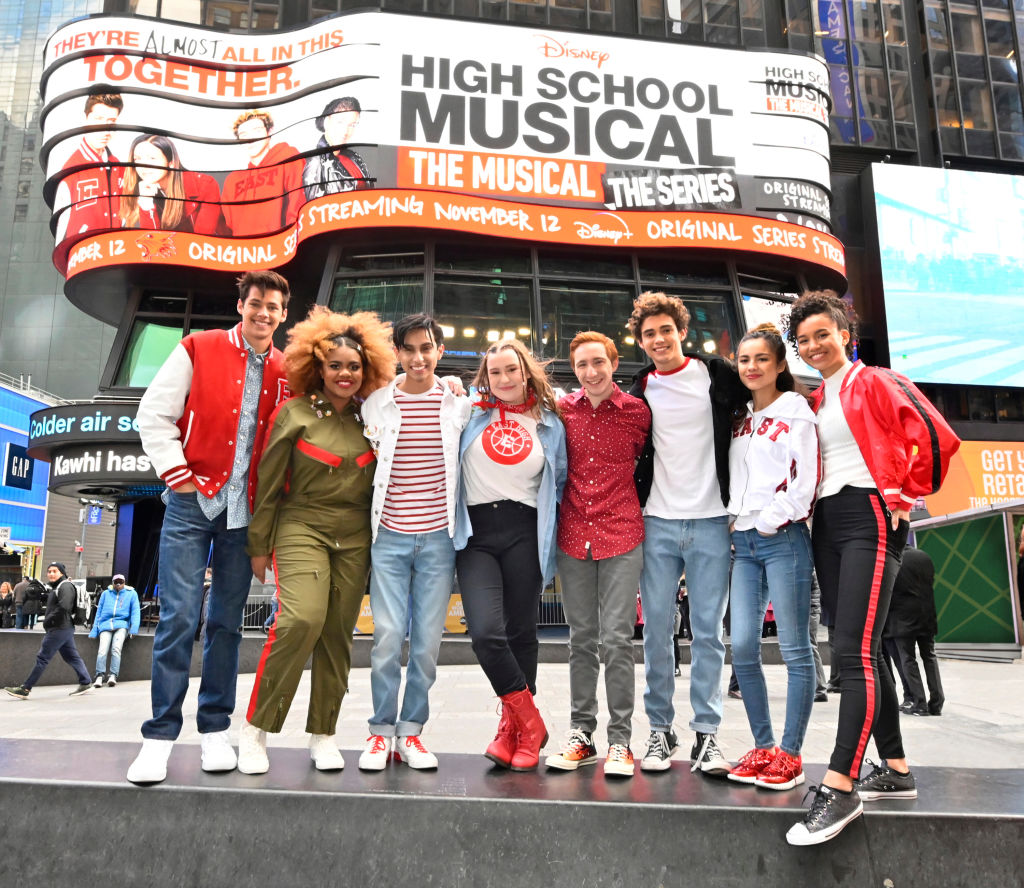 Other main characters in 'High School Musical: The Musical: The Series' include Gina, Carlos, and Ricky's best friend Big Red
Just like High School Musical, there are a handful of other important characters in this series. That includes Nini's overly confident boyfriend, EJ portrayed by Matt Cornett. Another talented cast member of High School Musical is Gina, portrayed by Sofia Wylie, who is scheming her way into getting the lead role in this high school production. Ricky's best friend is Big Red, portrayed by Larry Saperstein.
The musical theatre enthusiast behind this production is Miss Jenn, who is the director and a former cast member of the actual High School Musical movie. Other characters include Ashlyn, portrayed by Julia Lester, who performed the song "Wondering" during the second episode of the series. Additionally, the director's right-hand man through all of this is the choreographer, Carlos, who is portrayed by Frankie A. Rodriguez.
High School Musical: The Musical: The Series is exclusive to Disney's streaming platform. To learn more about Disney Plus and to subscribe, visit their website.