New Horror Movies to Stream on Netflix for Friday the 13th
What better way is there to celebrate a Friday the 13th than by streaming some horror films? Unfortunately, the actual Friday the 13th movies are not available for on Netflix at the moment (although the 2009 remake is on HBO).
Still, if you're in the mood for a horror film tonight, there are some great options on Netflix. Let's take a look at some horror movies you can stream tonight that have been added to the Netflix library relatively recently, i.e. they weren't available the last time there was a Friday the 13th (in April). We'll also throw in some general recommendations at the end.
The Boy
In this 2016 film, The Walking Dead's Lauren Cohan plays a woman who is hired by a nanny, but when she arrives at the couple's home, she finds that they actually don't have a son; they just have a porcelain doll that they treat exactly as if it's their actual human child. Things get stranger from there.
The movie received pretty negative reviews, but it actually isn't bad, and without giving anything away, the plot goes to some really interesting and unexpected places. It might not be the best horror film you've ever seen, but you'll certainly remember it.
Would You Rather
In this 2012 film, a woman can't afford to pay for her brother's leukemia treatment. She's invited to participate in a game at a rich man's dinner party, where a substantial financial reward is being offered. But it soon becomes clear that this game is of the Saw variety.
The movie is not for the faint of heart, and some of the challenges that take place are absolutely brutal. If you're a fan of movies like Saw, though, this is a solid riff on that subgenre.
Scream 4
After over 10 years, Wes Craven returned to the Scream franchise with this 2011 sequel, which comments on horror remakes the same way the original movie commented on the slasher films of its time.
The Scream series is one of the best horror franchises out there, and this entry was utterly fantastic, with some fans arguing it's the finest sequel in the series. Some elements of the film have certainly become a bit dated despite the movie coming out just seven years ago, though. Unfortunately, because Craven died in 2015, this will likely end up being the last Scream sequel within the same continuity.
For some reason, Scream 2 is on Netflix, but Scream and Scream 3 aren't. So if you haven't seen the other movies, you might not want to just jump right into this one.
All the Boys Love Mandy Lane
In this surprisingly intelligent slasher flick from Jonathan Levine, a group of teenagers invites Mandy Lane, a hot, highly-desired girl, to a weekend at their ranch, only for people to begin to die one by one.
That might sound like generic slasher fare, but the movie is much more of a smart riff on the genre than you might expect going in. Its infamous in part due to its labored production; it was shot in 2006 but was not released until 2013 due to various behind-the-scenes complications.
If you're looking for a slasher but don't want to shell out any money to rent a Friday the 13th, this and Scream 4 are solid options.
Mohawk
If you're looking for more of an action-horror movie, there's always Mohawk, a 2017 film by Ted Geoghegan. In it, a young warrior during the War of 1812 is pursued by American soldiers after a member of her tribe sets a camp ablaze.
The film earned surprisingly positive reviews from critics, holding an 82% on Rotten Tomatoes.
Desolation
In this 2017 horror-thriller, a mother goes into the woods with her son in order to scatter her husband's ashes, but on the way back, she is pursued by a mysterious hiker.
The film received positive reviews, with critics praising the fact that the characters are much better developed than you might expect, although some argued that it's maybe a bit too subtle to leave the impact that it should.
Some other recommendations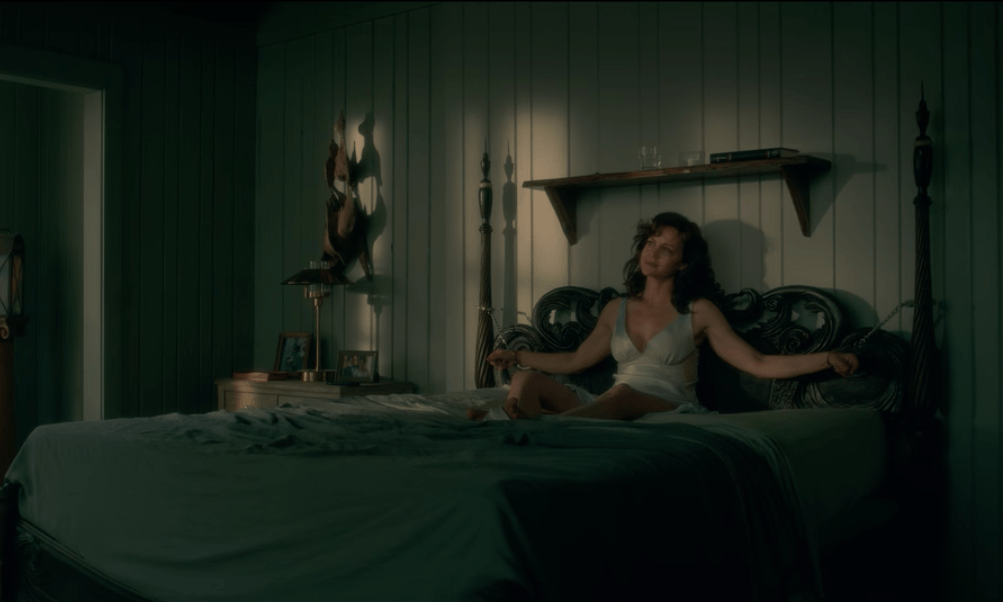 If you're not looking specifically for horror films that were recently added and just want a general sense of what's good on Netflix, here are some of the best entries in the genre that you can stream right now:
The Babadook -A slow-burn psychological-horror film about a stressed mother who is terrorized by a monster out of her son's pop-up book.
The Conjuring – An old-school, 1970s style haunted-house flick following a pair of paranormal investigators who visits a family encountering strange activity at their farmhouse.
Creep – A found footage film in which a videographer responds to a Craiglist ad, only to discover that something is off about the man seeking to employ him.
The Descent – A group of friends becomes trapped in an underground cave, and while looking for their way out, they discover that they are not alone.
Gerald's Game – A woman travels with her husband to a lake house, but when he has a heart attack and dies while they're fooling around, she's left handcuffed to the bed and must figure out a way to escape.
Hellraiser – After playing with a puzzle box, a man accidentally opens a portal to hell.
Hush – A deaf writer retreats into the woods so that she can work in peace, but she is soon stalked by a masked killer.
The Invitation – A man attends a dinner party hosted by his ex-wife, but it doesn't take long for him to suspect that something strange is going on.
It Follows – A young woman is pursued by a mysterious shapeshifting monster that is passed on via sex.
Oculus – A woman suspects that a haunted mirror is responsible for the tragic death of her parents 10 years earlier.
Raw – A young vegetarian goes away to veterinary school, only to develop strange urges after eating raw meat.
The Ritual – Four friends set off on a hiking expedition but soon encounter an ancient evil.