The New 'Jumanji: The Next Level' Trailer is Out and Full of Jokes, Surprises
Sony just released a new trailer for the third Jumanji movie, and it looks like it's going to be a fun ride. Kevin Hart, Jack Black, and Dwayne "The Rock" Johnson are back for this installment titled, Jumanji: The Next Level, and you can correctly assume they'll be supplying the laughs and goofiness seen in the sequel, Welcome to the Jungle.
When Jumanji was given a reboot in 2017, fans welcomed its fresh storyline and references to the first movie that had Robin Williams as part of the cast. The updated version played well with audiences with its hilarious take on teens trapped in adult avatar bodies as they scrambled to win the game and go home.
Who wouldn't welcome seeing these characters again? Sony is following up that success by releasing this third Jumanji film, but if you paid attention to the drums playing at the end of the last one, you knew this was coming. Check out what's happening with the trailer and who will be playing the adventurous game this time.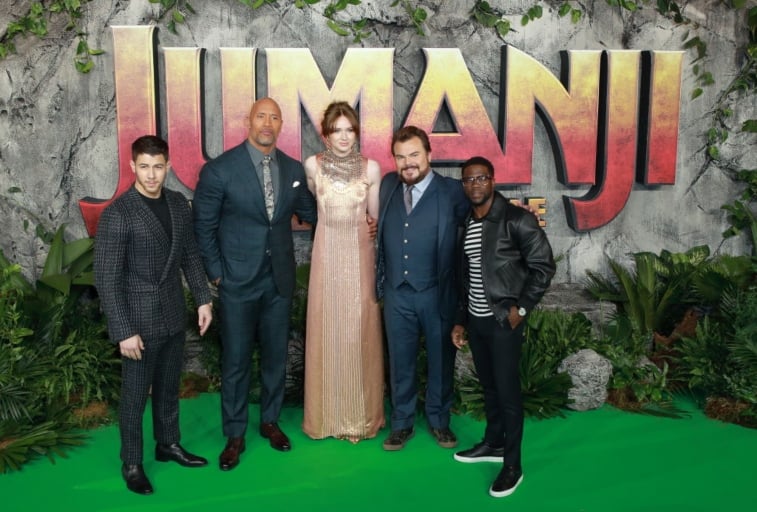 Who's joining the cast this time around
What's funnier than kids in a Freaky Friday situation with adult bodies? Senior citizens in a Freaky Friday situation! Danny DeVito and Danny Glover appear in the trailer as innocent bystanders who get sucked into the world of Jumanji and swapped into new bodies. One of them ends up being The Rock's character, Smolder Bravestone, and the other as Kevin Hart's Franklin Finbar. Although they are quite happy about being able to move their hips and flex their thighs, someone does not want to be IT in this game. Just check out how well The Rock plays DeVito. ScreenRant calls it a brilliant twist, and we think it's priceless!
Earlier this year, The Rock shared a photo of himself, Hart, and DeVito working on the movie together as best buds, giving fans a sneak peak into filming. In addition to newbies DeVito and Glover and returning cast members, Awkwafina and Dani Ramirez are joining the cast. Nick Jonas and Colin Hanks are also due back.
Story details about 'Jumanji: The Next Level'
So, it's obvious that things are leveling up for this group of friends, and the teaser shows that this time, they will be moving beyond the jungle and into new territory. All we know is that we hope they have water and bulky coats! A blurb on the Jumanji movie website only says this:
" … the gang is back but the game has changed. As they return to Jumanji to rescue one of their own, they discover that nothing is as they expect. The players will have to brave parts unknown and unexplored, from the arid deserts to the snowy mountains, in order to escape the world's most dangerous game."
Last year, CinemaBlend reported that Jack Black had a wild idea for Jumanji 3 that entailed taking a trip to outer space. It's unclear if things will head in such a galactic direction, but at least we're guaranteed to laugh at whatever happens.
Though it's only been a few hours, the trailer has everyone buzzing about what's to come in Jumanji: The Next Level, and fans can't wait to see it. With all that comedic talent packed into one movie, you have good reason to mark your calendars for December.