New Orleans Saints Quarterback Drew Brees Wants to Deliver One Fan a House in a Certain 'Zone'
Drew Brees is an NFL quarterback, a Super Bowl MVP, a future Hall of Famer, and a Jimmy John's franchise owner. The New Orleans Saints signal caller owns restaurants in the greater New Orleans area and is now helping the sandwich giant deliver one superfan a house.
Showbiz Cheat Sheet caught up with Brees to talk about the Jimmy John's "Home in the Zone" contest, the upcoming NFL season, and more.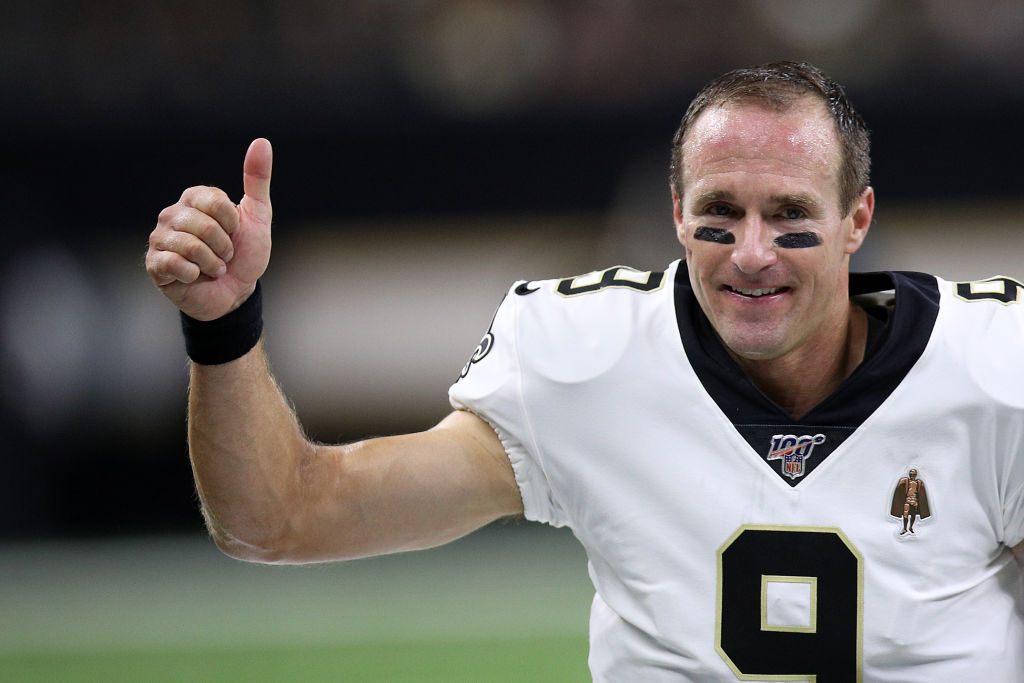 Why Brees wanted to become a Jimmy John's franchise owner
Brees has been a Jimmy John's franchise owner since 2011 and the whole reason he wanted to become a franchisee goes back to his college days at Purdue University.
"That was my first exposure to Jimmy John's when I got to Purdue. I would order Jimmy John's to the door probably three times a week during college," the quarterback explained.
Brees added that he was such a huge Jimmy John's fan but when he got drafted by the then-San Diego Chargers, there were no Jimmy John's there at the time. The same was true when he went to New Orleans so the only time the NFL star could get his favorite sandwiches was when he returned to the Midwest.
"Finally at one point in 2010, I'm like alright that's it we have to bring a Jimmy John's to New Orleans," Brees said. "I have a friend, who had been a teammate of mine at Purdue, who worked for Jimmy John's corporate so I texted him and I said 'Hey, what do I need to do to get Jimmy John's down to New Orleans?' And he said that [the company] had actually just opened up that territory for a franchise."
Brees told his friend he was interested and opened up the first Jimmy John's location in the New Orleans eight years ago. Today, he had nine locations in The Big Easy and nine in South Bend, Indiana.
Jimmy John's Home in the Zone contest
Jimmy John's is all about getting customers their orders "Freaky Fast and Freaky Fresh" and they have very high delivery standards. In fact, Jimmy John's previously announced that it will not authorize third parties like Uber Eats, DoorDash, and Grubhub to deliver its sandwiches so that's where the "Home in the Zone" contest comes in.
Because the chain's delivery zone is within five minutes of a location, Jimmy John's wants to buy you a house so they can deliver you a sandwich. The company is making that possible for one superfan with the contest which runs through Oct. 4, 2019.
"We're consistently faster, fresher, and a better value than any other delivery service," said Chief Marketing Officer, John Shea. "With our Home in the Zone contest, we're looking forward to rewarding one of our customers with the opportunity to move into a Delivery Zone so they can experience the service that Jimmy John's offers. We're dedicated to proving that we're the most passionate sandwich company in the world."
One grand prize winner will be selected and receive up to $250,000 towards a home located within a Jimmy John's Delivery Zone. To enter, fans must fill out an application at JimmyJohns.com explaining in 250 words or less, why they'd like to move into a delivery zone.
And for those who already live in a Jimmy John's Delivery Zone, you can enter for a chance to win free sandwiches, plus free delivery for one year. Click here for official rules and full details of the "Home in the Zone" contest.
What Brees has been up to this offseason
He's been spending time with his family.
In July, Brees attended the ESPY Awards where he won for "Best Record-Breaking Performance." He brought his three sons to the event and spoke about what it was like having them there to experience that with him.
"It was awesome! It was really great!" he recalled. "For them to be a part of that … they're such sports fanatics, not just football but every sport. So they got a ton of favorite players across the board and the opportunity to meet some of those guys for the first time, seeing them in person, and just be around them and being around that atmosphere you never know what little things that they're gonna gain from that and be inspired by. It was really cool for them to be a part of. "
The upcoming NFL season
When comes to the upcoming NFL season, Brees is certainly looking forward to it.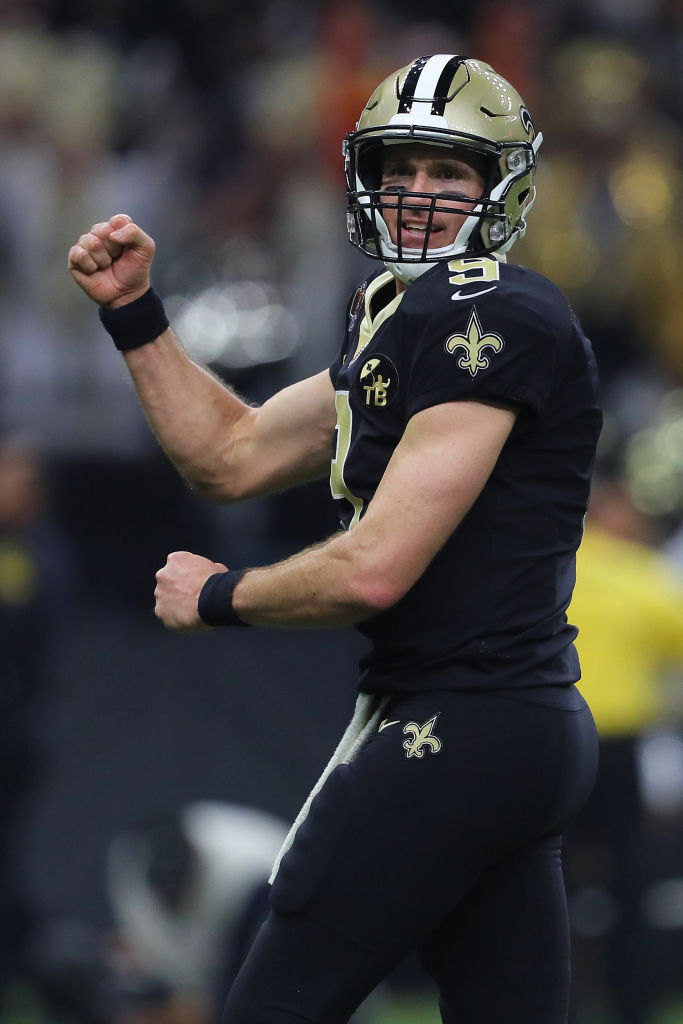 "I'm looking forward to a lot of things," he said. "Just the opportunity to get started and to continue to build our team and hopefully have success early so that we can continue to get better and better each week and position ourselves to make a run at it."
Brees has been very successful in his career. In terms of his numbers, he has broken and now holds several NFL records. So what else would he like to accomplish before it's all said and done?
"I'd love to go back and win another Super Bowl!" he said, adding, "I love the experience that the NFL gives me as far as the opportunity to be around the guys in the locker room and be a part of a team as you can grow and build and really chase a dream."
You can follow Brees on Twitter and Instagram @drewbrees and Jimmy John's on Twitter and Instagram @jimmyjohns.
Read more: Kansas City Chiefs Star Travis Kelce Talks Crashing Weddings, Fashion Shows, and the Upcoming NFL Season