Who Will Be the Next Kardashian to Announce a Pregnancy?
We've watched the Kardashian-Jenners become adults before our eyes. Since 2007, when Keeping Up With the Kardashians first premiered, we've seen the family's biggest ups and downs, but most of all, we've seen them start families of their own. Now, Kris Jenner has plenty of great grandchildren — but which Kardashian-Jenner will be the next to announce that another baby is on the way?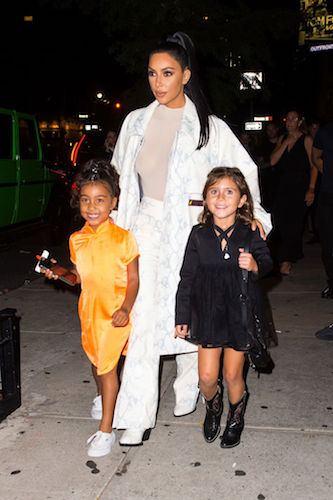 There are currently 10 Kardashian grandchildren
Over the last decade, the Kardashians have expanded their already-large family even more. At this point, every Kardashian except Kendall Jenner has at least one child. Kourtney announced her unexpected pregnancy back in 2009, when she had a fling with ex Scott Disick and got pregnant with their first son, Mason. She and Disick then got back together and had two more children before breaking up for good. Kim Kardashian married Kanye West in 2012, and they just welcomed their fourth child. Kylie Jenner had a child with Travis Scott last year after hiding her pregnancy for the whole nine months. Khloe Kardashian got pregnant with then-boyfriend Tristan Thompson, and a cheating scandal broke just days before she gave birth. And Rob Kardashian has a daughter with rapper Blac Chyna — the two are not together.  
Kourtney is likely done having kids
Kourtney has three children with Disick: Mason, Penelope, and Reign. She and Disick weren't planning to start a family, but once they had Mason, they wanted more children. But it looks like things are permanently over for those two (never say never, though). It's unlikely that Kourtney would have another baby with someone else unless she were with them for a long time, but since she just celebrated her 40th birthday in April and so far isn't dating anyone, she is probably happy with her three kids and likely won't have anymore.
Khloe, Kendall, and Rob probably won't have babies for a while
Five out of the six Kardashian-Jenner kids have children except Kendall. She seems like the type of person who won't get pregnant until she's extremely ready, so it wouldn't surprise us if she were to get married first. The only Kardashian to be married before having kids was Kim; Kylie, Rob, and Khloe all have children with either current partners or exes. But Khloe and Rob are no longer with their partners and neither of them is dating someone else, so it will probably be a while before either of them have another.
Kylie or Kim could be the next to announce another pregnancy
When it comes to who might be next, our bet is on either Kylie or Kim. Kim mentioned on the latest season of KUWTK that Kanye West wants seven kids; the couple just welcomed their fourth child via surrogate. If Kardashian and West do end up having seven kids, they'll likely be expecting another via surrogate pretty soon. Fans also think Kylie Jenner and boyfriend Travis Scott might have another baby soon, too. On Scott's birthday, Kylie posted a message saying they should "have another baby," though fans couldn't tell if she was serious or not. Either way, these two are the only Kardashian-Jenners who have partners, so it makes sense that one of them would be pregnant next.