NFL: What is Patrick Mahomes' Net Worth, and Where Does His Rookie Season Rank With the Best Ever?
He's only in his first season playing pro football, but Patrick Mahomes doesn't have to worry about being lumped in with the college stars who disappointed in the NFL. In fact, the Kansas City Chiefs' starting quarterback might have one of the best rookie seasons of all time. Let's look at Patrick Mahomes' net worth, his background, and what the stats say about his rookie campaign.
Where did Patrick Mahomes grow up?
Patrick Mahomes was born in September 1995 in Tyler, Texas. He starred in football, basketball, and baseball at Whitehouse High School, but he focused on football in college.
Several colleges recruited him, but he picked Texas Tech since it was the one place where he could play quarterback. Most schools recruited him as a defensive back because he didn't start playing quarterback until he was a junior in high school.
After a stellar career at Texas Tech, the Kansas City Chiefs drafted him 10th overall in 2017.
Where does his rookie season compare to the best ever?
Even though 2018 is Patrick Mahomes' second year in the NFL, we're still calling him a rookie. After all, he only played in one game in 2017, and it was the last one of the year. It's safe to say his first season as a starter is one of the best ever.
First, let's look at Mahomes' 2018 stats through 15 games, all of which he started:
66.4% completion rate
4,816 passing yards
321 passing yards per game
48 touchdowns passing and another two rushing
271 rushing yards
Some of the other standout rookie seasons hardly compare.
Ben Roethlisberger went 13-0 as a starter in 2004, but he only had 17 TDs and 11 interceptions.
Robert Griffin III had 27 total touchdowns and more than 4,000 total yards in 2012, but he passed for only 3,200 yards.
Russell Wilson had fewer interceptions in 2012, but he passed for only 3,100 yards and 26 touchdowns.
The only other quarterback who comes close to Mahomes is Cam Newton. He had more than 4,000 yards passing and 21 touchdowns to go along with 700 rushing yards and 14 TDs on the ground in 2011.
How much is he making?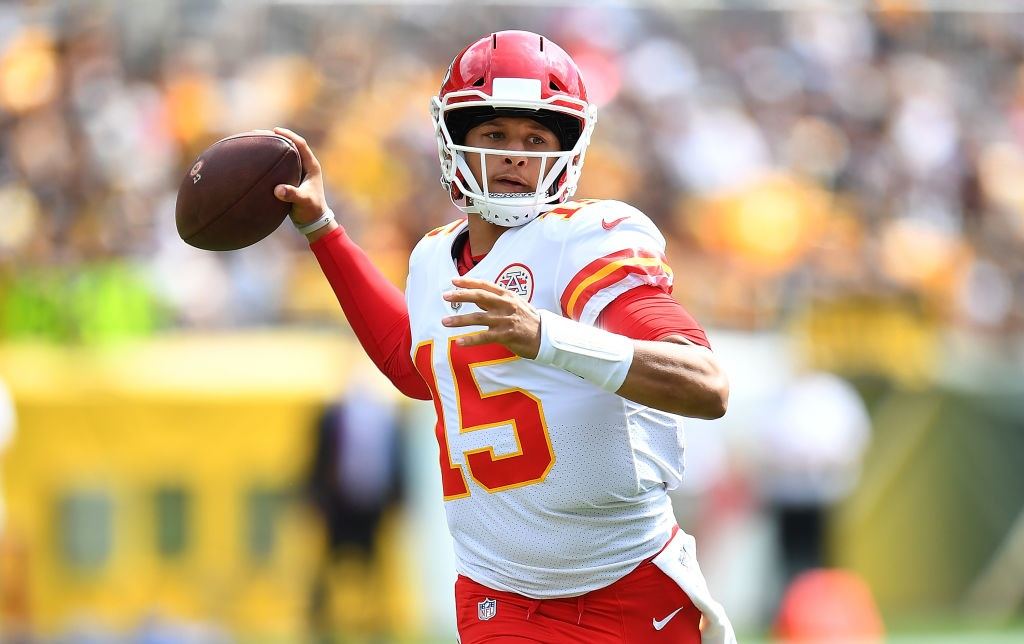 Patrick Mahomes is one of the youngest players on the Chiefs, but he isn't paid like it. His rookie contract from 2017 includes $16.4 million in guaranteed money. With a $555,000 salary, $2.52 million signing bonus, and $656,600 roster bonus, Mahomes is making more than $3.73 million as the Chiefs quarterback in 2018. That's a bargain price to pay for such unprecedented production as a rookie.
How else does Patrick Mahomes make money?
Mahomes and his agent, Leigh Steinberg, didn't sign any endorsement deals during his first season in the NFL in 2017. The young quarterback started strong in 2018, but he still declined to align with a brand. Mahomes wanted to wait until after the season, according to ChiefsWire. He didn't last that long.
Mahomes agreed to an endorsement deal with Hunt's Ketchup in December 2018, according to ESPN, and it makes perfect sense. He puts ketchup on everything, even on expensive steaks, which riles up some Chiefs fans. Now that he has one endorsement deal to his name, we won't be surprised if others soon follow.
What is Patrick Mahomes' net worth?
Patrick Mahomes' net worth is already impressive, and it's only going to grow as his career continues. He has a $10 million fortune in 2018, according to Celebrity Net Worth, but that's a low estimate. As we mentioned a minute ago, his rookie contract includes $16.4 million in guaranteed money. Plus, he has the Hunt's Ketchup endorsement money coming in.
When he hits free agency in 2022, our guess is Patrick Mahomes' net worth might hit nine figures.
Check out The Cheat Sheet on Facebook!