Nick Cannon Gets Suge Knight Involved in Eminem Beef
Nick Cannon and Eminem have a tense history together. The rappers have been trading barbs since around 2008. Their beef has been simmering for a while but flared up again in recent days. Both men have started to diss each other in music, with Eminem roasting Cannon in a song and Cannon clapping back in a record that includes Suge Knight.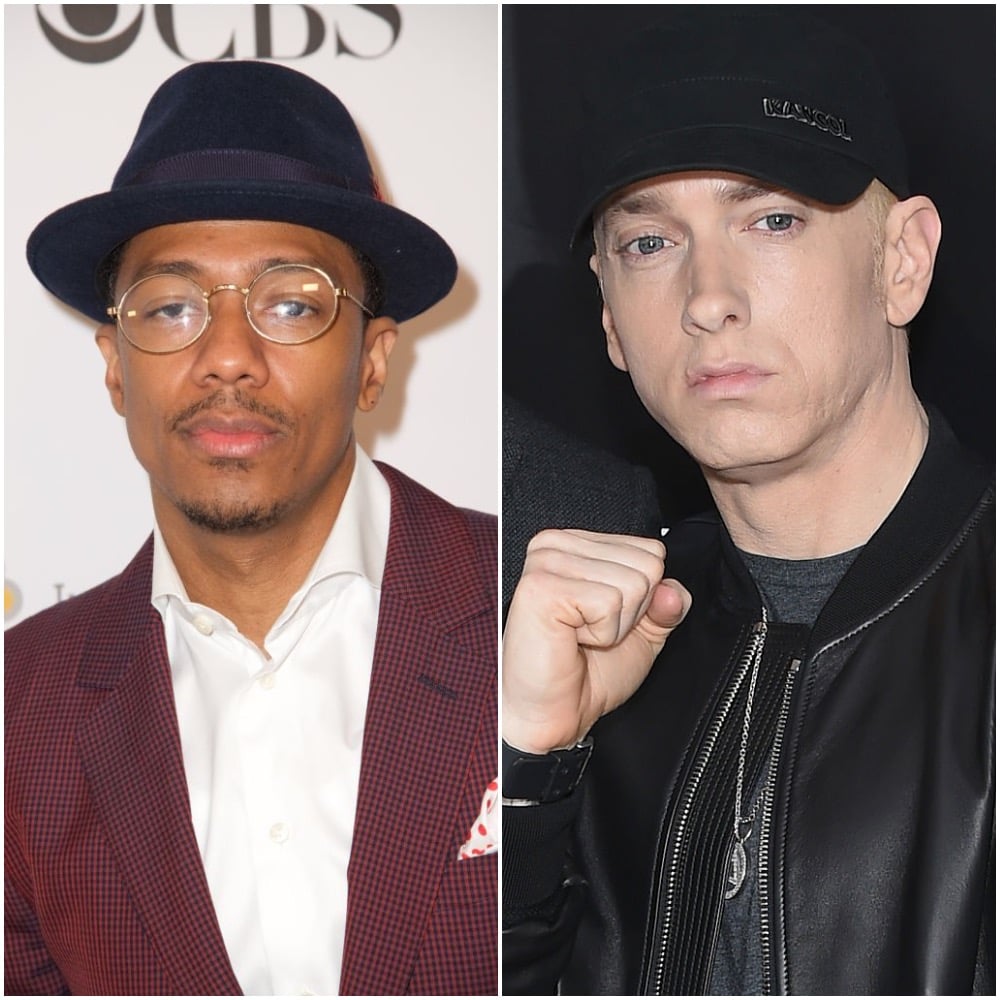 The origins of Nick Cannon and Eminem's beef
Cannon and Eminem started beefing after the former America's Got Talent host married Mariah Carey in 2008. After they tied the knot, Eminem released a diss track, "Bagpipes From Baghdad," in which he begged Carey to come back to him and told Cannon to "back the f*ck up."
Eminem has long claimed that he used to date Carey — something she has denied. Carey famously shut him down in her 2009 hit song, "Obsessed."
There was some back-and-forth between Cannon and Eminem for a while. But things seemed to die down following Cannon's 2014 divorce from Carey.
Nick Cannon indirectly rekindled the beef
After years of silence, Cannon appeared on T.I.'s podcast, ExpediTIously, in September 2019 and brought up their feud.
He told T.I. about the first time he ever heard "Bagpipes From Baghdad" and how he subsequently reached out to Eminem for disrespecting Carey. Cannon said he wrote Eminem a "long a** letter" and "went looking for" him.
But in the same interview, Cannon praised Eminem as an artist, making it seem as if they'd moved on.
Eminem responds to Nick Cannon's comments
On Dec. 6, Fat Joe released his album, Family Ties, which features a track where Eminem slammed Cannon and Carey.
In the song, titled "Lord Above," Eminem rapped:
"I know me and Mariah didn't end on a high note/But that other dude's whipped, that p*ssy got him neutered/Tried to tell him this chick's a nut job before he got his jewels clipped/ Almost got my caboose kicked, fool, quit, you not gon' do sh*t/I let her chop my balls off, too 'fore I lost to you, Nick."
Nick Cannon and Eminem are now going back-and-forth
Following the song's release, Cannon responded on his Power 107 FM show, Nick Cannon Mornings.
"We should change his name from Eminem to, like, Percocet. What's the pill that old people take? We gon' call him Cialis," Cannon teased, making fun of the 47-year-old. "Get out your wheelchair Eminem and pop whatever you want to pop…"
On Dec. 8, Cannon followed up with a diss track called "The Invitation," which features Suge Knight, the former Death Row Records executive who is currently serving a 28-year prison sentence for manslaughter.
In the intro, Knight sounded off on Eminem before calling him a "b*tch."
On Cannon's verse, he zeroed in on Em's ex-wife, Kim, and their daughter, Hailey. "Call Kim, somebody get Hailey and that other kid you raising that ain't even your baby, he rapped. He also brought up Carey, saying that she killed Eminem "a decade ago."
One of the more disrespectful parts came when Cannon claimed that Eminem's driver has a video of him "sucking c**k."
Eminem responded on Twitter on Dec. 9, tweeting, "U mad bro? Stop lying on my d*ck. I never even had a chauffeur, you bougie f*ck."
He added, "I demand an apology Nicholas, you've made my gardener so jealous!"
As of writing, it's the latest update in this long-running saga. But we'll keep you posted.
Read more: Nick Cannon Says Mariah Carey Is the Only Woman He'd Ever Marry Again