Nick Jonas and John Stamos' Hilarious Online Bromance Reaches Epic 'Inception' Level
Bromance alert! Fans of Nick Jonas and John Stamos have been watching the two one-up each other lately on social media and it looks like they need to have a proper hangout.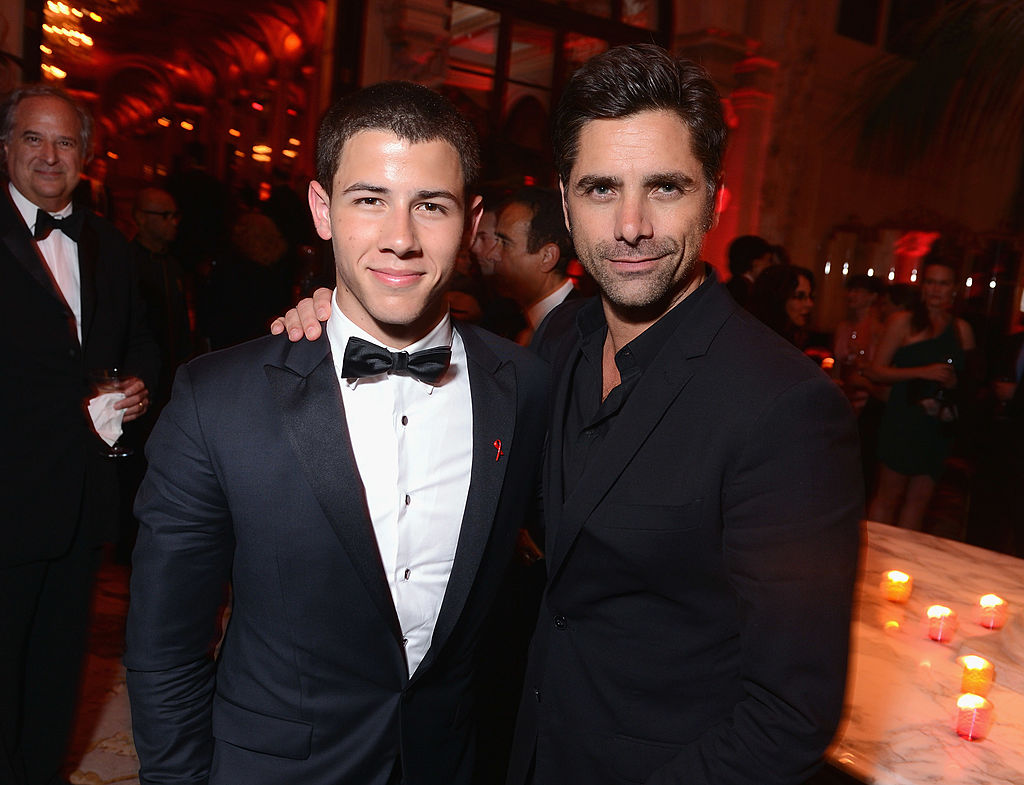 It all started innocently enough
John Stamos was spotted wearing a Jonas Brothers t-shirt, which was all pretty cool in itself, as he was likely celebrating the Jonas Brothers getting back together recently.
That simple style choice prompted Jonas to fire back by wearing a hoodie featuring a photo of Stamos wearing the Jonas Brothers shirt. He shared the image on Instagram, tagging Stamos with the caption: "It's your move @johnstamos #jonasbrothers #sucker."
Well played, right?
Stamos accepted the challenge
Stamos could have gone the easy route and worn a shirt with a photo of Jonas wearing the hoodie with Stamos wearing the Jonas Brothers shirt… but he got a little more creative than that and had the photo that Jonas posted on Instagram put on a pillowcase for Stamos to lay his handsome head.
His caption? "I had the craziest dream last night… #jonasbrothers #sucker"
How could Nick Jonas top John Stamos' trolling?
Jonas really stepped up his game and we couldn't love him more for it — he posted a photo of himself sleeping with a comforter that sported a photo of Stamos laying on the pillow of Jonas wearing the hoodie with the pic of Stamos wearing the JoBros shirt. Good god, these guys are keeping the bromance going.
Jonas captioned the new pic: "I'll sleep well tonight knowing #sucker is number 1!"
Please let this lovefest never end.
Where can it go from here?
While we await Stamos' next move, many fans are left wondering how he can do more than Jonas' bedtime pose. Most agree that things will have to get bigger from here, with one fan commenting on Jonas' post: "he needs to get a big ass canvas and hang it on his wall and then Nick needs to have it painted on the side of a building for the checkmate. So @nickjonas start looking for locations now boo."
Will Jonas and Stamos become best friends?
The whole Jonas and Stamos social media one-upping is all very reminiscent of another famous besties duo — Jimmy Fallon and Justin Timberlake. The two pals took a gag and ran with it in a similar way as Jonas and Stamos.
Fallon explained on The Tonight Show that Timberlake was over at his house and noted "my wife likes to put pictures on mugs. We do that in our house." Timberlake explained how they stayed in Fallon's guest house and he grabbed a coffee mug of Fallon's face on the cup, noting, "this is the most genius thing ever."
Timberlake used the "Jimmy mug" for his morning coffee… but the fun didn't end there, as Fallon explained that a couple of months later he got an email with a photo of Timberlake with the Jimmy mug.
Fallon retaliated by making the Timberlake pic into a mug — yes, a coffee cup with the photo of Timberlake posing with the Fallon mug.
The gag didn't end there, however, as Fallon shared, "Then I took it a step further…," taking a photo of himself holding the inception mug.