Nick Jonas' Mom Honored Priyanka Chopra's Indian Heritage in the Sweetest Way At Their Wedding
Nick Jonas and Priyanka Chopra have had a whirlwind romance. But despite things moving quickly, it appears that their families adore each other and haven't questioned the couple's fast romance. And Jonas' mom, Denise Jonas, loved taking part in the couple's wedding ceremony in Chopra's native India — so much so that she continued to honor Chopra's heritage for their U.S. ceremony as well.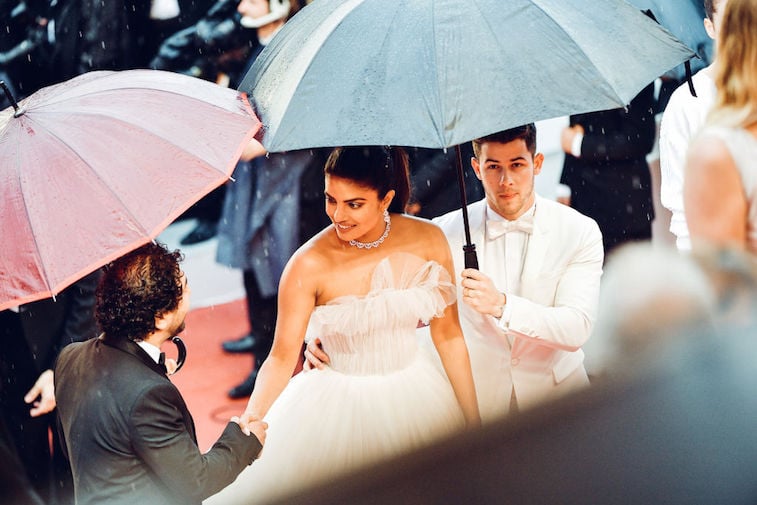 Jonas and Chopra wed in an elaborate ceremony in India
The couple didn't take things slow when it came to their relationship — nor did they settle for a small, intimate wedding celebration. Chopra and Jonas first met back in 2016, when Jonas slid into her DMs. However, the couple remained friends for more than a year before they began dating in May 2018. But by August 2018, the two were already engaged. They wed in India in December 2018 in a high-profile ceremony featuring one of the longest veils anyone has ever seen. However, the wedding received some criticism in terms of how much of it was sponsored by brands. But regardless, it was a three-day ceremony that neither will ever forget.
The couple had a much smaller ceremony in North Carolina as well
Though most people only know of the couple's elaborate ceremony in India, they actually had another much smaller ceremony in North Carolina. The couple enjoyed a "southern feast" celebration at Nellie's Southern Kitchen on North Carolina back in January it was reportedly their fifth wedding reception (we can only imagine what they'll do for their one-year anniversary). The couple went for a southern-style American dinner after having several parties to celebrate their wedding in India. It was nice of them to want to include both family's traditions in their nuptials.
Denise Jonas wore a sari to the couple's U.S. ceremony
Jonas' family took an immediate liking to Chopra when she and Jonas started dating. Chopra posted a photo around Christmas of her celebrating the holiday with Jonas' family in England. She captioned the picture, "From our family to yours." And Denise Jonas, Jonas' mother, took Chopra's Indian heritage very seriously and was honored to be a part of the couple's Indian nuptials. Chopra is Hindu, and the Jonas family welcomed her religion with open arms during the ceremony. Denise Jonas loved Chopra's heritage and traditions so much that she opted to wear her sari to the couple's U.S. wedding ceremony as well. A sari is traditional to Southeast Asia; it is an elaborate garment that drapes over the body.
Jonas and Chopra have said they're taking their time expanding their family
Although the couple seemed to have a never-ending wedding, but they're not rushing into starting a family. Jonas told People the two are taking their time with having kids, though they both definitely want children. Chopra told InStyle that she hopes to have a family someday to leave her legacy with. But the Jonas Brothers have reunited and just kicked off a major tour, so it will likely be a little while before he and Chopra start a family. It's possible that once the JoBros comeback slows down a bit, Chopra and Jonas will focus more on their own future.
Check out Showbiz Cheat Sheet on Facebook!