Nick Jonas Reveals Which 'Jumanji' Co-Star Is the Least Likable
If you've ever watched The Late Late Show with James Corden, you know about many of the stunts he coordinates with celebrity guests. One of the most popular (and squirm-inducing) is the segment called "Spill Your Guts or Fill Your Guts" where you have to reveal something controversial or eat a horrendous food. Some of those dishes include everything from bull penis to bird saliva.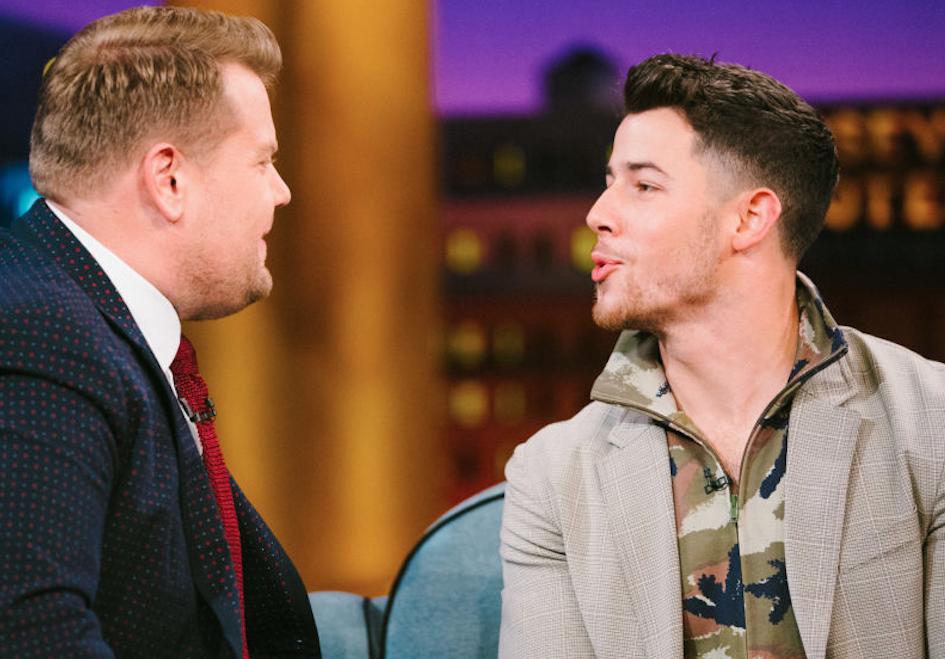 No official word where Corden acquires these dishes, but the Jonas Brothers didn't hesitate to taste some of them when guest-starring for a week.
During the segment, Nick Jonas spilled the beans on who was the least likable on the set of the new Jumanji sequel. Did Jonas get into trouble for being so transparent?
Who did Nick Jonas rank first?
Most of the guests who participate in "Spill Your Guts" refuse to answer the risky questions. Most of those queries could ruffle more than a few feathers, though sometimes you can work around things if you have a lawyer-like mind.
Nick Jonas seems fairly intelligent, but a lot of people wonder if he found himself in hot water for having to rank his fellow Jumanji cast members.
Inevitably, Jonas picked Dwayne "The Rock" Johnson as the most likeable since he is the star of the film and perhaps the most relatable to Jonas. Johnson is also by far the biggest and strongest so it's nice to keep him in a good mood. Once he picked The Rock first, however, Nick had no choice but to rank his other three co-stars.
Whether this caused any discord all depends on how you interpret Nick's response.
How did Nick rank the other three?
Jonas placed co-star Karen Gillan second because of how nice she is. He perhaps also picked her out of common courtesy considering she's the only woman to get top-billing in the rebooted Jumanji franchise.
Next, he chose Jack Black, followed by Kevin Hart. Nick had to let out a "I love you, sorry Kevin" without specifically stating he was the least likable of the cast.
After being so brave with his responses, Nick let out a joke the producers of the new Jumanji sequel might replace him with Harry Styles for the role of Jefferson "Seaplane" McDonough. Most likely, this won't happen, especially when placing the initial "Spill Your Guts" question into proper context.
The cast likely won't disown Nick Jonas
Who knows how many of the cast members of Jumanji were watching the show. The Late Late Show with James Corden is quite popular, though, making it a good bet they were watching.
No doubt they knew the predicament Jonas was in and won't take it out on him for having to rank their likability. Also, consider it didn't say they were unlikable. You can consider the list to mean they were all equally likable compared to anyone else.
Based on the history of this late-night segment, most other celebrities wouldn't have bothered to answer the question. Then again, consider Nick Jonas being so transparent as better than not answering. Someone chickening out would insinuate they perhaps didn't like the co-stars mentioned.
Jonas refused to answer one other personal question
Nick was also asked to compile a short list of celebrities who've hit on him in his career. Thankfully, there is a line some celebs won't cross without ending up as a viral meme on social media for their blistering response.
While Jonas didn't answer this one, he did perhaps set a precedent for not being afraid to show respect to fellow castmates for a popular movie franchise.
After all, with the new Jumanji franchise reboot being so popular lately, it's good to know the cast can say things about one another without it being out of disrespect.
If anyone can take the joke that Nick ranked Kevin Hart fourth, it's the latter. Knowing the cast of a movie truly likes one another only makes watching a comedy all the more believable.