Here's What We Know About Nickelodeon's 'Are You Afraid of the Dark?' Reboot
Nickelodeon has a fairly good track record of creating shows that resonate with fans for years and years. If you've been sticking with the network since the '80s or '90s, then you remember All That, Double Dare, Rugrats, and Cousin Skeeter.
Some of these shows got reboots or have one on the way. One Nick hit that's making a comeback is the teen horror series, Are You Afraid of the Dark?. The show aired from for 10 years, from 1990 to 2000 with a small break in the middle. The show's style of telling ghost stories around a campfire wound up making it one of Nickelodeon's most popular and beloved hits. Now, the Midnight Society is back in a new trailer.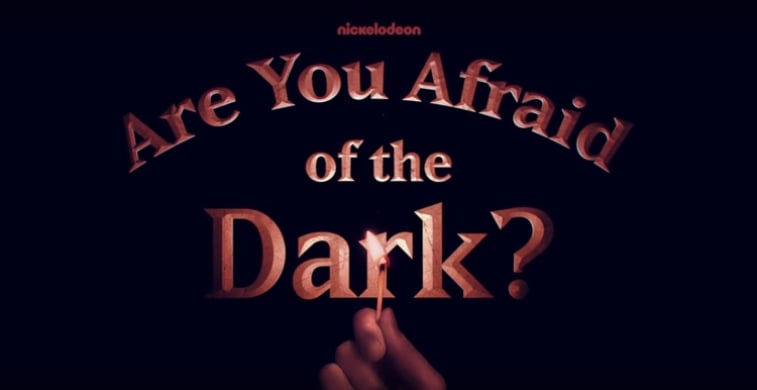 The teaser introduces fearsome monsters and new storytellers
Though it's just a few seconds long, the trailer is just enough to get older fans excited about its return and young viewers interested in seeing what this show is all about. What Nick got right with this series was making it about the kids' perspective, and this version promises to do the same, but with a whole new batch of magic, curses, monsters, and other supernatural awesomeness. Peep it.
Back in the day, each storyteller in Are You Afraid of the Dark? had a unique way of telling tales and sometimes, there were recurring scary characters in the episodes. Remember Frank and his Dr. Vink stories? Fans might also remember the paper clown who wanted to find his snatched nose or the classic episode, Laughing in the Dark.
Nickelodeon is changing things up ever so slightly with this version. In June, the company announced that production would begin that month on the miniseries and fans will meet a new group of Midnight Society members needing approval for their stories.
"Nickelodeon is reimagining its chillingly beloved anthology Are You Afraid of the Dark? as a brand-new limited series premiering this October. Through three hour-long episodes, the series introduces an entirely new Midnight Society group of kids who tell a terrifying tale about the Carnival of Doom, only to have the events of the story come to life. Production on the new Are You Afraid of the Dark? will commence this month in Vancouver, Canada."
When the new series is scheduled to air
As mentioned in the press release, Nickelodeon plans to air Are You Afraid of the Dark? this October as a three-night event. Though there's no word if there will be any actors popping in from the show's past like Ross Hull, Elisha Cuthbert, Neve Campbell, or Melissa Joan Hart, there is a list of who will be a part of the Midnight Society this time around.
Nickelodeon shared this:
"The new members of the Midnight Society are: Gavin, played by Sam Ashe Arnold (Best.Worst.Weekend.Ever.); Akiko, played by Miya Cech (Rim of the World, Always Be My Maybe); Louise, played by Tamara Smart (Artemis Fowl, The Worst Witch); Graham, played by Jeremy Taylor (It, Goosebumps 2:Haunted Halloween); and Rachel, played by Lyliana Wray (Top Gun: Maverick, Black-ish). The Carnival of Doom's ringmaster, Mr. Tophat, is played by Rafael Casal (Blindspotting)."
Deadline reported that Nickelodeon first announced the reboot in February of this year, and a feature film was also in the works that would be launched in conjunction with the series. However, plans for the movie's release have been shelved for the moment.
Stay up to date with Nickelodeon to learn more about the limited series and to find out if it will premiere close to Halloween. Why not? It'd be the perfect time to frighten everyone who grew up watching the original and their kids. Don't be afraid.