Nicki Minaj Opened Up About a Past Abusive Relationship on Twitter
Nicki Minaj might be known for her tough-girl exterior, but that doesn't mean that she's immune from drama and struggles.
On Sept. 1, the "MEGATRON" rapper opened up on Twitter about a past abusive relationship, telling her fans about the impact it had on her and how she recovered from it.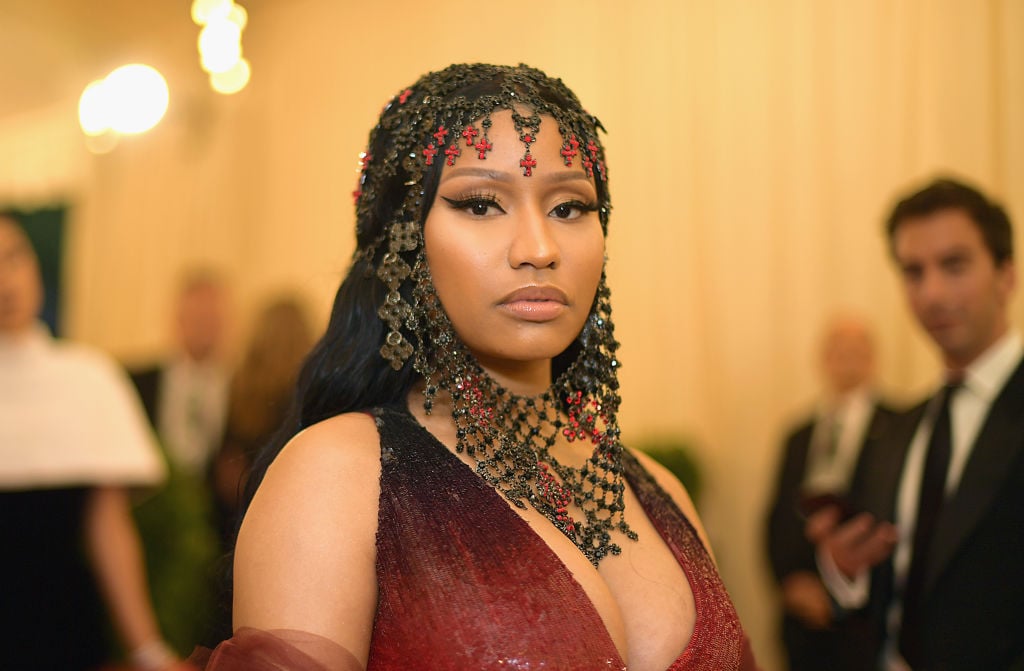 Minaj made the confession in a series of tweets
She began by urging people to avoid passing judgment on those in abusive relationships, writing, "When u see a woman in a toxic relationship, rather than laugh & say mean things, try to offer sound advice from your heart & root for her to learn her worth. We've all been there. I saw my parents fight & argue non stop & never divorce, so I thought this was normal behavior…"
In a follow-up tweet, Minaj shared examples of toxic behavior and red flags with her followers, including cheating, temper outbursts, criticism, and violence.
She then opened up about her own experience
In the next tweet, Minaj reflected on her past abusive relationship with an unnamed lover, saying that it made her believe that "love had to hurt."
"I remember being so afraid to speak cuz I never knew when that person would be in a particular mood and I could maybe say one wrong thing that would get me hit," she wrote. "So the diff you see in me now is that feeling when a woman feels lifted up, safe, appreciated & unconditionally loved."
"But I first had to learn how to love MYSELF," she continued. "if you wouldn't let a man treat your mother, your sister or best friend like that b/c you LOVE them, then you wouldn't let a man treat YOU like that b/c you love YOU. This isn't about judging. We judge too much. Lift them up."
Minaj's new love
Minaj is currently dating Kenneth "Zoo" Petty, a man she's known since she was a teenager living in New York. The two reportedly reconnected in November of 2018 before making their relationship Instagram-official the following month. Minaj said on Aug. 12 that they plan on tying the knot by the end of 2019.
"I think I have what I was striving for, just happiness," she said on her show Queen Radio back in June. "It was so hard to get to a happy place. Now that I'm there, I don't want to compromise that for anyone or anything."
Before Petty, Minaj had several high-profile relationships
She dated Nas from June 2017 to December 2017. The New York natives appeared to have undeniable chemistry, with Minaj telling Ellen DeGeneres, "I have a lot of respect for him and you know, he's kind of cute, too." But, according to TMZ, the relationship eventually "ran out of steam" due to distance issues.
She also dated Meek Mill for about two years between 2015 and 2017. Throughout the relationship, the two collaborated on several songs, made the cutest red carpet appearances, and even sparked engagement rumors. But the romance eventually fizzled out, and they called it quits in January 2017.
"They were fighting on and off for a little while about a few topics that upset Nicki," a source told E! News. "They had a bigger fight and then called it quits."
The relationship came after Minaj split from her longtime boyfriend, Love & Hip Hop star Safaree Samuels, whom she reportedly dated from 2004 to 2014. In 2011, they made headlines after allegedly getting into a fight in a Dallas hotel, during which Samuels allegedly hit Minaj in the face with a suitcase, cutting her lip. They would later split due to Samuel's alleged cheating and jealously of Minaj's success.
Abusive relationships are obviously not easy. But it's great to see Minaj moving on and using her experience to help others. 
If you suspect domestic violence, call the National Domestic Violence Hotline at 1-800-799-7233, or go to thehotline.org.