Why Nicki Minaj Is Dragging and Calling Wendy Williams 'Demonic'
Nicki Minaj is reacting to Wendy Williams after the television host made remarks about her husband Kenneth "Zoo" Petty. It was in a recent episode of The Wendy Williams Show that the former radio personality talked about Minaj's wedding.
Fans of Williams know the on-air host can be a little shady with her comments and this was not the exception. When talking about the "Starships" nuptials, Williams brought up Petty's criminal past.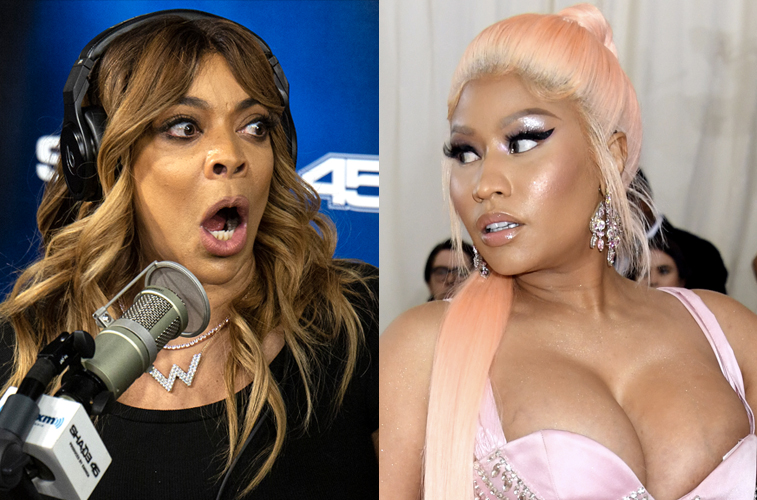 "Now, he served seven years in prison and he's also a sex offender," Williams said. "So that means that he… is a manslaughter a killer? Okay, so he's a killer and a sex offender. Well Nicki, congratulations."
Nicki Minaj claps back
Minaj fans know that the rapper is feisty and if you throw shade her way she will throw it right back. After the "Anaconda" hitmaker heard what Williams had said, she took to her Queen Radio show to clap back in an epic way.
"Every time you mention him, you feel the need to bring these things up," Minaj said. "It's not about doing your job. There are people who report the news and there are people who do it with an evil intent in their heart, viciousness. And I pray for you because I know you're hurting and I know you must be sick and humiliated."
Hidden in her response was a dig at Williams and the divorce she's going through with Kevin Hunter. Minaj pings Williams' shady comments have to do with the stress of her split.
"When a woman isn't really being loved at home, the viciousness is a different type," Minaj said. "So I really wanted to pray for you today, because look at where you are now in your life. Look at what age you are. You're sat up there being vicious all this time, and paid for that man's mistress for all these years. You paid for her shopping sprees, you paid for her hotels, you probably even paid for her GYN bills … you paid to have that baby delivered."
Minaj added that she was an early supporter of Williams when she hit the scene on the radio and asks her to pray for herself.
"I know you must have gone through a lot. But you are demonic, and that's why this stuff unfolded. If I were you, I would go and pray, ask for forgiveness. Report the news without the level of viciousness and trying to play dumb and doing all this nonsense," Minaj added.
Wendy Williams is no stranger to controversy
Viewers that tune in to watch Williams' take on the latest on pop culture know what they're in for. The television star recently landed in hot water when she criticized Meghan Markle for crying during a television special. The Duchess of Sussex is going through a hard time as British tabloids continue to be ruthless towards her.
"Meghan, nobody feels sorry for you. You knew what you were signing up for girl," Wendy said. "You knew exactly what you were doing. And I applaud her plot-ation on the royal situation. But please, don't try to garner sympathy from us. You knew what you were doing."
Williams suggested Markle move to America with her husband and son to run away from the tabloids.
"Meghan, don't be surprised that the paparazzi are everywhere," she added. "They weren't following you when you were on Suits, we didn't even know who you were except when you came for employment here at Wendy and wanted to be one of our runway models."
Williams received a lot of flack for her comments but that's something the host is used to by now.