Were Nicole Lopez-Alvar & Clay Harbor at the 'Bachelor in Paradise' Reunion?
Another season of Bachelor in Paradise is in the books. Last night, bachelor nation saw plenty of drama, tears, and not one, but three engagements. In fact, the only couple who made it to fantasy suites that didn't get engaged was Clay Harbor and Nicole Lopez-Alvar. Instead, the pair opted to go their separate ways. While the breakup between the pair was hardly shocking, what was surprising was that the pair weren't given any screentime during the Bachelor in Paradise finale. But was the former couple even in attendance at the reunion?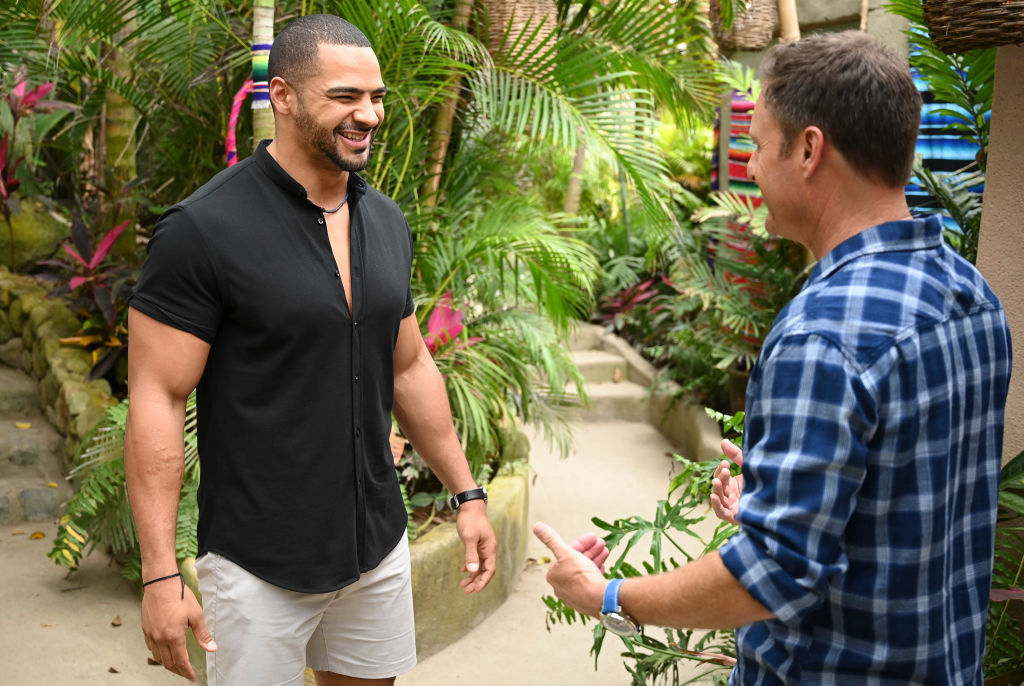 Bachelor in Paradise finale cuts
While the Bachelor in Paradise finale was three hours long, it seems a lot of conversations got cut from the final production. For example, fan-favorite, Mike Johnson was given minimal screentime despite being most of bachelor's nation choice for the next bachelor. What was also cut out was the entire conversation between Lopez-Alvar and Harbor, who were both in attendance at the reunion.
Clay Harbor sets the record straight
Taking to his Twitter page, Harbor confessed that he and Nicole were, in fact, at the reunion though they received no screen time. He then took the opportunity to explain that the pair had a conversation about their relationship. "Yes I was at the reunion and they chose not to show my convo with Nicole. I basically explained why I didn't think we were far enough along to get engaged and that I really did want to date and wished her luck with her new relations. Didn't miss much," the former football played explained.
When Bachelor in Paradise fans still couldn't believe that Harbor and Lopez-Alvar actually made it to the reunion, the pair both posted pictures from the event. Taking to his Instagram page, Harbor posted a picture of himself chatting with Lopez-Alvar and Chris Harrison. "Photographic evidence that I made it to the reunion. Haters gonna say it's fake. Pic or it didn't happen," Harbor captioned the photo.
Nicole Lopez-Alvar believes Clay Harbor led her on
Lopez-Alvar was quick to comment on Harbor's photo. "I'm surprised you weren't still at the pub," the Miami native wrote. Of course, this was a dig at Harbor who, when leaving the Bachelor in Paradise beach post-breakup, asked his driver to stop at the nearest pub. Though Lopez-Alvar is rumored to be in a relationship, it seems she still has hurt feelings over her short-lived relationship with Harbor. She recently shared on her Instagram page that she felt Harbor had led both her and his ex-girlfriend, Angela Amezcua, on.
Harbor, on the other hand, has a different story to tell. He maintains that he took the Bachelor in Paradise experience very seriously and had every intention of pursuing a relationship with Lopez-Alvar outside of paradise. Taking to his Instagram page, the football player shared his thoughts about his experience.
Harbor doesn't regret his time in Paradise
"Paradise, where to start.. I can honestly say I learned so much about myself and even though it was such an emotionally difficult time I'm glad I experienced it. I could have done so many things better throughout this journey but I believe everything happens for a reason and it helped me to grow as a person. I made some memories that will last a lifetime and friends that will last just as long. I want to thank everyone for the support it means a lot," Harbor began, reflecting on his Bachelor in Paradise tenure.
"I took this opportunity very seriously and looking back I could have done things differently. Unfortunately, I didn't see myself getting engaged after 16 days of exclusive dating and I wanted to be 100% truthful with my feelings even though I knew there was a chance my truth wouldn't get the outcome I wanted. I wish nothing but the best for Nicole and understand her position as well. Also, I have nothing but love for my paradise cast members and will always look back at my time on that beach fondly," Harbor concluded.
Moving on
While we're certain that neither Harbor nor Lopez-Alvar expected their experience on Bachelor in Paradise to end this way, it seems like it's for the best. Hopefully, the pair will be able to move on and let bygones be bygones in time.