Nikki Bella Puts Boyfriend Artem Chigvintsev On The Spot About Kids During Her Podcast
Reality star and former WWE wrestler Nikki Bella is making headlines lately due to her budding romance with former Dancing With The Stars pro Artem Chigvintsev. Bella confirmed her relationship with the dancer earlier this year, after a highly publicized split from fiancé John Cena.
Bella and Chigvintsev's relationship is apparently moving right along – she recently brought up the topic of children on a new episode of her online show The Bellas Podcast, with Chigvintsev on the air with her.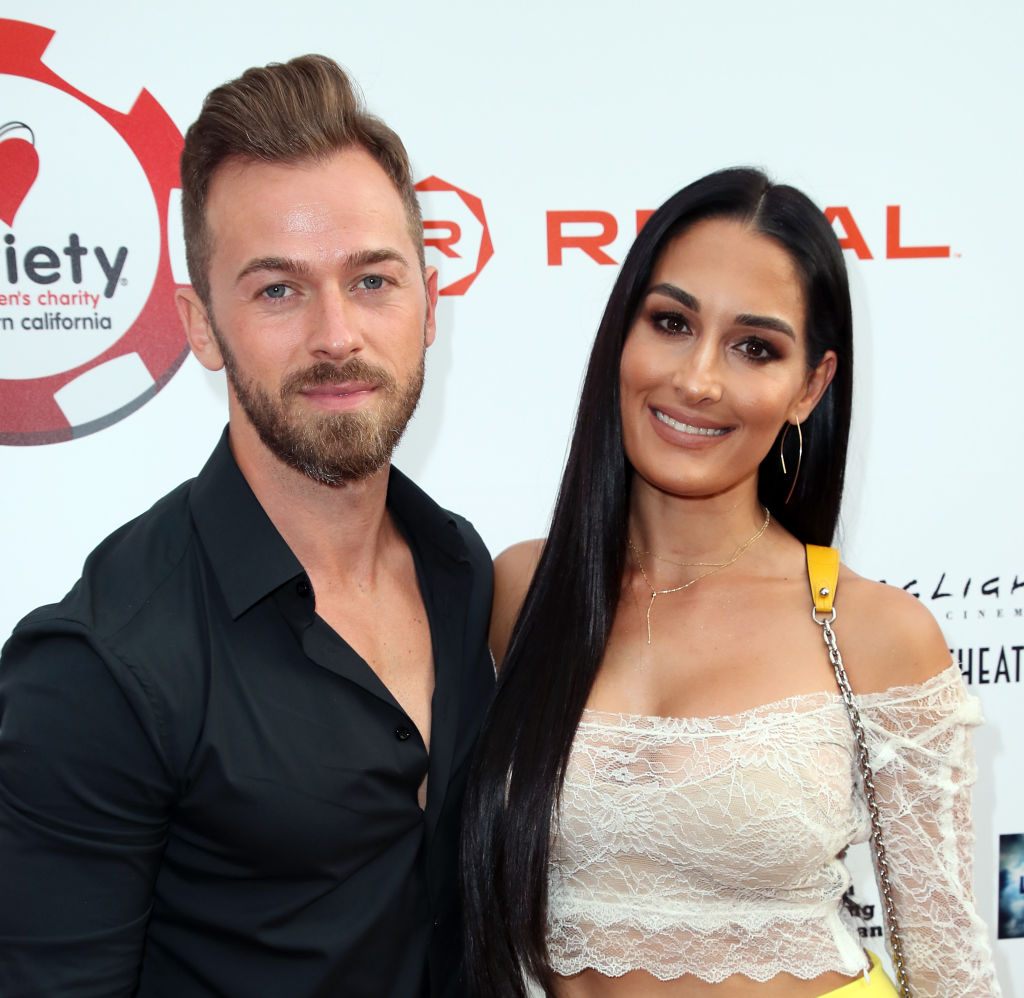 They started as dance partners
Bella and Chigvintsev were paired as dance partners on ABC's reality competition Dancing With The Stars. Bella was still with Cena at the time, where the actor eluded to the dance pro giving him lessons for the wedding he and Bella were planning. "As far as dancing, I think he's probably gonna teach me my first dance," Cena said, according to Us Weekly. "So hopefully I'll be able to take those tips from him there."
Obviously, plans changed, with Cena and Bella going their separate ways. On an episode of Bella's reality show, Total Bellas, in January 2019, a lunch date between Bella and Chigvintsev put the spotlight on a romance between the two. "The last time I saw Artem, I was in a relationship for so long, so I'm just really excited to see him," Bella said on the episode, Us Weekly reported.
Reflecting on her past relationship
While Bella's relationship with Chigvintsev is evidently evolving, she is still getting over her breakup with Cena. "You really have to do the work on yourself," she said on The Bellas Podcast last month, according to Entertainment Tonight. "You really, truly have to love yourself and every day dedicate something to you that is making you better. You also have to let yourself cry. That's one thing my life coach helped me a lot with because I still, you guys, get days that I cry about my breakup, but we were together a long time. So when those tears come, I don't try to hold them in. I find a quiet place and I cry." 
The reality star shared how Cena's frequent travel for his career was difficult, and that the "timing was off" in their relationship. "It wasn't John's fault. John, from day one, was so honest with me," Bella said. She also took inventory of what she felt were her own shortcomings in the relationship, saying that she "failed as a communicator," and should've discussed her feelings more with Cena.
Now, despite their split, the WWE alum says she will always hold a special place in her heart for Cena. "With John, I have unconditional love for him. My love, it goes beyond being a boyfriend, a fiancé, all those different things," Bella said of her former fiancé. "He truly feels like family. I'll never stop loving him, rooting him on, supporting him, protecting him."
In the hot seat
During an episode of The Bellas Podcast this week, Chigvintsev was in the studio. She brought up the topic of having children, asking her beau of how many kids he would like to eventually have. Let's just say she did not mince words. "I really need to know this. Me and my vagina and ovaries," Bella posed to Chigvintsev.
"You know what? I've never thought about exact number, but the only thing I can compare it to is obviously my parents and what they have," the DWTS alum replied, according to E! News. "They have two of us. It's me and my brother… If I have to throw a number, I would probably say two because that's how I grew up and I had a good relationship with my brother."
Bella didn't stop there. She is apparently working on those communication skills she feel she lacked with Cena, going full speed ahead with Chigvintsev on the subject of starting a family. She cut to the chase and asked him if he wanted a to have a child with her, where he replied, "That's so cute! Um, yeah!"
Seeing Chigvintsev's response as a green light, the former wrestler started planning. "I want twins. I want a boy and a girl and I want to knock it out all at once," Bella said. "I want an epidural right when I get into labor. I don't want to feel anything. Those are the things I want."
The former wrestler went on to share why she feels Chigvintsev would be such a wonderful father. "You have so much heart," Bella gushed to the pro dancer. "You're extremely patient and even though I've only met your parents twice on Facetime and there is a language barrier… your mom seems like one of the sweetest woman in the world and you're the literally one of the sweetest people I've ever met."
Fans are sure to keep an eye on this couple to see what develops!