Nikki Sixx's Net Worth, Musical Career and Radio Shows
Nikki Sixx – the Mötley Crüe bassist and primary songwriter portrayed in the Netflix biopic The Dirt – is most recognized for the billboard hits he released alongside bandmates Tommy Lee, Mick Mars, and Vince Neil. However, before founding the famous 70s and 80s rock band behind "Kickstart My Heart" and "Looks That Kill," Sixx was a member of the band Sister, and later London.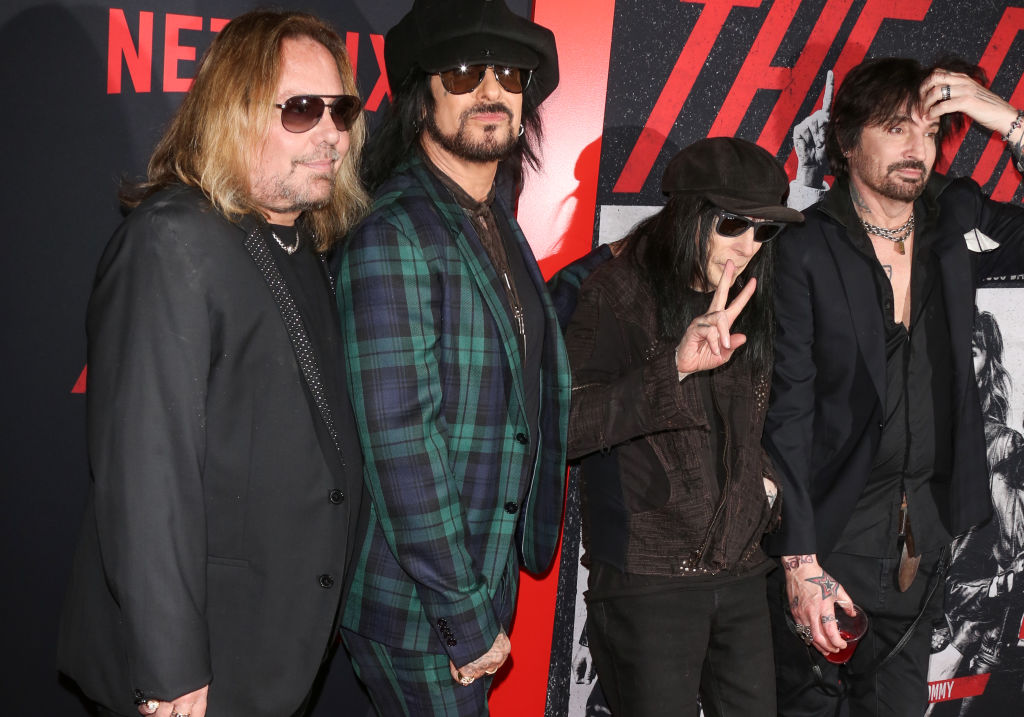 Nikki Sixx is worth $45 million, according to Celebrity Net Worth, and while most of his earnings are from his success with Mötley Crüe, Sixx also works as a successful fashion designer, radio host, and photographer. The Dirt focuses on sex, drugs, and rock & roll, and while it may sound like a cliche approach to 70s musical biopics, this band was the emblem of crazy. Thus, an exception was rightfully made.
Nikki Sixx and Ozzy Osbourne once head a pissing contest, so to speak; unlike your standard arrangement, this one involved licking pee off of the pavement by the pool!
Nikki Sixx: Sister and London

Nikki Sixx, born Frank Carlton Serafino Ferrana, moved to Los Angeles when he was only 17 years old. He worked various odd jobs; from a liquor store clerk to a vacuum cleaner salesman, Sixx did anything he could to make money while auditioning for multiple bands. It was the 70s, so the route to stardom was still rooted in blood, sweat, and tears. No YouTube successes just yet.
Nikki Sixx eventually joined the band Sister, led by Blackie Lawless. He answered an ad for a bassist and got the gig. Unfortunately, the excitement was short-lived. After recording a single demo, both Ferrara and current Sister bandmate Lizzie Grey were fired from the band.

Grey and Ferrana teamed up and formed London in 1978. This was when Ferrana legally changed his name to Nikki Six. London would go onto feature several famous musicians, including Izzy Stradlin (later joined Guns N' Roses) and drummer Fred Coury (later joined Cinderella). Nikki Sixx worked with London for about a year, before founding Mötley Crüe in 1981.
Nikki Sixx: Mötley Crüe

Nikki Sixx founded Mötley Crüe alongside drummer Tommy Lee. Once Vince Neil and Mick Mars joined, the band self-recorded their debut album – Too Fast For Love. However, the album gained greater success after it was re-released under Elektra Records.
After releasing Shout at the Devil under Elektra Records, the ban virtually became famous overnight. The band issued three more major albums during the 80s, and the last one, Dr. Feelgood, would go on to be their most successful.

While Nikki Sixx and Mötley Crüe are known for some great rock songs, the band members may be more famous for the wild lives they led (and promoted) throughout the 1980s; from killing cockroaches in the house by burning them to doing every drug under the roof, this band was a hot mess (but they were talented).
Nikki Sixx: 'Sixx Sense' Radio Show

Nikki Sixx launched the radio show "Sixx Sense" in 2010. The show used to air Monday through Friday from 7 pm to midnight on Rock and Alternative stations. Nikki Sixx talked about rock and roll, the lifestyle of a rocker, and provided backstage insights into the music industry.
For a few years, Sixx had a co-host, Kerri Kasem, who was on the show until 2014. Nikki Six would go on to step down from his radio show in 2017; however, he still hosts a special weekend program titled "The Side Show with Nikki Sixx."