No One Makes Kate Middleton Laugh More Than Prince William
Kate Middleton and Prince William have known each other for nearly two decades. They've been married for eight years, have three adorable children together, and have survived the harsh rumors that Prince William had an affair. Despite everything they've been through, it's clear from the way Kate still laughs at her husband that the love definitely hasn't died.
Kate and Will made it through some tough rumors earlier this year
Although the couple seems to be doing well, they aren't exempt from all of the rumors that constantly float around about the royal family. Earlier this year, news broke that Will had allegedly had an affair with Rose Hanbury, a close friend of Kate's. And for a while after that, the couple couldn't escape the rumors that surrounded their marriage. The royals are no strangers to affairs (who could forget Prince Charles' affair with Camilla Parker Bowles), but Will seemed unfazed by the stories, which had no proof that anything had actually occurred. When asked what he thought of the rumors, he said, "There's nothing to it." The couple didn't appear to let the tabloid stories affect their relationship.
Kate laughed hysterically when will accidentally called her an 'uncle' to Archie Harrison
Perhaps Will and Kate have made their relationship last so long because of Will's apparent ability to make Kate laugh. When the two were talking to the press about Archie's birth, Will said it was the second time that they are uncles — and quickly realized Kate is not an uncle. While it was a funny comment, Kate let out a bigger laugh than anyone else, which told people that after all these years, she still finds Will incredibly funny (even when he says something that's only worth a small chuckle). 
Will has kept Kate laughing at nearly every public engagement the two attend
Whenever Will and Kate attend an outing, the press follows them very closely to snap photos. And at nearly every engagement the couple attends together, Kate is always photographed with a huge smile across her face, as if she were laughing at something incredibly funny. Will has been known to make comical comments — his congratulations on Harry's engagement included a dig that hopefully Harry would stop scrounging for food in Will's fridge. He also welcomed Harry to the "sleep deprivation society" when Archie Harrison was born. And we're certain he makes even funnier comments to Kate when the cameras aren't catching every word.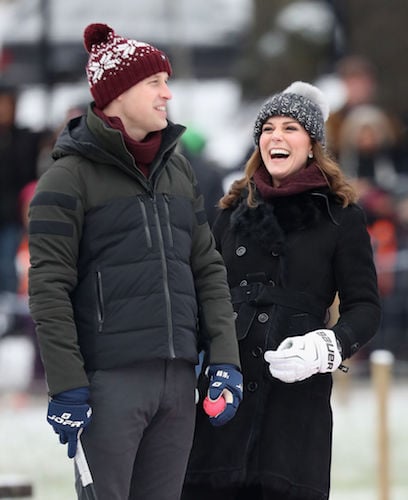 We're convinced they're the definition of true love
Will and Kate first met in college, and by the time they graduated, they were an official couple. Although there were a couple brief splits in their relationship, that is to be expected from people so young. They realized that they never wanted to be without each other, and the college sweethearts had an immaculate 2011 wedding ceremony. Now, three kids and eight years later, they appear to still be the happy, fun-loving couple they were when they first met. It doesn't look like the honeymoon phase will ever end for these two.
Check out The Cheat Sheet on Facebook!