'Noelle' On Disney+: Why Anna Kendrick Always Wanted to Make A Christmas Movie
It's many actors' dream to be in a particular kind of movie: A historical drama, perhaps, or maybe even a blockbuster superhero flick. But star Anna Kendrick has a different goal in mind. Let's take a look at Noelle, an upcoming film starring Kendrick that was presented at D23 Expo in Aug. 2019.
Here's what 'Noelle' is about
As you can see from the trailer Noelle is about a woman of the same name, played by Kendrick. She is the daughter of Santa Claus and, following her father's passing, her brother is expected to take up the mantle. However, he disappears, and it's on Noelle to save the day.
The movie looks to be your standard holiday fare, much like other modern Christmas tales like Elf. In fact, the scene in which Noelle tries to learn the lingo of ordinary people ("yoga pants" vs. "yogurt pants") sounds exactly like numerous scenes in the 16-year-old Will Ferrell comedy. 
This release has been a long time coming
If this all sounds a little bit familiar, it's because we've known about Noelle for quite some time. The movie was filmed all the way back in late 2017, with the first casting announcement coming in Jan. of that year. Filming took place in Canada and wrapped up in early 2018.
Initially, rumors circulated that the first was due out in time for a 2018 holiday season theatrical release. This was then pushed back to this year. However, Disney decided to instead keep the film for the launch of the Disney+ streaming service. 
Anna Kendrick spoke about 'Noelle' at D23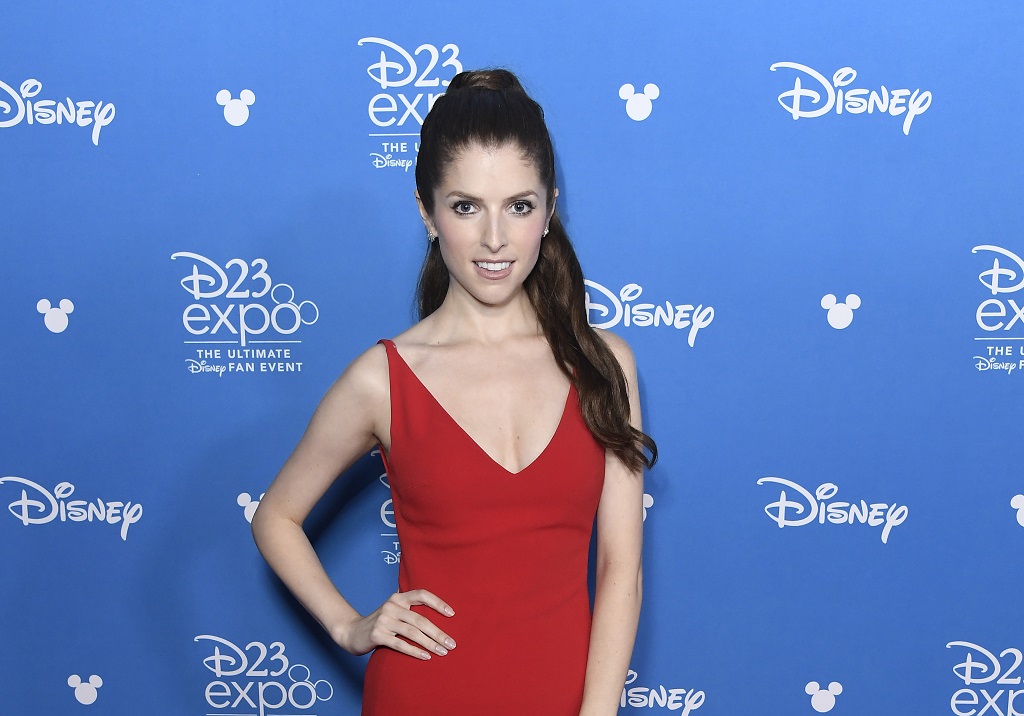 Kendrick looked the part when she came out on stage during the Disney+ presentation at D23 on Friday, Aug. 23, 2019. She was wearing a red dress, perfect for the Christmas theme, along with heels to match. 
"I've always, always wanted to be in a Christmas movie," said Kendrick. "My family and I have movies that we watch every year," she continued, name-dropping another Disney flick, The Muppet Christmas Carol. "We know all the words."
Has Kendrick been in a Christmas movie before?
That's a very sweet sentiment from Kendrick, and we can see where she's coming from. However, she actually misspoke in a way. Kendrick has appeared in a Christmas movie before, but not one with the same kind of "classic holiday" message.
Chances are, you're not familiar with this one: Happy Christmas, a dramedy that came out in 2014. Anna Kendrick starred in the film, which was written, directed, produced, and also starring Joe Swanberg, who is known for his mumblecore style. So technically, this is Kendrick's second holiday flick, though it's definitely not one for the usual Disney audience. 
Who else stars in 'Noelle'?
As you can see from the trailer, Noelle is, like most other Disney productions, particularly star-studded. Bill Hader portrays Nick Claus, Noelle's scared and wayward brother who runs away instead of taking on his duties as Santa. Though Hader wasn't there, Kendrick was joined at D23 by Billy Eichner, who plays Gabriel Kringle, Noelle's cousin who is next in line to become Santa.
The supporting cast is also full of noteworthy names. Shirly MacLaine is Elf Polly, Noelle's former nanny who accompanies her on her journey to find Nick. Ron Funches, Julie Hagerty, and Kingsley Ben-Adir are also in the film.