Normani Wins Her First MTV VMA As A Solo Artist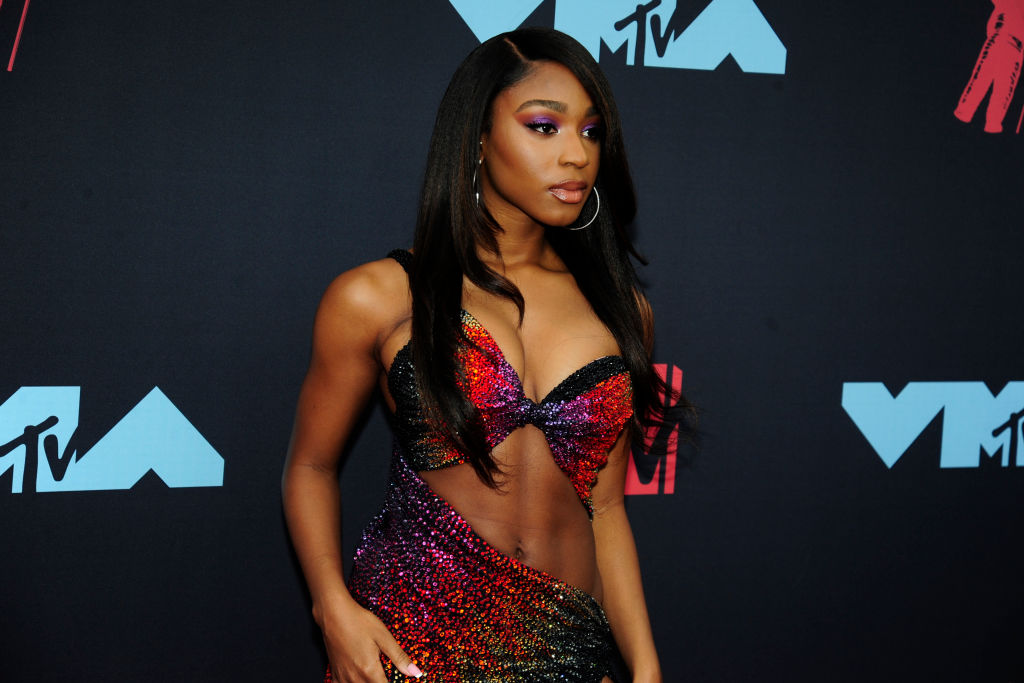 The 2019 MTV VMA's was a special night for Normani. She was nominated for her first MTV VMA as a solo artist and she performed her new single, "Motivation." To cap the night off, Normani won her first VMA as a solo artist.
She won four VMA's with Fifth Harmony
Normani was an original member of the girl group, Fifth Harmony. The group formed during a season of The X Factor USA. Fifth Harmony finished in third place on the show. After X Factor USA, they debuted in October 2013.
Fifth Harmony earned seven MTV VMA nominations between 2014 and 2017. The group won four VMA's. In 2014, they won Artist to Watch. They won Best Collaboration and Song of Summer in 2016. In 2017, Fifth Harmony won Best Pop Video.
In 2018, Fifth Harmony announced an indefinite hiatus so the members could focus on their solo careers. Since the group disbanded, Normani has slowly climbed the ranks as one of the music industry's most promising rising stars.
Normani won Best R&B Video at the 2019 MTV VMA's
At the 2019 MTV VMA's, MTV nominated Normani for Best R&B video. It was her first MTV VMA nomination as a solo artist. Since going solo, Normani has been nominated for several awards. Most notably, she earned nominations for an ASCAP Award, two Billboard Music Awards, two iHeartRadio Music Awards, and four Teen Choice Awards.
MTV nominated Normani for the music video for her song, "Waves." The song features 6lack and is a single from Normani's upcoming solo album. Normani won Best R&B Video at the 2019 MTV VMA's. This marked her first VMA nomination and win as a solo artist.
"Waves really got a VMA and made Normani the first female artist to win the Best R&B category in a decade. Waves stans truly won. #VMAs," wrote a fan on Twitter.
Normani performed her new single 'Motivation'
Normani has a powerful stage presence and excels at choreography. The singer is a former gymnast and usually wows audiences with her amazing moves. At the 2017 MTV VMA's, Normani performed with Fifth Harmony and her dance moves went viral.
A couple weeks before the 2019 MTV VMA's, Normani released "Motivation." The song was her first truly solo song because it did not feature any collaborations. MTV announced Normani would perform the new single at the 2019 MTV VMA's.
Like her performances in the past, Normani captivated the attendees at the awards show and the viewers back home. Many considered her performance to be a highlight of the show.
"NORMANI IS LITERALLY THE GREATEST THING TO HAPPEN TO THIS WORLD! MOTIVATION VIDEO SAVED 2019 AND VMA PERFORMANCE PERSONALLY SAVED MY LIFE," wrote a fan.
"The best way to shake the haters off is to turn the negative energy into success . Normani know what she is doing. she is So disciplined for her young age ..my girl definitely on the right way to rise higher," wrote a fan on Twitter.
In fact, some of her fans only watched the VMA's to see Normani perform.
"Just waiting on Normani's performance so I can go to bed," a fan tweeted.