The Real Reason Not Everyone is Convinced That Tristan Thompson Actually Cheated With Jordyn Woods
Unless you live under a rock (not judging), you're probably aware of the newest wave of drama to hit the Kardashian-Jenner family: Another Tristan Thompson cheating scandal. While the news of Thompson cheating on Khloe Kardashian once again might not come as a shock to all, heads definitely turned when it came out the alleged "cheatee" was Kylie Jenner's best friend, Jordyn Woods. Although millions of people believe Woods betrayed her best friend's sister, not everyone is convinced. Here's why.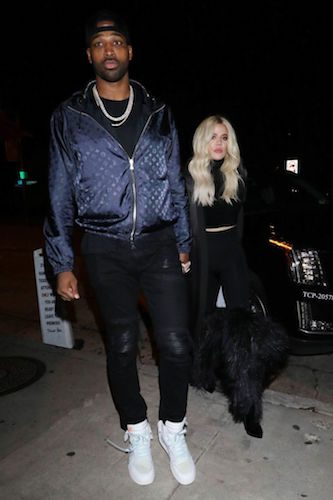 Thompson has cheated on Kardashian in the past
Kardashian has already been through a mountain of drama with Thompson, who is the father of her daughter, True. Only a few days before Kardashian gave birth to her baby girl, footage leaked of Thompson with another woman. Kardashian's life appeared to make a complete 180, going from a proud woman about to welcome her first baby to a distraught woman wondering where everything went wrong. But despite the drama, Kardashian wasn't willing to give up on her relationship with Thompson. She wanted to work on things, and over the course of the 10 months since the scandal, the two have been able to reconcile and have been rebuilding their relationship. Until now.
News broke this week that Thompson was having an affair with Kylie Jenner's best friend, Jordyn Woods
At the beginning of the week, news leaked that Thompson had reportedly cheated on Kardashian once more. Although fans were disappointed, they weren't entirely surprised. However, that all changed when everyone learned whom he'd supposedly cheated with: Jordyn Woods. Woods is Kylie Jenner's best friend; Jenner is Kardashian's younger sister. Woods and Jenner have been close for years, and Woods starred in Jenner's reality show, Life Of Kylie. A source said Thompson and Woods were seen getting suspiciously close after he invited her to a party at his home. And now, chaos has ensued.
Instagram seems to show that there may be more than meets the eye to this story — not everyone is convinced of the scandal
Although the cheating scandal is all over the media, not everyone is convinced things are as they seem. The biggest clue there's more to the story? Instagram. Just two days before the scandal broke, Kardashian posted a thoughtful comment on one of Woods' photos. "Baby girl" the caption read, as if to compliment Woods. Yet after the scandal broke, Kardashian didn't delete the comment. Plus, as of Wednesday evening, Kardashian was still following both Thompson and Woods on Instagram. Jenner was still following Woods as well.
Celebrities are notorious for unfollowing their enemies on social media  
The reason social media gives such a massive clue about the cheating scandal is because celebrities are notorious for unfollowing people when drama ensues. Breakups, fights, and more are all first discovered when the press realizes someone unfollowed someone else. With the Kardashians still following Woods and Thompson, it leads many to believe we might not know what's actually going on behind closed doors. Was it a big misunderstanding? Was it a Kris Jenner publicity stunt? The bottom line is it will likely be a while before the full story is revealed.
Check out The Cheat Sheet on Facebook!