Noticeably Thinner Shannon Beador from 'RHOC' Meets Her Rock 'Alter Ego'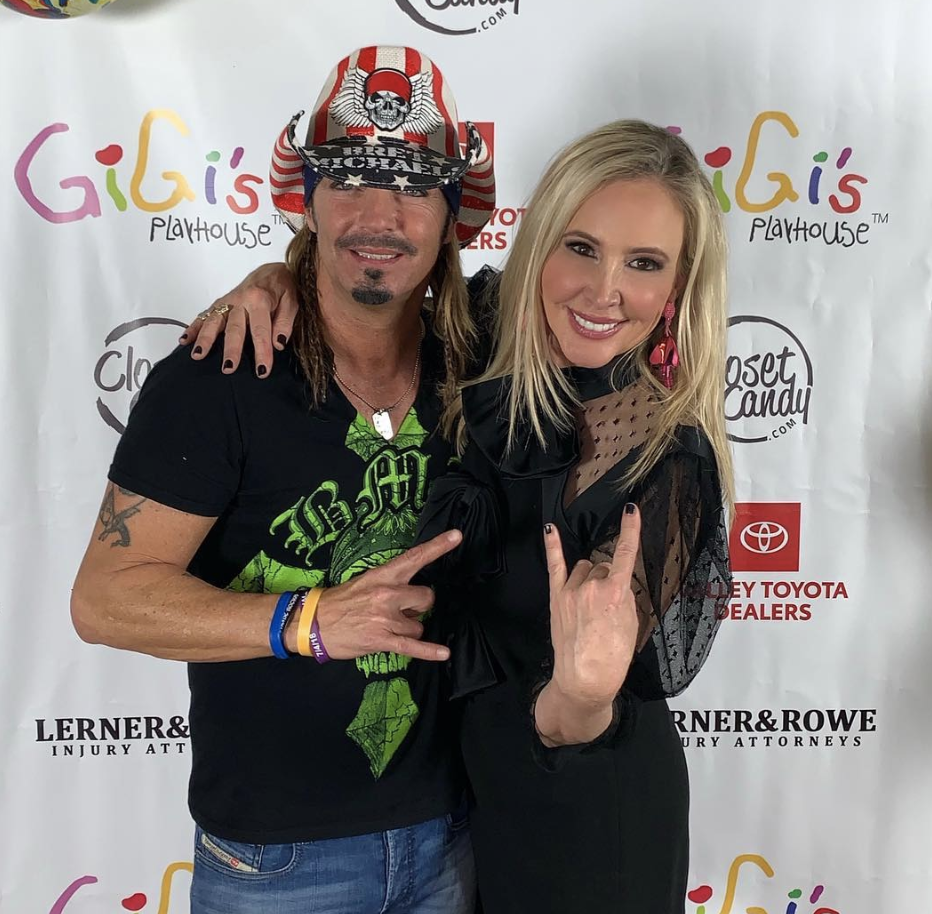 On more than one occasion, Shannon Beador from The Real Housewives of Orange County has dressed up like rocker Bret Michaels. Beador hasn't needed much to transform herself and uses her blonde locks to help her become Michaels.
Beador loves to use Michaels has her default costume. And in the past has posted a number of photos where she's appeared in full Michael's costume. She recently reconnected with the rocker, looking even more fit and fabulous than before. Has Beador and Michaels met before in the past? And how has her weight loss transformation become even more apparent?
She conjured up this costume during a difficult time in her life
Beador was dealing with substantial weight gain in 2017. During season 12, Beador kicked off the season looking noticeably heavier and frazzled. She posted to Instagram before the season kicked off to address the weight gain head-on. "So let's just get to it. Yes, I have gained weight. A lot of weight. About 40 pounds to be exact. I have not had plastic surgery or fillers, it's just plain and simple weight gain."
She continued by writing she'd address why she gained the weight. And for some time she blamed castmate Vicki Gunvalson. Ultimately, she took responsibility for letting go of a healthy lifestyle during a time when her marriage was falling apart.
Beador became Bret Michaels for Bingo
I'm Unskinny Bop Beador. Do you want to talk dirty to me??? ? Who's watching Drag King Bingo tonight? @bretmichaels #imontheleft? #RHOC pic.twitter.com/wHC1o6zwd0

— Shannon Beador (@ShannonBeador) September 4, 2017
The ladies attended a drag bingo game and decide to dress in drag too. Of course, though like every party or vacation with these ladies, things go south. And while they get into a smackdown, the Internet couldn't get over Beador's super accurate version of Michaels. Of course, the first comment was about calling herself unskinny. "Please don't put yourself down by saying, "unskinny!" U are a beautiful lady…positive self-talk only missy!"
But then the discussion shifted to a recent nosebleed that got out of control and sent Beador to the ER. "Are you feeling better and did your eye stop bleeding? please let us know. maybe you should hook up with bret:)" one follower asked. Beador responded, "I am better. What's ironic is that I thought I was having a brain aneurysm in front of my daughter & I thought did @bretmichaels feel this?"
Beador finally got to meet Michaels
Loved meeting you @bretmichaels ! ❤️ Your concert was incredible! ?#amazingentertainer #gteatenergy #cantwaittogoagain

— Shannon Beador (@ShannonBeador) May 20, 2018
By the next year, Beador was thinner both physically and maritally. She and her husband David were amid a nasty divorce, but Beador took time out to see Michaels in concert. Looks like Michaels is also a Shannon Beador fan too.
After the show, Beador and Michaels posed for a photo, which Michaels tweeted. Of course, Beador swooned and sent Michaels a "right back atcha" response to his post.
And met him again looking amazing
Beador attended a benefit for Gigi's Playhouse in Scottsdale, Arizona. And hooked up with other Real Housewives stars from the Beverly Hills franchise. Beador posed for pictures with alums Dr. Paul Nassif and Taylor Armstrong, looking simply incredible.
Michaels performed his signature tune Every Rose Has It's Thorn to an enthusiastic crowd, which Beador posted to Instagram. She also got a few shots with him, which showed how far Beador has come.
Check out The Cheat Sheet on Facebook!