Now 'SNL' Fans Can Devour Every Delicious Morsel of Stefon
Saturday Night Live purists who feel as though Weekend Update is missing the flair for the weirdly dramatic can celebrate. SNL has just released every single hilarious moment of Stefon on YouTube.
Fans can marinate in Dan Cortese and fish food for a solid hour and a half because up until now, Stefon clips have not been fully accessible, Esquire reports. Stefon, who was created from the comedy minds of John Mulaney and Bill Hader, became a mainstay at the Weekend Update desk from 2008 through 2013. As a beloved correspondent, Stefon always had the craziest advice for tourists looking for fun in the city.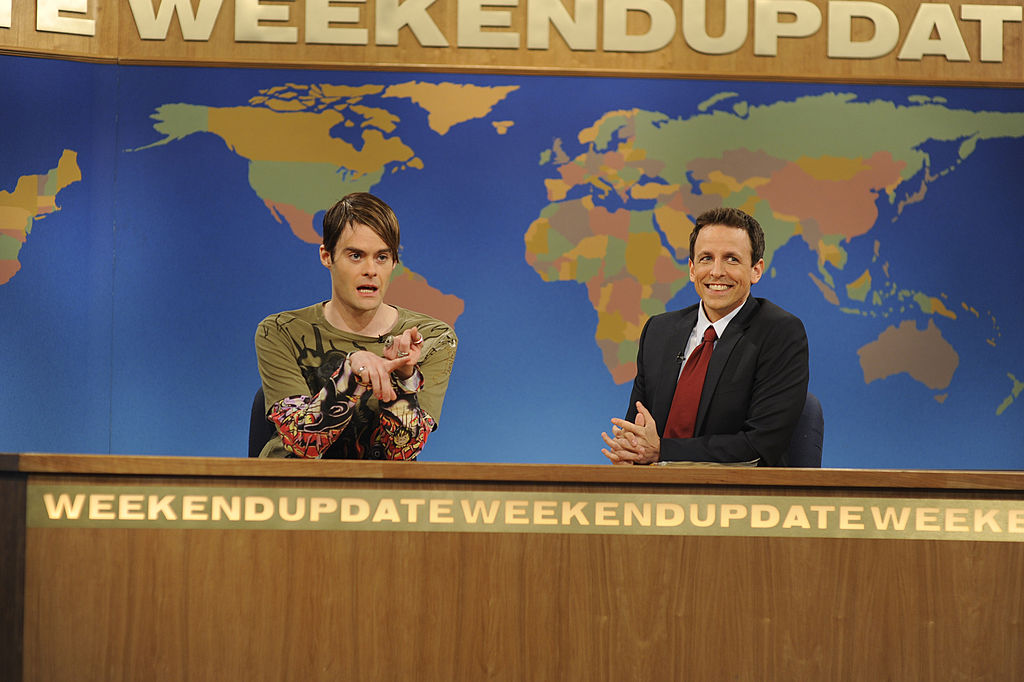 Stefon made a few guest appearances after Hader left SNL, but the club kid who knew where every sadistic, club in New York City was hidden generally vanished when Hader moved on.
Stefon wasn't isolated behind the 'Weekend Update' desk
The video series reminds viewers that Stefon first appeared in SNL sketches, even though he was best known for giving advice to tourists behind the Weekend Update desk.
The first video in the series shows Stefon in his (un)natural habitat. He's doing a movie pitch with actor Ben Affleck and it is nothing short of hilarious. Hader appears as Stefon in his signature Ed Hardy shirt, looking exhausted and covering his mouth to control his reactions.
This sketch is one of the first introductions viewers had to Stefon. In the sketch, Affleck pitches a normal idea for a movie script, but Stefon has other concepts. The idea is for the character "Eddie" to try out for the college football team. But Stefon adds, "Eddi has that twink look like thin, dumb … " As Hader delivers his thoughts on what Eddie should be like, the Stefon persona is born.
Stefon debuted on 'Weekend Update' in 2010
A fresh-faced Seth Meyers introduced Weekend Update audiences to Stefon in the spring of 2010. As the Weekend Update "city correspondent," Stefon was supposed to advise the average tourist where to visit while in the city. Of course, his recommendations are nothing short of hilarious. He suggests hitting "New York's hottest club" called Crease. "Club promoter TrannieOakley has gone all out," he exclaims. "And inside is just everything. Lights, psychos, Furbies, screaming babies in Mozart wigs. Sunburned drifters in soapsud beards …"
He holds it together in this instance, but more often than not, Hader would break character and cover his face with his hands. Mulaney and Hader wrote Stefon's dialog together, but Mulaney would then mess with the cue cards without Hader's knowledge to trip him up.
Mulaney said when Hader first did Stefon at dress rehearsal he'd laugh a lot. Hader apologized because he didn't want to mess up. "And I think it was really funny to mess up," Mulaney said. "I started changing the lines before he would go out there. Just a little, not all the lines. Like I'd throw in 'three screaming babies in Mozart wigs.' And he wouldn't have seen that until he went out there."