Obama: MLK Would Approve of the Affordable Care Act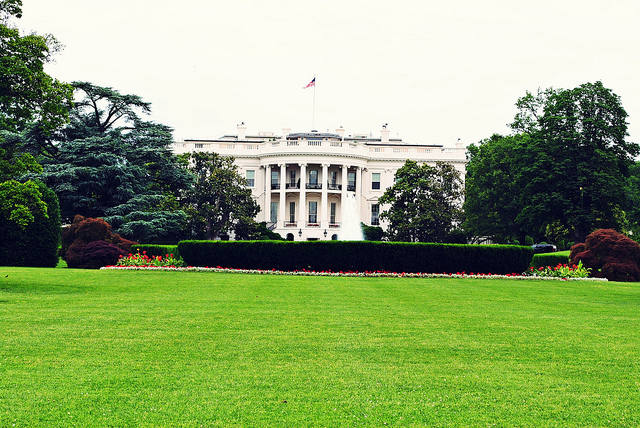 This week — August 28, to be precise — marks the 50th anniversary of Martin Luther King Jr.'s historic "I Have a Dream" speech, a part of the larger March on Washington D.C. for Jobs and Freedom demonstration. To this day, it remains one the largest political rallies for human rights in United States history.
As the capital honored the civil rights leader today, his name has dotted recent political rhetoric. In fact, the administration is working to tie the celebration of the anniversary of the March on Washington to the implementation of the Affordable Care, as a recent radio interview of President Barack Obama shows.
During the interview, which aired on Tuesday, the president said he believed King would approve of his signature health care reform. "I think he understood that health care, health security is not a privilege; it's something that in a country as wealthy as ours, everybody should have access to," he told hosts Tom Joyner and Sybil Wilkes, speaking from the White House. Given that the administration has described affordable health care as a right, it follows that the memory of a man whose words awakened a whole generation to the injustices perpetrated in the United States be invoked at a time when the Obama administration is looking to encourage Americans to sign up for health insurance coverage on the exchanges mandated by the Affordable Care Act.
When asked what he thought Dr. King would have said about our progress towards his dream, Obama said: "I don't think that he would look and say nothing has changed." But, he would also say, added Obama, that "when it comes to the economy, when it comes to inequality, when it comes to wealth, when it comes to the challenges that inner cities experience, he would say that we have not made as much progress" in that area as we have made with civil and social justice. The question is whether the ordinary person can succeed day-to-day, and "we have not made as much progress as we need to on that," the president continued. "I spend all my time thinking" about how the United States can "give opportunity to everybody so if they work hard they can make it in this country."
For the president, that is where the Affordable Care Act ties into the March on Washington. Obamacare will enable "anybody" who does not have health insurance in this country to "be able to get it an affordable rate."
Obama did not only present the health reform as a civil right, but as a common sense measure. It gives individuals the security that they are not going to lose their house or go bankrupt if they get sick or have an accident, he said. "If you have an accident, if you get an illness, you may have $5,000 out-of-pocket, $10,000 out-of-pocket. It might wipe out your savings.  You might not be able to pay rent."
His words were particularly aimed at young people, who often go without insurance for the simple reason that it seems to be an unnecessary expense. According to estimates made by the Obama administration, approximately 7 million people will sign up for coverage via the exchanges in 2014 and between 2.6 million and 2.7 million of those enrollees need to be young, cheap-to-insure, Americans for the system to work. Their insurance premiums will cover the big bills for the relatively small number of sick people that are expected to sign up relatively quickly via the exchanges.
"For a lot of people, it will be cheaper than your cell phone bill, and as a consequence you'll be getting free prevention, free checkups," he said. The key is "just signing folks up," he continued. "And we're really counting on everybody out there to get informed. If you know what it's about and you screen out all the misinformation, you'll discover this is something that really is going to help millions of people."
In her contribution to a series of blog posts written by administration officials in recognition of the 50th anniversary of the historic March on Washington, Health and Human Services Secretary Kathleen Sebelius employed a phrase from King's speech to argue in favor of Obamacare.
"When Dr. Martin Luther King, Jr. spoke at the March on Washington, he described a 'fierce urgency of now.' He reminded a divided nation that we need one another, and that we are stronger when we march forward, together. 'We cannot walk alone,' he said. '"And as we walk, we must make the pledge that we shall march ahead. We cannot turn back,'" she wrote.
"A half century later, Dr. King's words have renewed meaning," Sebelius continued, meaning for every child in America "whose health lies in the balance," for everyone "who lives day-after-day in fear because they do not have insurance," and for every parent who has faced bankruptcy because of unaffordable medical bills.
In her estimation, without the freedom that comes from having access to quality health care, "there is no opportunity to live the American dream."
Follow Meghan on Twitter @MFoley_WSCS