'Ocean's Eleven': The Next Franchise to Get a Female-Led Reboot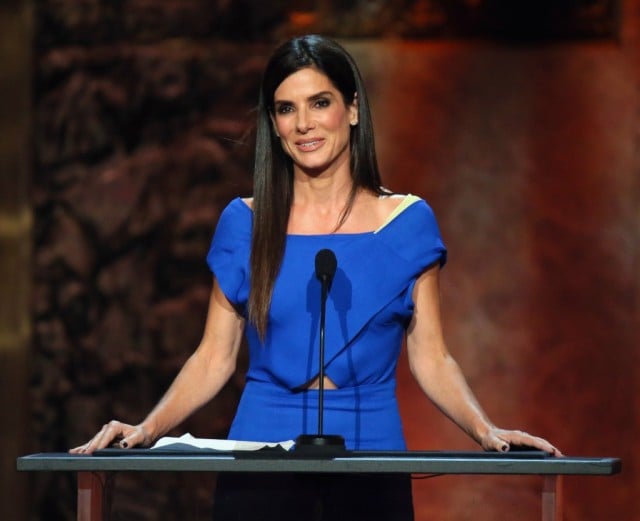 Ocean's Eleven may be the next popular film to get an all-female reboot. Keeping in line with Hollywood's current gender-swapping trend, Sandra Bullock is reportedly now set to star in a new, female-led version of the heist thriller flick.
As most probably know by now, Ocean's Eleven follows the character of Danny Ocean, a charismatic thief who teams with ten of his friends to pull off the ultimate Las Vegas heist. The original movie was released in 1960 and was then remade into a popular trilogy in the early 2000s, with George Clooney, Brad Pitt, and a cast of other A-listers in the lead.
Now, the story will get another big-screen reimagining, this time centering on an all-lady team of charismatic robbers led by Bullock. According to The Playlist, the actress is the first leading lady to get cast in the developing project. Though the roles of the other Ocean's 10 have yet to be filled, the movie has already cemented some of its behind-the-scenes team. Gary Ross, who directed the first Hunger Games flick, is reportedly on board to helm the remake, based on a screenplay written by Olivia Milch (Queen & Country, Little Women).
While this is the first most of us are have heard about the project, it seems the movie has actually been in development for over a year. The concept for the female-led Ocean's first began coming together in fall 2014, headed by late producer Jerry Weintraub, Ocean's trilogy director Steven Soderbergh, and the franchise's star, Clooney (who has a long friendship with Bullock). Though it was thought the reboot may come to a halt when Weintraub passed away this past summer, it seems the film is still well underway. In fact, Milch, who has become a go-to screenwriter for female-centric flicks in recent years, has already handed in a draft of the script.
Specifics of the new Ocean's project have not been disclosed, so it's unclear how much the project will tie into the Soderbergh features, if at all. But fans can probably expect at least one connection between the two: Per The Playlist, Clooney is considering making a cameo as Danny Ocean in the Bullock-led film – which signifies that the actress won't just be playing a female version of the character, but an original one.
For Bullock's part, this won't be the first time that she has taken on a role that was originally written for a male actor. This November, the actress is starring in the political comedy drama Our Brand Is Crisis, in a lead role that was initially meant for Clooney.
Ocean's Eleven is only the latest film to get rebooted with a female-centric cast. The practice has become a big trend in Hollywood in recent months. The female-led Ghostbusters is set to hit theaters next year. Meanwhile, Road House is  a remake with Ronda Rousey in Patrick Swayze's role, and 21 Jump Street is also reportedly getting an all-lady reboot.
As for who will join Bullock in the new Ocean's cast, that remains to be seen, but there'll surely be a lot of speculation in the coming months. As EW pointed out, Jennifer Lawrence's name is sure to be brought up in connection with the flick, given her relationship with director Ross (although she has a jam-packed schedule as it is).
Audiences will have to stay tuned for more casting news. As for when the project will head into production, Ross will reportedly begin working on the female-led Ocean's Eleven after finishing up with the Matthew McConaughey flick, The Free State Of Jones, which is due out next spring.
More from Entertainment Cheat Sheet:
Want more great content like this? Sign up here to receive the best of Cheat Sheet delivered daily. No spam; just tailored content straight to your inbox.