Offset Responds to Reports That He's Cheating on Cardi B
Could there be trouble in paradise for Offset and Cardi B?
On Dec. 3, Offset was accused of flirting with another woman on Instagram. After the message was made public, fans slammed the "Clout" rapper for allegedly continuing to mistreat his wife and urged Cardi B to file for divorce. But that doesn't seem as likely as some people hope.
Offset has vehemently denied cheating on his wife and shared video evidence to prove it.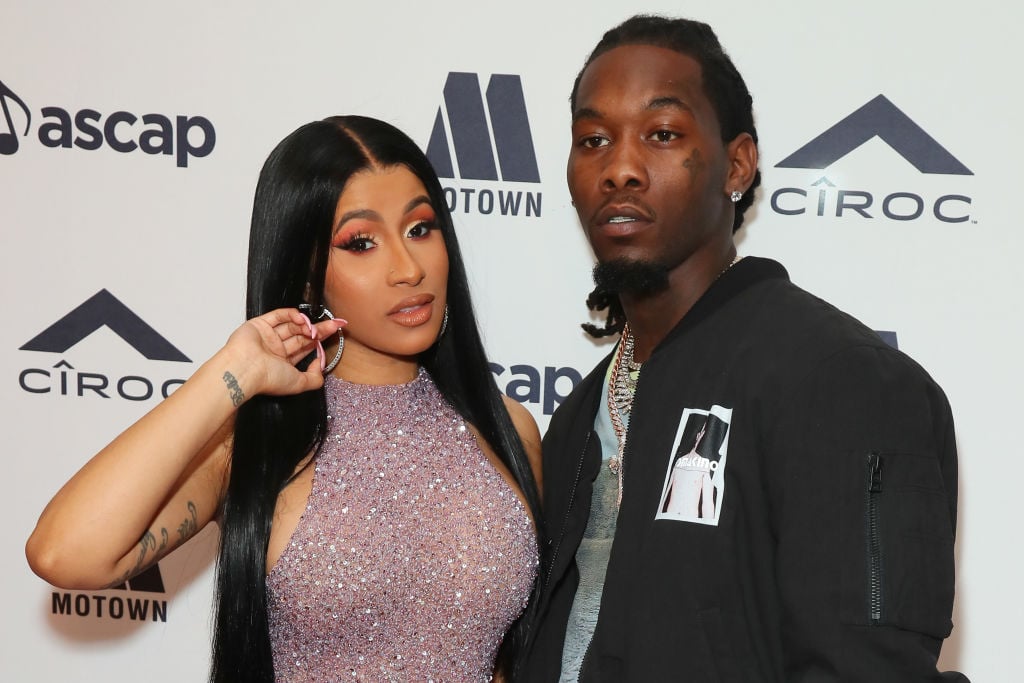 Inside Offset's cheating scandal
According to reports, Tekashi 6ix9ine's girlfriend, Jade, posted a video in which she showed a message from Offset's Instagram account. The message said, "Miss u [for real]," fueling speculation that Offset was trying to woo and cheat with another woman behind Cardi B's back.
"Your wife @iamcardib has a OPEN CRIMINAL CASE, why are you writing me you don't respect her ??????? Theirs a lot of sh*t I haven't exposed yet, but there's a time for that," Jade captioned the clip."
Jade and Cardi B are in the middle of a court case due to an attack the "Bodak Yellow" rapper allegedly ordered on Jade in August. According to TMZ, Cardi B reportedly had her crew attack Jade at a club after accusing her of sleeping with Offset. Another woman was also injured in the alleged attack. Cardi B was indicted for the fight in June and has pleaded not guilty.
Offset's response to the cheating rumors
Later on Dec. 3, Offset posted a video in which he defended himself. He claimed that someone hacked his email, which is connected to his social media, accessed his accounts, and sent the messages. (Mysterious posts also showed up on his Twitter account.)
"I been having a good weekend, man," he continued. "I'm with my family. I ain't on no stupid sh*t. Thanksgiving just passed. Great Thanksgiving with my family, man. I ain't on no bullsh*t."
He noted that he still did not have access to his Instagram, showing off a support message from the platform.
Cardi B defends Offset
Cardi B believes her husband. In a separate video, the "Be Careful" artist said Offset isn't that "crazy" and that his account was definitely hacked.
"Everybody know he done some dumb sh*t, but come on now, n*ggas ain't dumb, n*ggas ain't crazy," she said in an Instagram video. "We've been so good. We had a sweet weekend. Life has been good … That's why we're not entertaining it. That's why I'm not getting rowdy."
Some might not be convinced that Offset is innocent. But it's hard to imagine that he would risk losing his wife again. In December 2018, Cardi B announced plans to divorce Offset, whom she married in September 2017, after he faced cheating rumors. They would eventually reconcile, but Offset had to put in a lot of work to win her back.
He's seemingly been on the straight and narrow ever since. Offset and Cardi B have really worked on their relationship, and they prioritize spending time together, with and without their daughter, Kulture Kiari Cephus, who was born in July 2018.