Offset Tried to Win Back Cardi B in Front of Thousands of Fans — And Got Shot Down Again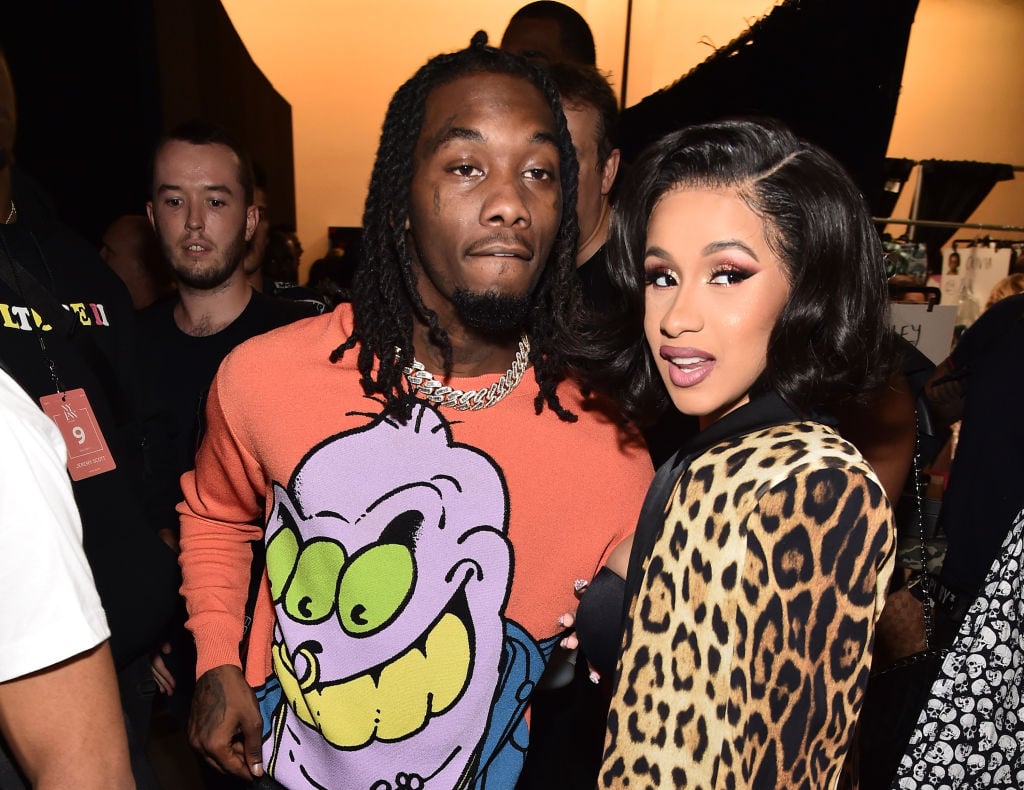 Offset is not giving up on Cardi B.
The rappers have made headlines earlier this month after news of their divorce. Since then, Offset has been doing everything in his power to win his wife back. On Saturday, December 15, the 27-year-old rapper decided to apologize in a new way and let's just say, Cardi B was not impressed.
Offset crashed Cardi B's concert
The past Saturday, Offset brought his and Cardi B's marital differences to the public eye.
Offset took things into his own hands as he marched onto the stage while Cardi B was performing her set at Rolling Loud, one of the largest hip-hop festivals, in Los Angeles.
Walking on stage with a floral display that read "Take Me Back Cardi" and a bouquet of flowers in hand, the rapper walked up to his wife begging her to take him back in front of millions of fans. Offset told Cardi B, "I just wanna tell you I'm sorry, babe. In person, in front of the world, I love you. Whatever I gotta do to show you, I will."
Cardi B, who looked to be unamused by Offset's stunt, exchanged a few words with her ex before he walked off stage with his flower display in tow.
Check out the video below:
.@OffsetYRN offers @iamcardib an apology. [via @rapradar] pic.twitter.com/fOenMgaGdo

— Complex (@Complex) December 16, 2018
The couple split earlier this month
Cardi B revealed to fans that she had called it quits from husband, Offset, after reports that he had cheated on Cardi with another woman. The couple was only married for a year and have a five-month-old daughter together.
The "Bodak Yellow" rapper revealed on a now-deleted Instagram post that her and Offset "just fell out of love". The rapper states, "We are really good friends and we are really good business partners — you know he's always somebody that I run to talk to, and we got a lot of love for each other — but things just haven't been working out between us for a long time."
"It's nobody fault I guess we just grew out of love, but we are not together anymore. It might take time to get a divorce and I'm going to always have a lot of love for him because he is my daughter's father."
Offset has been doing everything in his power to win Cardi B back after the cheating rumors surfaced. He even took to Instagram to apologize publicly to Cardi B for his mistakes.
Viewer discretion advised:
Cardi B wants her fans to leave Offset alone
Following the incident, Cardi B took to Instagram to ask her fans to stop attacking Offset.
With such a large following, of course, Cardi B. would have a few fans who want to come to her rescue during such a difficult time.
Unfortunately, some fans took it a little too far when confronting Offset. Cardi B compared the comments Offset has been receiving to the ones Ariana Grande's ex-fiancé, Pete Davidson, has been getting. Davidson just recently hit his breaking point due to the hate.
Viewer discretion advised:
https://www.instagram.com/p/BrcLFy0l1Y0/
https://www.instagram.com/p/BrcUrfkF1wB/
There has been no word on whether or not Cardi B has forgiven Offset for his stunt but she has revealed that she will always love him even though they are no longer together.