Olympian Kerri Walsh Jennings Says She Is Only Getting Better with Age (Exclusive)
Although the age of the average Olympian has increased, the majority of the athletes participating in the prestigious games are in their late 20s.
In 2016, the average Olympian was 27 years old, up from age 25 in the 1980s, according to The Wall Street Journal. But that average applies to the entire series. Looking at a sport like beach volleyball, the maturity and wisdom that come with developing skills appear to take priority over physical age.
For instance, many elite beach volleyball players who are at the top of their game are age 35 or older. In fact, players like beach volleyball Olympic gold medalist Phil Dalhausser shared that at age 39, he has a distinct advantage over his younger opponents. "In my opinion there are so many little nuances in the game which you learn the longer you play," he told Beach Major Series. "The longer you play, the more you pick up these things. You can play a team that are 10 years younger than you, who are physically bigger and stronger, but that isn't always an advantage."
Three-time Olympic gold medalist Kerri Walsh Jennings agrees that at age 41, getting older doesn't mean her game is suffering. In fact, she told Showbiz Cheat Sheet she's only getting better.
Jennings is always trying new ways to train
Jennings has to stay in top shape as an Olympian. So while she says the main pillars of her training have remained steady for the last 20 years, her trainers are always infusing her workouts with new ways to challenge her body and mind. "My trainers are so curious about the leading edge of things going on," she says. "They are so established and true to tradition. So my foundation and the basis of what I do hasn't changed in 20 years."
"However, my trainers keep challenging themselves in new ways, and they keep challenging me in new ways because of it," she continues. "So I feel like I've always had great diversity in my training on the court and off the court. So that's always kept things fresh and kept my body guessing and feeling really good."
Burnout usually seems to result from mental exhaustion. "Times where I kind of felt burned out or not really into it, and [it] was more of a chore, was when I was mentally and emotionally worn out." That's when she says she'd take a break, step back, and re-evaluate her workout approach.
Age is just a number for Jennings
With regard to age, Jennings says she doesn't really think about it. "Age is such a non-thought for me. I feel like I just have a lot more wisdom at this point after playing this sport for 20 years now and I'm still curious around my potential and untapped potential. I'm healthy and strong."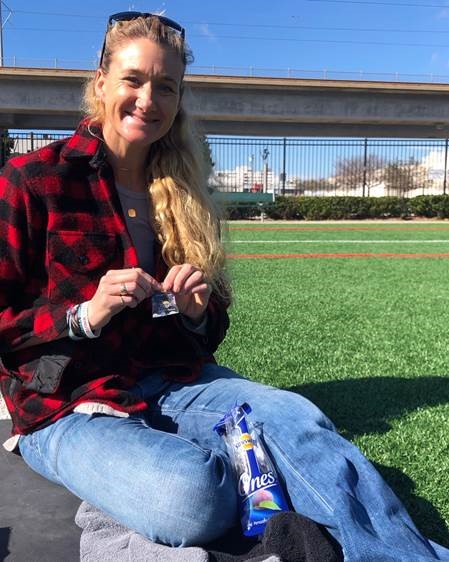 Like Dalhausser, Jennings says she's only getting better. "I think I'm reaching my peak of strength and as a woman in her 40s, that's pretty damn exciting. I honestly feel great. When I was young, kicking back, I never thought about the age of my opponents as being older. And it's the same thing in reverse now. Age isn't an afterthought, it's really no thought."
Even though she's coming into her truest potential, Jennings says she has to still be mindful about how she fuels her body. "I'm such a creature of habit and I really believe that I become what I'm surrounded by," she shared. "So I always want to surround myself with really healthy and wholesome, real food as much as possible." That's why Jennings has partnered with Sunsweet. She loves the energy she gets from the prune snacks, plus she enjoys giving them to her children. "Yeah, the sweet ones are incredible. I mean, they're in every kid's lunch of mine," she shared.