'Orange Is the New Black' Losing Important Character in Season 3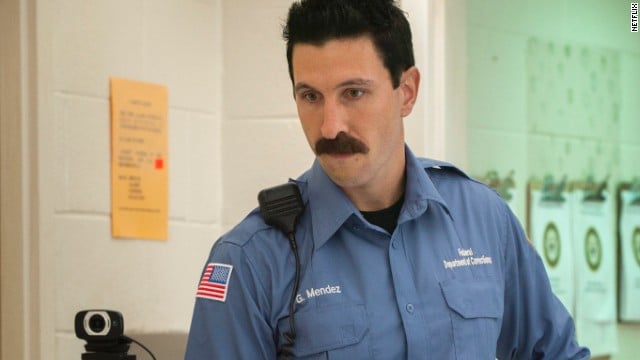 Orange Is the New Black will officially be down one important character next season. Pablo Schreiber, who plays prison guard Officer Mendez (more aptly known as Pornstache) recently confirmed that he will not be reprising his character in Season 3 of the smash hit Netflix series.
"I'm not taking part in the third season. I'm a member of a show called The Brink that's going to be on HBO," the actor told the New York Post. "It's a half-hour comedy with Jack Black and Tim Robbins and me [as] the three leads. I'm really excited about it."
Schreiber's cruel and often disgusting Mendez, though not a presence in every episode, has still managed to become one of the show's standout characters, if only because fans love to hate him. Despite this, Schreiber was never actually made a series regular on the series, as opposed to his upcoming role on The Brink. "It's a no-brainer," he said of his decision to take the other part to the Post. "It was a better move for me as an actor."
That hasn't stopped some viewers from already expressing disappointment at his departure, even though the news likely wasn't a complete surprise. Those who've already watched the entirety of the second season (as most of the show's dedicated fan base has) will remember that — spoiler! – Mendez and his absurd trademark facial hair ended up getting carted off to serve his own jail time toward the end. Still, considering the entire show revolves around the prison experience, most fans were assuming that Pornstache would eventually pop up again in future episodes or perhaps even worm his way out of his sentencing with one of his typical sleazy and manipulative stunts.
While that's obviously no longer the case, Schreiber told the Post that he's thankful for his experience on the show and clarified that OITNB fans shouldn't write him off forever. "I feel so grateful to Orange. Jenji obviously means a ton to me. I respect her to no end," he said. "I think she writes the best dialogue on TV right now. While Season 3 is out of the picture, beyond that is open."
He later reiterated the point on Twitter, writing, "For all the over-reactors: Just bc P-Stache won't be on Season 3, doesnt mean we won't see him again…" Hopefully, that means he'll eventually pull a similar move to that of fellow OITNB cast member Laura Prepon. Prepon's character, Alex, was vital to the first season of the show, but is then let out of jail and appears in only a handful of episodes in Season 2. She is reportedly back full time for the upcoming season. Schreiber could easily return in the future in much the same way, maybe after his character finishes serving at least part of his sentence. In the meantime, though, fans will have to get used to seeing Lichtfield without the 'stache.
That's not the only change viewers should expect. Recent reports suggest that there won't be as much focus on Jason Biggs' character, Larry, in the upcoming season. Again, fans may not be surprised, given that Larry is no longer engaged to Piper (Taylor Shilling) and is actually in love with her best friend as of Season 2.
Whether you're on board with which characters are in rotation or not during a particular season, the show's consistently shifting focus on various cast members is one of the many features of the series that makes it so engaging. With so many characters to choose from — and new ones being introduced, like the character of Vee – viewers never know who is going to return or bow out, and that's part of what keeps them tuning in. Season 3 of Orange Is the New Black is expected for release sometime around June 2015.
More From Entertainment Cheat Sheet:
[mediagraph-partner content_url="8486264a437fe65e7f9c63ac"]
Want more great content like this? Sign up here to receive the best of Cheat Sheet delivered daily. No spam; just tailored content straight to your inbox.