Oscar Race 2014: Your Cheat Sheet to the Best Picture Nominees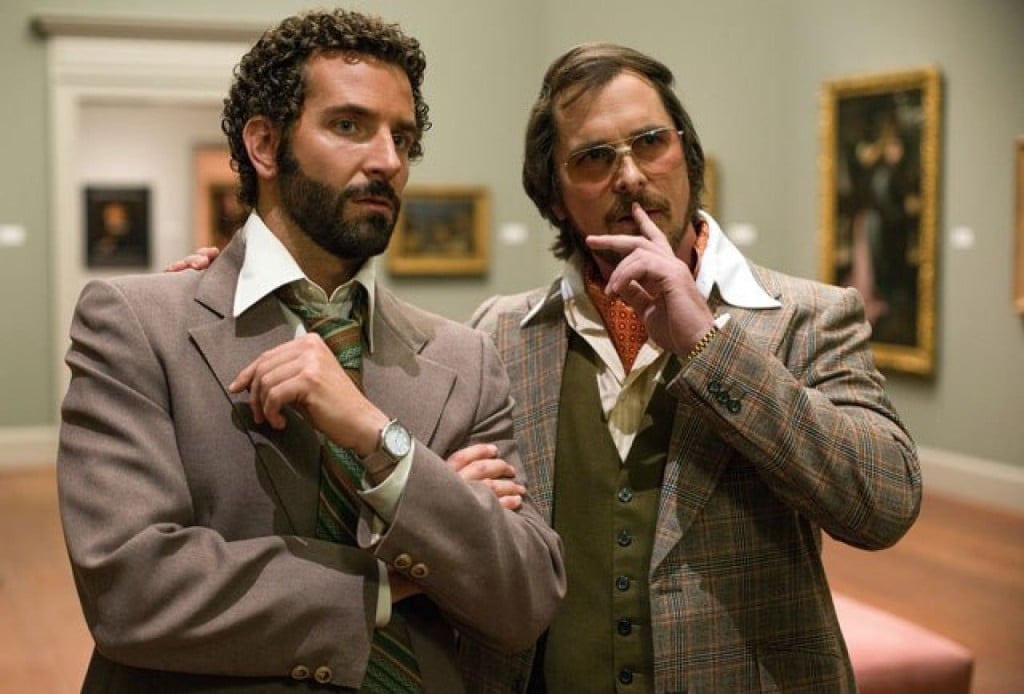 On March 2, 2014, the 86th Academy Awards will air on ABC, and nine exceptional films from the last year are vying for the night's top prize. Memorable stories, exciting performances, and innovative cinematography set these films apart — but only one will be named Best Picture.
American Hustle
Based on a true story, this crime drama tells the story of a pair of New Jersey con artists (Christian Bale and Amy Adams) who reluctantly team up with an FBI agent (Bradley Cooper) to take down their fellow criminals. 
Why it might win: While it barely squeaked into the running with its late-stage release in 2013, the American Hustle drama took the critics by storm, picking up some major buzz. A tight script, entertaining story, and slew of exceptional performances from its A-list ensemble cast are the exact elements that Oscar voters look for in a Best Picture winner.
Why it might not: It's a stylish, engaging film, but doesn't pack an emotional punch or aesthetically dazzle the way some of the other Best Picture nominees do.

Captain Phillips 
This thrilling biopic tells the story of a cargo ship hijacked by Somali pirates.
Why it might win: An edge-of-your-seat biopic, Captain Phillips is a solid film all around. With gripping performances by Tom Hanks and newcomer Barkhad Abdi as well as stellar direction by Paul Greengrass, it's one of the most critically acclaimed films of 2013.
Why it might not: Captain Phillips never emerged as a front-runner in the Oscar race, so the chance of voters pushing it to the top of the list is slim.

Dallas Buyers Club 
A rodeo cowboy (Matthew McConaughey) teams with a transsexual (Jared Leto) to create an underground "buyers club" for HIV medications that aren't available in the U.S. 
Why it might win: Stellar performances and a gritty, modern, and true story make Dallas Buyers Club a truly unforgettable film. Voters who favor realistic narrative and films about contemporary issues may put their hat in this film's ring.
Why it might not: With a heavy plot that centers around characters with AIDS, Dallas Buyers Club isn't everyone's cup of tea. Academy members are likely to give the night's Best Actor and Best Supporting Actor to stars Matthew McConaughey and Jared Leto, while focusing on another film for Best Picture.

Gravity
A medical engineer (Sandra Bullock) on her first space flight must fight for survival when her mission goes awry and she loses her partner (George Clooney.)
Why it might win: An aesthetic masterpiece with a strong emotional core, Gravity was the first film to receive serious, sustained Oscar buzz when it hit the big screen last fall. Alfonso Cuarón's global hit is still a front-runner in the Best Picture race.
Why it might not: In recent years, Academy voters have chosen character-driven films over exciting spectacles. While Gravity is ultimately a tale of survival and the human spirit, many voters may remember it for its visual delight, and award another film with the year's top prize.

Her
In the year 2025, a heartbroken writer (Joaquin Phoenix) falls in love with an advanced operating system named Samantha (Scarlett Johansson.)
Why it might win: With an offbeat, unforgettable plot and Spike Jonze's distinct visual style, Her was one of the most talked about films in the industry last year, which means it may still be fresh on voters' minds when they cast their ballots.
Why it might not: Of all the nominees for Best Picture this year, Her is arguably the most offbeat. As a result, voters with more traditional tastes may be more likely to choose another film for Best Picture.

Nebraska 
A finicky father (Bruce Dern) enlists his son (Will Forte) to travel across several states in hopes of collecting a sweepstakes prize.
Why it might win: As a black and white film about a road trip through the heart of America, Nebraska has many elements that Oscar voters of years past rewarded; exceptional cinematography, memorable performances, and a thematic exploration of the modern family. Oscar voters with an affinity for nostalgia and good old-fashioned storytelling may choose Nebraska as their top pick for the year. 
Why it might not: Nebraska is, in every sense of the word, a classic film — and in a year full of flashier stories, scenes, and performances, it may be forgotten.

Philomena
Based on a true story, Philomena tells the story of a woman (Judi Dench) who works with a journalist (Steve Coogan) to find the son she gave up for adoption more than 50 years ago.
Why it might win: It's an emotionally resonant film with an engaging script that strikes the perfect balance between comedy and drama — which means it could appeal to Academy voters that favor both genres.
Why it might not: Philomena was considered by many to be a dark horse for Oscar nominations despite its strong critical acclaim. Academy members may see the fact that it was nominated at all as a success and not consider giving it the top prize.

12 Years a Slave
The film 12 Years a Slave is the true story of Solomon Northrop (Chiwetel Ejiofor), a talented musician who's captured and sold into slavery in the pre-Civil War south.
Why it might win: An exceptional story of survival, 12 Years a Slave is superbly acted and memorably emotional. It's a historical drama that simultaneously exposes the horrors of our country's past while celebrating the human spirit and the will to be free. Academy voters may think that 12 Years a Slave exemplifies American cinema and bestow it with a place in film history.
Why it might not: The film is beautifully crafted and feels like an instant classic — but voters who favor innovation and razzle-dazzle may go for Gravity or Her instead.

The Wolf of Wall Street
This dark comedy tells the true story of Jordan Belfort (Leonardo DiCaprio), a drug-addicted stock broker whose lavish lifestyle catches the attention of the FBI.
Why it might win: This larger-than-life tale of Wall Street excess has impressed critics and audiences with its tight, flashy narrative and winning performances from an ensemble of talented actors, including Jonah Hill, Matthew McConaughey, Margot Robbie, and Kyle Chandler. It marks a departure for both the film's director and its star, Leonardo DiCaprio, which could get voters' attention.
Why it might not: Academy members might see Wolf as a flashy crowd-pleaser and vote for a film with a little more weight.
More From Wall St. Cheat Sheet: