Oscar Race: NBR Awards Prove There's No Best Picture Frontrunner Yet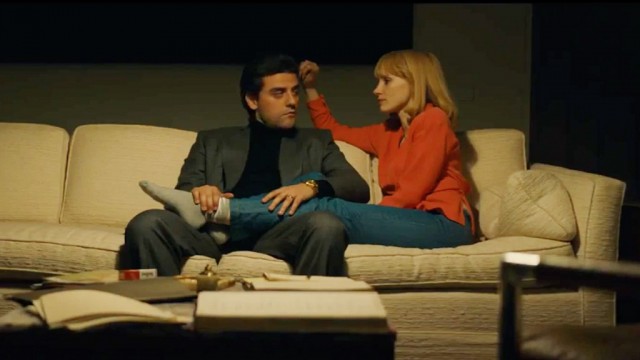 As this year's awards season chugs full steam ahead, most are wondering what early recognition may mean for the coming Oscar race. The National Board of Review is the latest to give its say on where the season might be heading, doling out top honors to J.C. Chandor's forthcoming film, A Most Violent Year.
The acclaimed gritty drama, which chronicles the story of an ambitious immigrant who fights to protect his business and family during the early 1980s in New York, won Best Film from the NBR this week. It's an unexpected choice. Though the film, which is hitting theaters later this month, has been garnering critical praise, it's struggled to gain any real awards season attention, with most of the buzz focusing in on other Oscar contenders like Birdman and Boyhood. The NBR awards have changed that, honoring not only the film but also its two stars, Jessica Chastain and Oscar Isaac. Chastain took home the prize for Best Supporting Actress while Isaac tied with Birdman's Michael Keaton for Best Actor.
So what exactly does this mean for the Oscars, if anything? The NBR is known for making unexpected selections, as the organization's president, Annie Schulhof, herself acknowledged this year. "We're quirky and we have a different take," she said of the choice. Still, the NBR's top film picks often go on to become Best Picture nominees, and the recognition could certainly provide a boost for A Most Violent Year and its leads. That being said, the board's choice doesn't necessarily signify that an Oscar shakeup is headed our way. What it really proves is that at this point, the race for Best Picture has no obvious frontrunner.
While Richard Linklater's Boyhood is a shoo-in for a nomination, it also initially seemed like the obvious top contender to win — one backed by expert prediction site GoldDerby and the New York Film Critics Circle, which awarded the project Best Picture and Best Director earlier this year. Birdman quickly became a main rival, earning six nominations at the Independent Spirit Awards and winning Best Film at the Gotham Awards earlier this week. Now, the NBR has lent its support to A Most Violent Year, which, though not as likely a potential frontrunner, could still certainly go on to become an Oscar finalist. In any case, it's clear there is no critical favorite yet.
The same could be said for the acting categories. With the exception of Julianne Moore, who has won Best Actress for Still Alice almost across the board, no one person is miles ahead in the race for Best Actor or the Best Supporting roles. Birdman lead Michael Keaton has taken home prizes at both the NBR and the Gotham awards, but biopic stars like The Theory of Everything's Eddie Redmayne, The Imitation Game's Benedict Cumberbatch , and Foxcatcher's Steve Carell can't be discounted just yet.
In terms of supporting roles, both Edward Norton and J.K Simmons have recently won for their performances in Birdman and Whiplash, respectively. On the supporting actress side, NBR's pick, Chastain, is competing against herself for her work on both A Most Violent Year and Interstellar, as well as others, including Boyhood's Patricia Arquette, Birdman's Emma Stone, and Wild's Laura Dern.
The Golden Globe, SAG, and Critics' Choice Award nominations, which may offer further insight into the wide-open race, are all revealed next week, so you know what that means — let the predicting continue.
More from Entertainment Cheat Sheet:
Want more great content like this? Sign up here to receive the best of Cheat Sheet delivered daily. No spam; just tailored content straight to your inbox.