'Outlander' Actors Sam Heughan and Graham McTavish to Launch Podcast
It's always tough when we're in between seasons of Outlander. Nothing seems to feel the same as it does when there are fresh episodes of the amazing love story of Claire and Jamie. Fortunately, there is some information about a few actors from the show to tide fans over in the interim. Sam Heughan, who plays the handsome Jamie Fraser, and Graham McTavish, who plays his uncle Dougal MacKenzie, are launching an epic podcast about Scotland.
What will the podcast be about?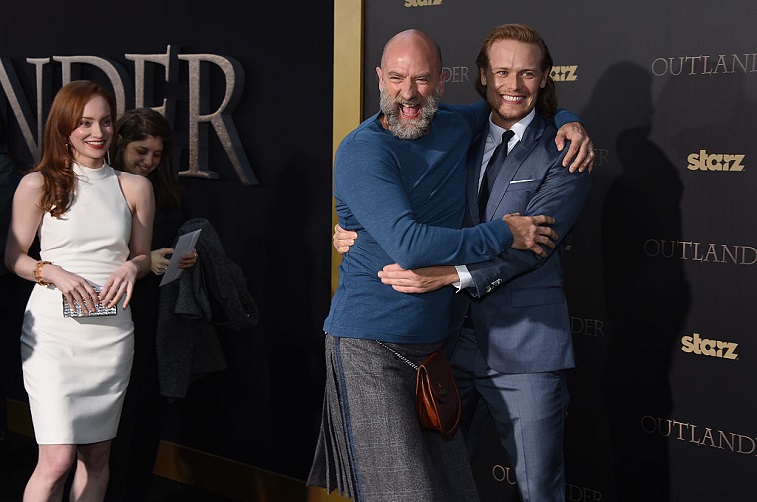 The podcast will be called Clan Lands, and will talk about Scottish culture, as well as its history. The show won't be about Outlander, but listeners will certainly appreciate the information that is sure to enhance the experience of watching the show.
Both actors took to Instagram to talk about the new venture they are undertaking together. "‪I'm not sure I'm ready for this…. but it'll be an adventure! Who's joining @grahammctavish and I in @clanlands ??" said Heughan via his Instagram.
McTavish also posted about the new podcast on his Instagram. "Great catching up with my murdering nephew @samheughan and planning our "Clanlands"podcast. Stay tuned for a lot of fun, history, landscape and kilts #clanlands Coming soon……."
Heughan talks about what's to come for 'Outlander' season 5
Heughan spoke to Parade.com about the upcoming season and what's in store for Jamie and Claire in season 5. It's going to be a difficult time for Jamie to see where his loyalties actually are.
"I can't give away too much, obviously, but as we saw in season four, Jamie's on the side of the Redcoats," said Heughan. "He's made this deal with the Redcoats, the British Army, so he's actually on the opposite side of the side where his allegiance really is and his loyalty lies, but he knows he needs to do it. He needs to do it for his family and for his tenants. He has to secure this land and make it a safe place for them, so he goes in league with the British. For Jamie, that's a pretty hard thing to do."
When does 'Outlander' season 5 return?
Unfortunately, not a lot of information has come out about when fans can expect to see season 5 of Outlander. Everything is being kept under wraps, but fans can rest assured that Jamie and Claire will be back soon.
Starz President and CEO Chris Albrecht said in a statement about the show that, "Fans can rest assured their beloved Claire and Jamie will be back facing new challenges, adversaries and adventures in seasons five and six as we delve into American history and continue the story of the Frasers as they settle in the New World."
The show is currently still in production and doesn't yet have a trailer, to the dismay of fans. But they can rest assured that the new season will be full of challenges for the Fraser clan.
Season 5 of 'Outlander' will be just as big as previous seasons
Parade.com spoke with executive producer Maril Davis about the upcoming season and challenges they've encountered.
"Honestly, every year I say the same thing," said Davis about season 5. "Every year we think, 'Oh, this isn't going to be that big of a year. It'll be like Little House on the Prairie; it will be smaller,' and every year we're wrong. It's just as big, if not bigger. The challenge for this year is dealing with the big house. Certainly, trying to figure out once again, how to do North Carolina in Scotland, which is always a little bit of a challenge. It's just also dealing with a book in which there's a lot of separate incidences and trying to craft that story to make a whole."
Davis continued talking to Parade.com about the loyal fans and how important the show is to so many. "I always knew what a loyal fanbase this had, because I was one of those fans," she says. "So, I hoped everyone else would like it and if we did well enough, that people would follow, but this has obviously exceeded all my expectations. It's so near and dear to my heart, it makes me sad to think in the future, at some point, we might not be doing this anymore."