'Outlander' Season 5: Sam Heughan And Caitriona Balfe Drop New Spoilers
Production for Outlander Season 5 is officially underway in Scotland and the cast and crew of the show are doing their part to ease this year's Droughtlander. Over the past few weeks, Outlander stars Sam Heughan and Caitriona Balfe have been sharing photos from the set, offering fans a first look at what's ahead for Jamie and Claire next season.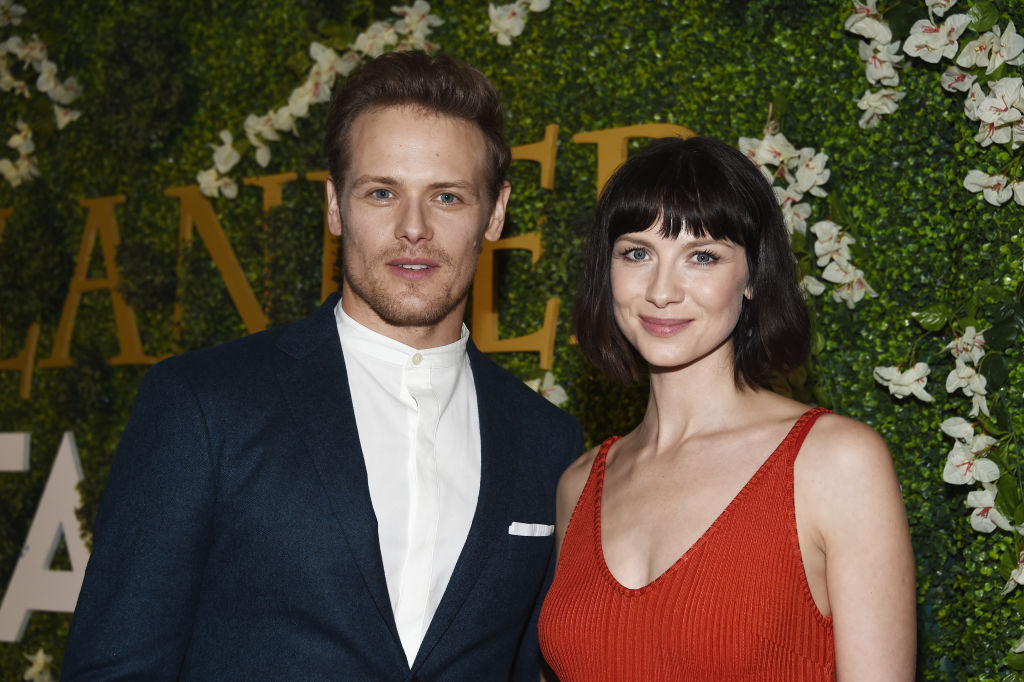 Starz teases 'Outlander' Season 5 themes
The official Twitter page of the show just shared a behind-the-scenes video that offers a look at the central themes of the coming season. The clip features a scene of Jamie and Claire at Fraser's Ridge, confirming that a good portion of the season will take place at the family's home in the New World.
"Here's a little look at our first day of season 5..! Pretty much one block done already! We'll be on your screens before you know it!!! Can't wait for you all to see this season," Balfe wrote alongside the video.
Fans were thrilled to see the new shots and learn that filming is progressing at a fast pace. Balfe also noted that Fraser's Ridge will play an important part of Jamie and Claire's story moving forward. The actress also revealed that family and home themes will still be a main focus in Season 5.
According to the UK's Express, fans will watch as Claire adapts to being a grandmother while dealing with her ever-changing relationship with Jamie.
Which other characters made an appearance on the 'Outlander' Season 5 set?
Apart from Jamie and Claire, the video also featured the likes of Brianna (Sophie Skelton) and Roger (Richard Rankin). Brianna traveled back in time last season to reunite with her parents in North Carolina. Roger followed Brianna through the stones and opted to stay by her side at the end of Season 4.
The new season, which is an adaptation of Diana Gabaldon's book, The Fiery Cross, will explore Roger and Brianna's relationship as they start a family together.
The clip also includes Murtagh (Duncan Lacroix), Marsali (Lauren Lyle), Fergus (Cesar Domboy), and Lizzie (Caitlin O'Ryan). Based on the video, it looks like Murtagh will take refuge at Jamie and Claire's home amid the growing conflict between the Regulators and Governor Tryon (Tim Downie).
At the end of Season 4, Tryon sent Jamie an order to hunt down the leader of the Regulators, which put him in a tricky situation.
How will Jamie handle the Murtagh situation?
Jamie faces a difficult decision at the start of Outlander Season 5. If he follows Governor Tryon's orders, then Jamie will be going up against his own family. If he disobeys the government, then he could be labeled a traitor and face serious consequences.
In the books, Murtagh's story ends well before the fifth novel, so there is no telling how the show will handle his journey moving forward. It is difficult to see Jamie turning against his longtime friend and companion, but navigating political waters is not an easy task.
Whatever happens, it looks like Fraser's Ridge will play an important role in next season's storyline.
In fact, Balfe, who is working as a producer this season, confirmed that the couple's home will continue to serve as a place where settlers come together and build a community together. Exactly house this plays into Murtagh's storyline is yet to be seen, but it is good to see that Jamie hasn't completely shunned him.
'Outlander' reaches new deal with Netflix
For those who can't wait for the Outlander Season 5 to premiere, Netflix just announced that the first two seasons of the popular show will be available to stream later this month. For the first time ever, fans will be able to watch Season 1 and Season 2 of Outlander on Netflix starting on May 27.
Fans can then stream Seasons 3 and 4 on Starz and Amazon Prime Video. We may be a few months from the premiere of Season 5, but watching the first four seasons again should offer some relief.
Starz has not, unfortunately, revealed when the new season of Outlander will premiere. Considering how filming is progressing, the series is expected to return later this year at the earliest.
Until then, we have a feeling that Heughan and Balfe will continue to share photos from the Outlander Season 5 set on social media, which should help all of us get through the next few months without too much trouble.