Outlook: Sony's 'PS Now' Offers Classic PS3 Games for Online Rental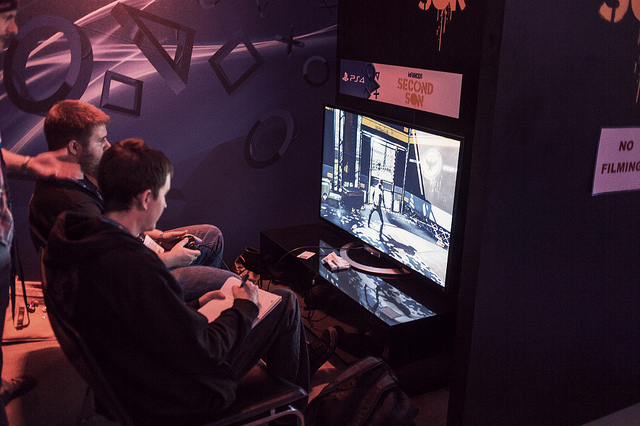 On Tuesday at the Consumer Electronics Show in Las Vegas, Sony announced cumulative PlayStation 4 (or, PS4) sell-through of over 4.2 million units as of December 28. The PS4 launched in the U.S. and Canada on November 15, and in Europe, Australasia, and Latin America on November 29. Previously, on November 18, Sony announced that 1 million PS4 units sold-through in the console's first day of release. On December 3, Sony (NYSE:SNE) announced that worldwide PS4 sell-through had surpassed 2.1 million units as of December 1.
The PS4 sell-through figure significantly exceeded our expectation of 3 – 3.3 million units. Thus far, PS4 sell-through is greater than that of its next-gen competitor, Microsoft's Xbox One, and over twice the sales level of the predecessor PS3. Yesterday, Microsoft (NASDAQ:MSFT) announced Xbox One worldwide sell-through of over 3 million units before the end of 2013. We view the two announcements as a positive for GameStop, however, as the two next-gen launches in November are garnering a positive response from the gaming community.
Also on Tuesday, Sony announced PlayStation Now (or, PS Now), a streaming game service that leverages the cloud. PS Now will deliver older PS3 titles digitally to the PS4 and PS3 initially, with availability on the PS Vita to follow at a later date. PS Now will allow gamers to rent individual titles or choose a subscription if they want to play multiple games, among other perks. Sony will begin a beta test of PS Now on PS3 systems in certain regions of the U.S. at the end of January, with a full roll out expected in the summer.
We believe the sell-off in GameStop (NYSE:GME) shares that followed the PS Now announcement is overdone. We expected Sony to announce a streaming gaming service ever since its acquisition of Gaikai in 2012. It is unclear what games will be available (we expect older first-party titles primarily) on the service and equally unclear what Sony intends to charge for subscriptions or for rental. Game streaming services have been spectacularly unsuccessful in the past, as evidenced by the bankruptcy of OnLive in 2012. We believe OnLive's struggles were attributable to poor uptake of the service (peaking at an estimated 300,000 users), and we believe that the lack of quality content was the main reason that the company had difficulty attracting subscribers.
It is important to note that PS4 has no backwards compatibility with PS3 discs, meaning that the availability of PS3 digitally-streamed games will not directly result in lower used sales of PS3 games to PS4 owners. GameStop's used gaming sales from PS3 discs on PS3 consoles are most likely to be impacted. However, until we know more about game availability, timing, and pricing, among other factors, we do not see a meaningfully negative impact to GameStop in the near-term. Our bias is that this service will attract fewer than 1 million subscribers, and will impact overall game sales by 1 – 2 percent in the aggregate over the next five years.
Microsoft's and Sony's console sales announcements strengthen our belief that GameStop will report holiday sales results (nine-week period ending January 4) well above its Q4:13 comps guidance range of up 2 – 9 percent. We note that the nine-week period includes the retail months of November (previously released by NPD on December 12) and December (to be released by NPD on January 16). Our estimate of up 10 percent will likely prove too conservative, with the comp coming in closer to the teens and possibly the low 20s.
GameStop will report its holiday sales results before the market open next Tuesday, January 14, and we will intend to maintain our estimates until then, as we remain unsure of the impact the next-generation console launches had on current generation software sales. We will publish a GameStop comp preview later this week.
We are maintaining our OUTPERFORM rating and our 12-month price target of $60. Our PT is based on 14.5x our FY:14 EPS estimate of $4.15. Although many quality retailers trade at 20x EPS, GME faces headwinds from the transition to digital downloads. Risks to attainment of our share price target include changes to game release timing, the effects of competition, supply of video game products, macroeconomic factors, and slower-than-expected consumer demand for video game hardware and software.
Michael Pachter is an analyst at Wedbush Securities. 
More From Wall St. Cheat Sheet: