Pablo Escobar: Hollywood's Favorite Real Life Gangster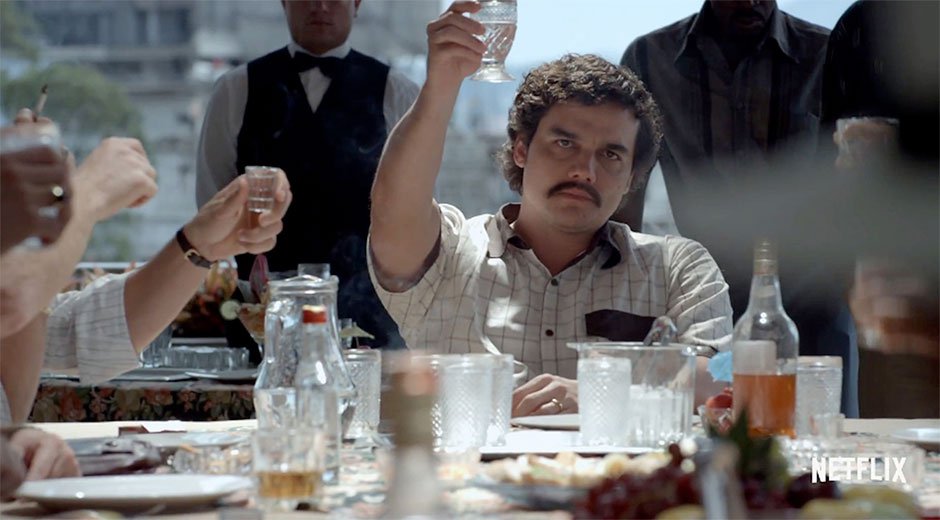 Over the past couple years, we've seen Hollywood go all in on Pablo Escobar, the ruthless killer and cocaine trafficker who is thought to be the wealthiest criminal in history. First we had Escobar: Paradise Lost, starring Benicio Del Toro as the infamous Colombian drug lord in what was widely regarded as a middling effort. From there, Netflix took over to give us Narcos. Hollywood certainly has an obsession with the criminal nicknamed "the king of cocaine," who was thought to be the biggest supplier of the popular drug to the United States during the 1970s and '80s.
Escobar: Paradise Lost released to mediocre reviews, with a 58% on Rotten Tomatoes, that give high praise to del Toro's performance but not much to the film as a whole. The Hunger Games's Josh Hutcherson plays a young Canadian boy named Nick who heads to Columbia for the surfing and falls in love with a local girl, Maria, who turns out to be Escobar's niece. From there drama ensues, albeit to a limited extent given the movie's less than favorable reviews. In the wake of this though, we've seen an Netflix's Escobar story manage to completely take the cake.
Where Del Toro's movie fell flat, Netflix's Narcos has quickly established itself as the quintessential story of Escobar's drug empire. The series debuted this last August, and since then has turned into one of the streaming network's most popular shows. Rotten Tomatoes currently has the debut season of the show sitting pretty at 76% among critics, with an audience score of 95%. Despite its lack of Hollywood A-listers in the cast, the series has proven that 10 hour-long episodes is a vastly superior format for a story as rich and detailed as that of Pablo Escobar's.
https://www.youtube.com/watch?v=U7elNhHwgBU
Narcos is a series that has established Netflix's supremacy in the realm of original programming. The story of Pablo Escobar is one that can be told in any number of ways, and the streaming network hit on all the right places for their turn at the Colombian gangster. AV Club notes how the show is "consumed with getting it right," resisting the urge to over-dramatize an already dramatic story. Hollywood's propensity for going overboard doesn't enter into the equation, thanks in large part to Narcos' true-to-life take, infusing newsreel footage into the main story for emphasis.
What is it about Escobar that has proven so endlessly fascinating? Everyone loves a good gangster story, and his is actually true which makes it even better. Narcos expertly tracks Escobar's founding the Medellín Cartel that expanded around the world and resulted in him building an estimated net worth of $30 billion by the time he was killed in 1993. He's thought to be the richest criminal ever to live, but he also cultivated a Robin Hood-like image amongst the Colombians in the region where he lived, so his funeral was widely attended even though he was a cold-blooded killer who threatened, bribed, and murdered his way to the top.
The story has danger, excess, a rise from rags to riches, and tons of moral gray area to play with. Really it's the perfect storm for a Hollywood screenplay, which explains all the projects. While Escobar: Paradise Lost might not have gotten it down perfectly, Netflix's Narcos successfully filled in the gaps. And even after all this, it isn't likely Escobar's story is going anywhere.
[Update, 8/31/16: The second season of 'Narcos' is scheduled to premiere on September 2.]
With additional reporting from Jacqui Sahagian
More from Entertainment Cheat Sheet:
Want more great content like this? Sign up here to receive the best of Cheat Sheet delivered daily. No spam; just tailored content straight to your inbox.