Here Are the Parallels Between Halsey and Miley Cyrus' 'Black Mirror' Character, Ashley O.
Fans first met Ashley O. on an episode of Netflix's original series Black Mirror. In it, viewers saw changes in the artist's career, going from pop star to alternative rock diva. Sound familiar? Fans on Twitter spotted the similarities between Halsey and Ashley O., Miley Cyrus' character. Some of the parallels are shockingly close. Here's why fans are saying the two pop stars are connected.
This article contains spoilers from the "Rachel, Jack and Ashley Too" episode of Black Mirror!

Halsey had blue hair, Ashley O. had pink hair
Halsey's real name is Ashley. Miley Cyrus' character's name is Ashley O. When Halsey started her career, her hair was bright blue. When Ashley O. started her career, her hair was bright pink. But the similarities don't stop there.
From the style of music to the style of clothing to the music video clips, the two pop stars share a few similarities. Even Halsey took notice of the parallels on Twitter, causing it to trend on the social media platform. Some of the biggest similarities are in the pop stars' early hit songs.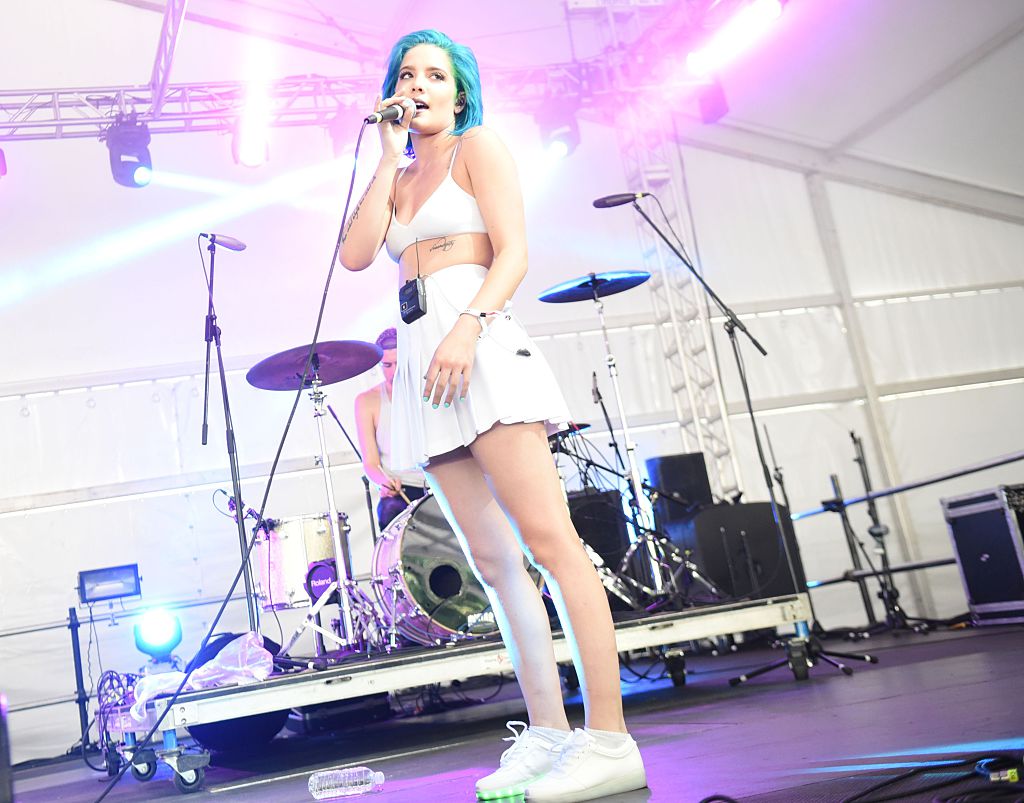 They both did their music videos in colorful bathtubs
One of Halsey's first hit songs, "Ghost," premiered in 2015. She added the music video to YouTube in June 2015. Some fans noticed similarities between the song's music video to Ashley O.'s music video for "On A Roll."
The introduction of the song is in Japanese, but the rough translation is, "If you look back to the past with her, she had started disappearing before you knew it, maybe she never existed." That is, according to one commenter on the music video.
Although Halsey is joined by a woman in a pink wig, during one scene Halsey is sitting alone in a bathtub with her blue hair. Some fans on Twitter noticed this is very similar to a clip of Ashley O.'s music video for "On A Roll."
In the "On A Roll" music video, Ashley O. lies alone in a bathtub filled with a pink liquid. She is also still wearing her pink hair. Halsey's song "Ghost" deals with feeling alone. Ashley O.'s song "On A Roll" deals with her relationships and her ambition.

Even Halsey noticed the similarities on Twitter
"Black Mirror episode about a pop star named Ashley with colorful hair. Existential crisis: Engage," tweeted Halsey on June 15.
Another fan pointed out that Ashley O. went from creating pop, upbeat music to alternative and rock music. This is similar to the path of Hayley's music career. The musician took notice of the similarity.
"If I die they killed me," Halsey replied.
Others on Twitter suggested other artists that Ashley O. is related to. Some noticed that certain female artists endured hardships and abusive relationships throughout their careers.
One Twitter user mentioned the actress who portrayed Ashley O., tweeting, "people thinking the Ashley O episode of black mirror is about Halsey but did anyone consider that is very similar to Miley Cyrus/Hannah Montana?"
"Halsey trying to make Ashley O about her when it was so clearly referencing Britney Spears," another Twitter user said. "I have to laugh!"
Ashley O.'s songs, "On A Roll" and "Right Where I Belong," are available for listening on Spotify, Apply Music, and most other streaming platforms. The music video for "On A Roll" is available on YouTube.