Is Paris Hilton the Real Reason Kim Kardashian is Famous?
Kim Kardashian might be a household name these days, but that wasn't always the case. While everyone has been on Kylie Jenner's case about becoming a "self-made" billionaire, the same could be argued for how Kim Kardashian made her fortune. People may know her father as a defense lawyer in the O.J. Simpson murder case, but he wasn't the only reason the Kardashians are well-known — Paris Hilton had more to do with it than you probably thought.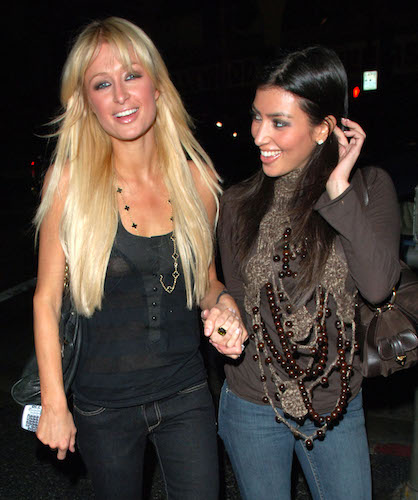 Kardashian and Hilton were very good friends growing up
While it may seem crazy to think about these days, there was a time when Hilton and Kardashian were pretty much inseparable. While Hilton's best relationship growing up was notoriously with her then-BFF Nicole Richie, Kardashian was actually slowly making her way to no. 1 BFF. Hilton and Kardashian had met back in the 1980s, when the two were little girls. Hilton said in 2015 that she's very proud of Kardashian and what she's done. She also claimed she "inspired" Kardashian, essentially hinting that she paved the way for the fashion mogul.
When Kardashian started a closet organizing business, she made several appearances on Hilton's show
Hilton might not be far off in suggesting she's the reason for Kardashian's career. When Hilton and then-pal Nicole Richie were filming their reality television show, The Simple Life, Hilton often allowed Kardashian to make appearances. At the time, Kardashian was trying to get her closet organization business off the ground, and Hilton was one of her clients. This allowed Kardashian to show her face on the show, and it let the world know who Robert Kardashian's daughter really was.
In the early 2000s, Hilton took Kardashian everywhere with her just so the two 'could be seen'
Hilton did more than just allow Kardashian to appear on her show. When Hilton and Richie had a falling out, she needed a new best friend — and Kardashian was right there. According to an interview Kardashian did with Rolling Stone back in 2015, she and Hilton would go anywhere and everywhere just to be seen. "We knew exactly where to go, where to be seen, how to have something written about you," Kardashian said. The two often went to restaurants or parties just to get the press talking about them — fast forward 10 years, and it definitely worked in Kardashian's favor.
At the height of their friendship, the Kardashians got their own show — and the rest is history
Kardashian and Hilton were best friends for the better part of the early 2000s. Then, in 2007, the Kardashian family got their own television show. Kris Jenner was married to a former Olympian, Kim Kardashian was best friends with an heiress, and Kourtney was breaking into fashion design with her boutiques. It was the perfect time to capture the family on the small screen, and it ended up sealing the deal on Kardashian's career. Today, when she steps back to look at her fame and fortune, she has Hilton to thank for giving her that jump start.
Check out The Cheat Sheet on Facebook!