The 'Parks & Recreation' Cast Had A Reunion For The Show's 10-Year Anniversary
The hit NBC comedy series Parks & Recreation aired for seven seasons on the network. It built up a massive fanbase, and to this day, audiences are still hopeful that there will be some kind of revival. To celebrate the 10th anniversary of the beginning of the series, much of the cast got together at PaleyFest for a panel. Here's what we learned from the event:

Who from the cast was there?

It was a very good turn out. Almost all of the Parks and Recreation stars were there, as you can see from the above Instagram post: Adam Scott (Ben Wyatt), Aubrey Plaza (April Ludgate), Aziz Ansari (Tom Haverford), Chris Pratt (Andy Dwyer), Rob Lowe (Chris Traeger), Nick Offerman (Ron Swanson), Rashida Jones (Ann Perkins), Amy Poehler (Leslie Knope), and Retta (Donna Meagle).

Jim O'Heir, who played Jerry/Gerry/Terry/Larry Gergich, was also there but missed the photo. Additionally, the show's creator, Mike Schur, was also there (all the way in the back between Ansari and Pratt). Only Paul Schneider (Mark Brandanawicz), who left in Season 2, and Billy Eichner (Craig Middlebrooks), who was only in the last two seasons, were missing from the panel.

They discussed many of the show's famous improvised scenes

Parks & Recreation is very much a scripted TV series, but over the years, it's been revealed that they also had the opportunity to do an improvised take of almost every scene. And some of the show's most memorable moments have come from these takes. Among those that you may recall are when Andy says Leslie may have "network connectivity problems" in "Flu Season," and all of their drunk-on-Snake-Juice scenes in "The Fight."

The lines between fiction and reality are often blurred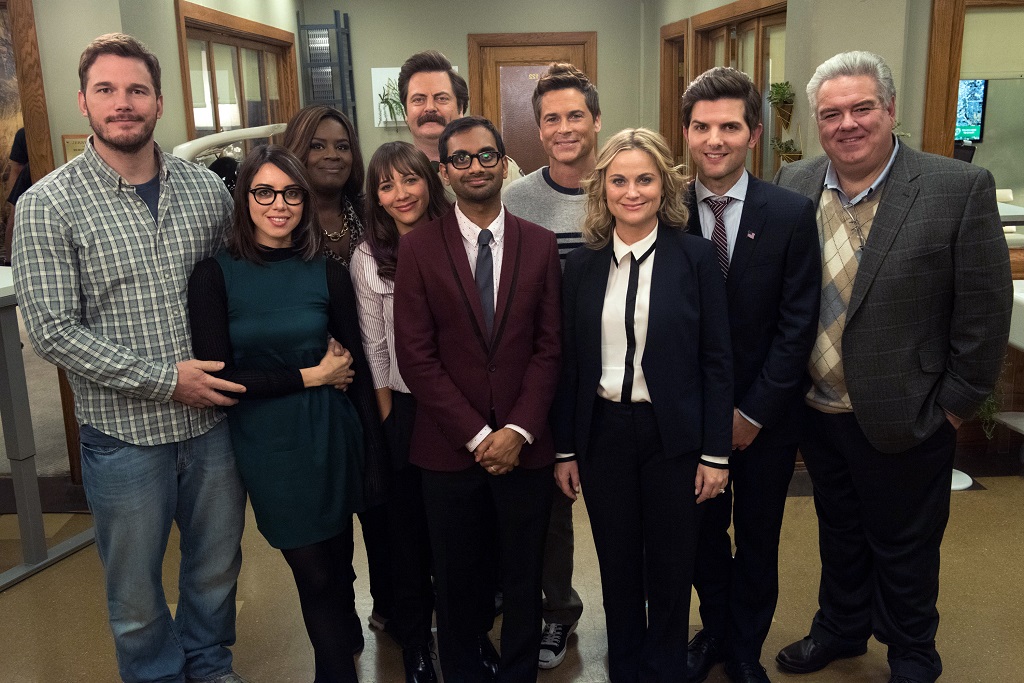 Though the world of Parks & Recreation is clearly fiction, it's sometimes hard to know where life ends and art begins. Lowe explains that Schur created his character after hearing how often he said the word, "literally," which becomes his trademark. The women of the show get together for Galentine's Day every year, and, somehow Pratt managed to will his Jurassic World role into existence in a behind-the-scenes special feature. And Scott became a Game of Thrones fan after Ben did.  

Will there be an onscreen Parks & Rec reunion?

The biggest question of the night was, of course, would they consider doing a revival or reboot of Parks and Recreation, even a limited one, or a reunion. Though Plaza seemed less than excited about the possibility when asked about it on the red carpet, Schur said that it wasn't totally out of the realm of possibility — but there are stipulations.

"I would never ever say never. The chance to do it again should it arise would be incredible, but I think that we would all only do it if we felt like it was something compelling us to do it. As tempting as it is, I don't want to just make more episodes of the show or something. If one single person says no, then we wouldn't do it — whatever that would be."