Patricia Arquette And More Winners Who Gave the Best Speeches At the 2019 Emmy Awards
The biggest night for TV series, creators, and stars is, naturally, the Emmys. This year, there were a host of incredible winners who took the stage at the 71st Annual Primetime Emmy Awards and gave moving speeches that ranged from simple thank yous to important messages. Here are a few of the best from the 2019 Emmys.
Alex Borstein
For the second year in a row, Borstein won the Emmy for Outstanding Supporting Actress In A Comedy Series for The Marvelous Mrs. Maisel. She began by joking about how she didn't wear a bra last year but then transitioned into a more serious message.
Borstein thanked her mother and grandmother, saying, "They are immigrants, they are Holocaust survivors. My grandmother was in line to be shot into a pit. She said, 'what happens if I step out of line?' He said, 'I don't have the heart to shoot you but somebody will,' and she stepped out of line. For that, I am here and my children are here." She concluded, "Step out of line, ladies!"
Patricia Arquette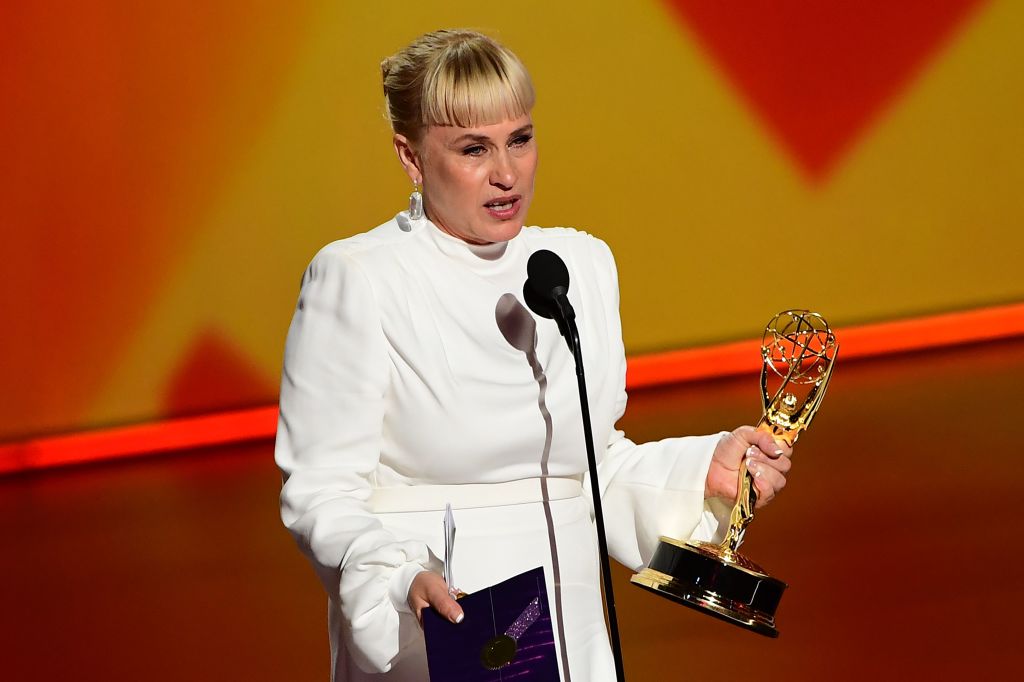 There are some actors that are so incredible, even their acceptance speeches should win awards. Arquette has proven time and time again that she's one of those performers, and did so again when she took home Emmy for Outstanding Supporting Actress In A Limited Series for The Act.
"I just have to say I'm grateful to be working I'm grateful at 50 to be getting the best parts of my life. And that's great," she began. "But in my heart, I'm so sad. I lost my sister Alexis," she said, referring to Alexis Arquette, a transgender performer who passed away from a cardiac arrest related to her HIV positive status.
Arquette continued, saying that she's "in mourning every day, and I will be…until we change the world so that trans people aren't persecuted. And give them jobs!"
Jharrel Jerome
Young actor Jerome was nominated for Outstanding Lead Actor In A Limited Series Or TV Movie against some of the biggest names in the business. But he won, for his performance in Netflix's When They See Us, based on the true story of the Central Park Five.
He got a massive standing ovation and couldn't speak for minutes due to all of the commotion. "I feel like I should just be in the Bronx right now, chilling, waiting for my moms cooking," he began, then transitioned into thanking the other actors in the category, his family, and the cast and crew.
"But most importantly this is for the men that we know as the exonerated five," Jerome concluded to even greater applause, as they all stood up from the audience. "Thank you so much, it's an honor, it's a blessing."
Michelle Williams
Williams has become known as a champion for women's equal pay in the entertainment industry, and she used her speech to highlight this issue. When accepting the award for Outstanding Lead Actress In A Limited Series Or TV Movie for Fosse/Verdon, she said of the win, "I see this as an acknowledgment of what's possible when a woman is trusted" in the industry.
She continued, saying "that when you put value into a person, it empowers that person to get in touch with their own inherent value. And then where do they put that value? They put it into her work." She ended by speaking to her daughter with Heath Ledger, saying, "Matilda, this is for you, like everything else."
Billy Porter
Actor Billy Porter made history tonight, and he used his win for Outstanding Lead Actor In A Drama Series for Pose to shed light on this, all while radiating positivity.
"The category is love y'all! I'm so overwhelmed and I'm so overjoyed to have lived long enough to see this day." Porter quoted James Baldwin, saying, "It took many years of vomiting up all the filth I'd been taught about myself, and half-believed before I was able to walk on the Earth as though I had a right to be here."
He continued, "We are the people, we as artists are the people who get to change the molecular structure of the hearts and minds of the people who live on this planet. Please don't ever stop doing that. Please don't ever stop telling the truth. I love you all."