Patrick Mahomes and His Girlfriend Brittany Matthews Are the Sweetest Couple
Some relationships are based on looks or other trivial things. But it's obvious that Patrick Mahomes and his girlfriend Brittany Matthews aren't one of those couples.
Their relationship has a deep connection. They share a similar lifestyle and similar interests. Here are a few of the many reasons this adorable couple is a perfect match. 
Who is Patrick Mahomes' girlfriend Brittany Matthews?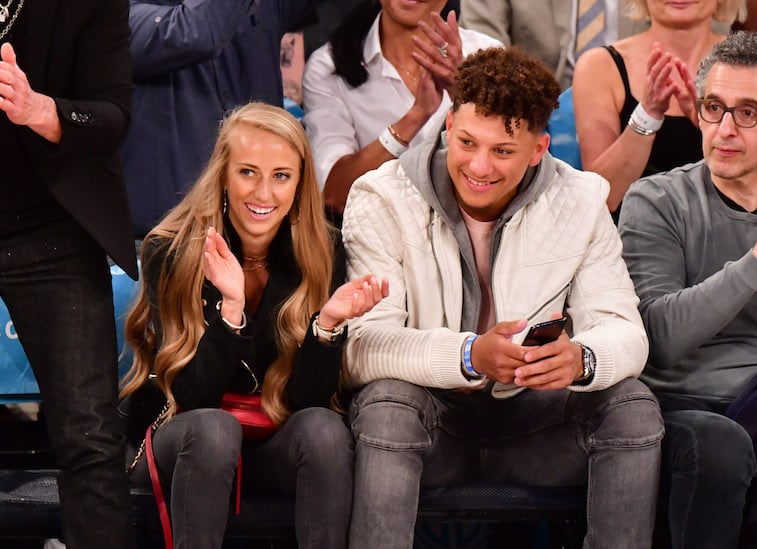 Whenever Mahomes makes appearances, he is often accompanied by his girlfriend. In case you haven't noticed her, she's the fit, blonde in the background of most of his games. And when we say fit, we mean fantastically fit.
Physical fitness is important to Matthews because she's a personal trainer. After receiving a four-year bachelor's degree in kinesiology, Matthews recently launched her website, Brittney Lynne Fitness, to promote her brand and services.
According to her website, Matthews played professional soccer in Ireland before moving to Kansas City with Mahomes.
"By the end of my first season," Matthews wrote on her website, "I truly began to fall in love with being in the gym more than being on the soccer field. Playing sports my whole life got me into fitness and playing in college taught me about strength training, wellness and maintaining peak fitness to perform at an elite level."
On her new website, you can purchase fitness guides designed by Matthews and fitness gear. But working out isn't the only thing Matthews is interested in. She also has a love for dogs. In fact, she and Mahomes adopted two Pitbulls together, which she often posts about on Instagram. She also got a paw-print tattoo on her wrist to show her love for the animals.
How did Patrick Mahomes and Brittany Matthews meet?
Matthews loved Mahomes before he was a professional football star. They're high school sweethearts that have been together since 10th grade. Although they went to different colleges, both in Texas, they continued their relationship into adulthood.
When they moved to Kansas City for Mahomes to play football, they bought the first house either of them has ever owned. Then, together, they renovated the home. The new features include tech controls throughout the house and a tricked-out shoe room to display Mahomes extensive sneaker collection.
To turn on the lights in his shoe room, Mahomes says, "Okay Google, it's showtime." A recording of a cheering crowd plays as the lights come on.
Why are Patrick Mahomes and Brittany Matthews the sweetest couple?
Mahomes and Matthews grew up together, but because of shared interests, they've been able to keep their relationship close. Mahomes works hard on the field and then at home, he has Matthews to support him, both emotionally and with his health.
"Eating-wise, I'm blessed that my girlfriend is [big on] nutrition so she helps me out with that — she's [about] fitness," Mahomes told Yahoo Sports.
Together, they've been able to find happiness in Kansas City. While explaining their home renovations, Mahomes said, "Setting down roots in Kansas City has been huge for us. I think the people are what we love most about Kansas City. They have such a passion for the community, the food, the football team They treat us like we've been here our whole entire life. We're trying to be here for a long, long time."
While some of Mahomes' fans have given Matthews a hard time, saying he "could do better" than her, it's obvious that Mahomes and Matthews are very happy together.
Everything in their life seems to be going exactly how they want it, and they get along great. Who would want anything more?