Patrick Mahomes Is Obsessed With Shoes in His New House
Patrick Mahomes is ready for the new football season, especially when it comes to his shoe collection.
At only 23 years old, Patrick Mahomes is living the dream. The NFL quarterback has become famous for his insane arm strength and overall athleticism. Mahomes has scored multiple honors and endorsement deals in his relatively short career and is a definite favorite among football fans.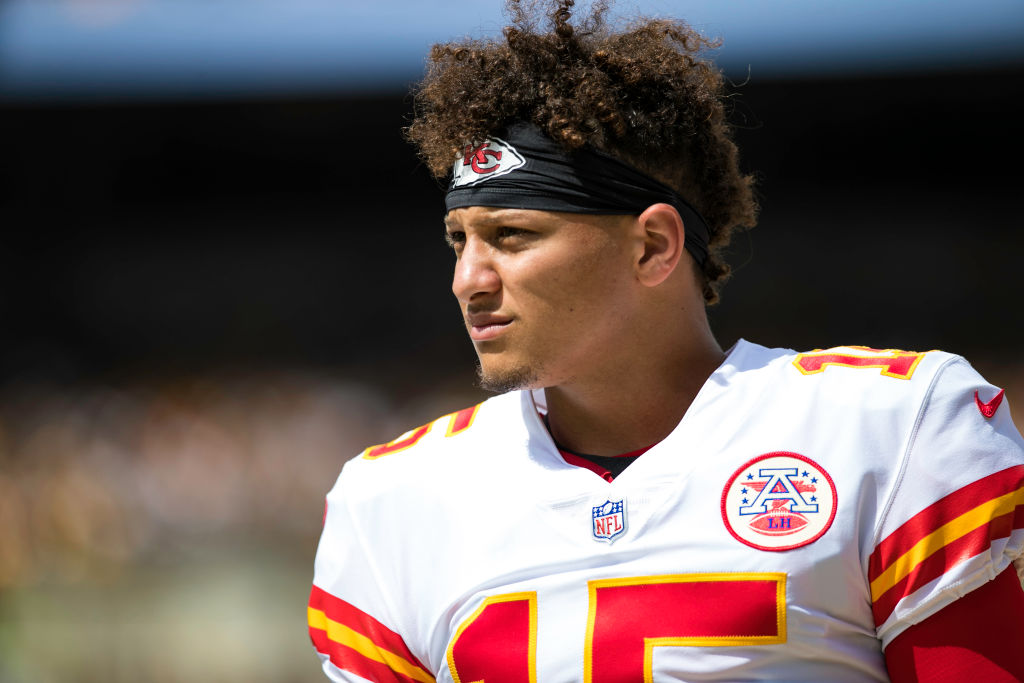 Mahomes is also a pop-culture and fashion devotee. Recently, Mahomes gave fans an unprecedented look inside his home, including a single room in his house that is completely dedicated to footwear.
How did Patrick Mahomes become famous?
Patrick Mahomes was born in 1995 to a family with sports in their blood. His father, Pat Mahomes, is a former Major League Baseball pitcher. There's no doubt his father helped form his early interest in sports. Young Mahomes was involved in baseball, football, and basketball. Ultimately, Mahomes began careers in both football and baseball, and he continued to play both until 2016 when he announced that he would focus entirely on his football career. 
It was in 2016 that Mahomes really started to make a name for himself in football, setting multiple records. Mahomes would go on to receive the Sammy Baugh Trophy, an award that is given every year to the nation's top college passer. In January 2017, Mahomes officially entered the NFL Draft and signed with the Kansas City Chiefs. Since joining the Chiefs, Mahomes has won many awards and accolades, including being named NFL MVP, being named First-Team All-Pro, and getting named Kansas City Club 101 Awards AFC Offensive Player of the Year.
How many pairs of shoes does Patrick Mahomes have?
Needless to say, with the level of success that Mahomes has received at such a young age, he's found plenty of ways to spend his cash flow. Mahomes recently purchased a stunning home in Kansas City and decided to give his fans an inside peek at the luxurious new digs. In an August 12th YouTube video, Mahomes gives viewers a tour of his new home, including an up-close look at a room dedicated exclusively to his shoe collection. Mahomes acknowledges that he has wanted a shoe room for around "six or seven years," and that he waited a while for construction to be done in order to ensure the room was perfect.
Mahomes' shoe room is the size of a regular-sized bedroom and is outfitted with multiple display shelves, a Google Home hub, and a special camera. All in all, the room houses 180 shoes, with a special section reserved exclusively for Mahomes' favorite pairs, which he calls "his babies." While the room might seem like a frivolous expense to some, Mahomes revealed that he actually had a practical reason in mind when he designed the room. He wanted to be able to see all of the shoes that he has easily because when pairs get hidden or obscured, the shoes "lose value."
While he is clearly loving his shoe collection, don't look for Mahomes to add more to the shelves anytime soon – in the video, he admits that he probably has enough. At the end of the video, Mahomes shows off a pair of his favorite basketball shoes, before sheepishly admitting that he's "not allowed" to play basketball anymore when the Chiefs requested that he not play other sports besides football.
What's next for Patrick Mahomes?
Early predictions for the next phase of Patrick Mahomes' career are all positive, with many sportswriters claiming that the young man could play even better in the upcoming football season. He's certainly shown that he has the dedication and commitment necessary to succeed. For Patrick Mahomes, life could just keep getting better.