Paul Rudd Weighs in on 'Avengers: Endgame' Gross Fan Theory About Ant-Man
There seems to be an endless number of Avengers: Endgame fan theories floating around, but one of the most original — and probably the grossest — involves Ant-Man shrinking down to defeat Thanos from the inside. It's a theory that the directors, the Russo Brothers, had a good laugh over.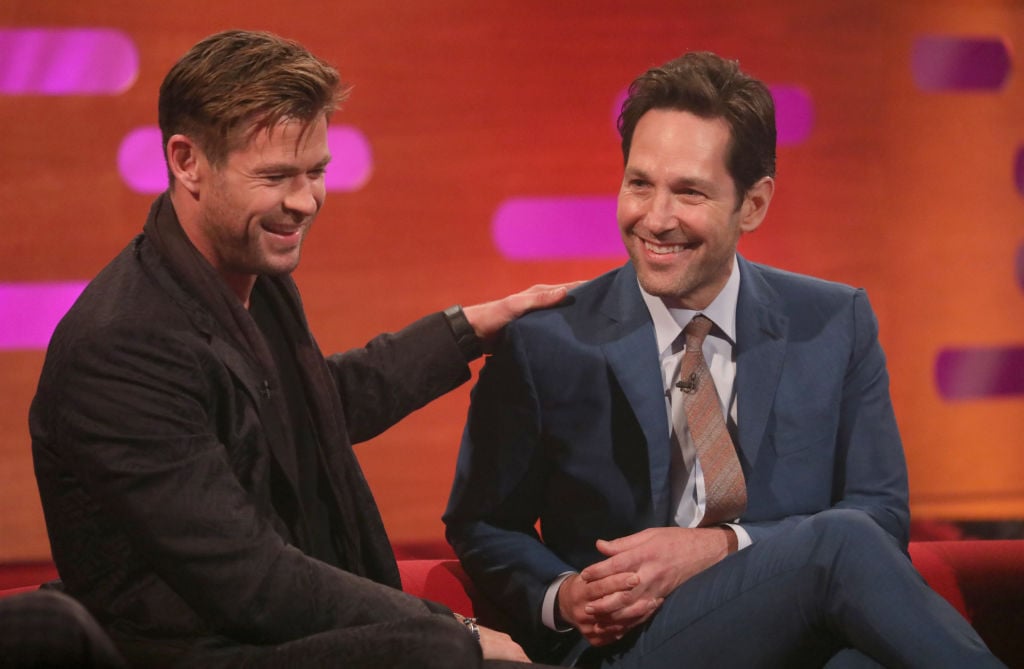 The Ant-Man and Thanos fan theory is unique
Someone was really thinking outside the box when they dreamed up the notion that, since Ant-Man can shrink down, he could enter Thanos' body, then grow in size, and annihilate him from the inside. The point of entry? Thanos' butt.
It's definitely some out-there thinking but entertaining fan theories is a good way to spend the time waiting for Avengers: Endgame's April 26 release.
Josh Brolin had a little fun with the idea
Josh Brolin, who plays Thanos, went all in with the fan theory because, bizarre as it is, it's easy to address with a bit of gross-out humor.
So, Brolin took to Instagram to share a video of himself on the toilet, with the caption: "The tension around what Endgame is going to bring. I can feel it, as you can see. Can you? #thanosmarketingpush, #flushanantman #50percenthernia."
Even the Russo brothers leaned in, making an image of the Ant-Man/Thanos butt theory their Twitter profile pic. When asked about the theory during a ComicBook.com interview, Joe Russo noted: "Listen, here's the thing. Thanos is incredibly strong. His skin is almost impervious. The question would be what would happen to Ant-Man if he did that. Would it work? Would it not work? If it didn't work, it would be really bad."
Paul Rudd weighs in on the theory
Seeing as Ant-Man is part of the theory, it's prudent to check in with Paul Rudd for his take on the idea and that's just what British talk show host Graham Norton did.
During an appearance on The Graham Norton Show, the host asked if Rudd had heard about the crazy theory and he had, but he also had a big gripe about it. Rudd noted: "A lot of people have asked me recently if I shrink down and go… into Thanos, in a certain orifice, and then grow giant size. But why not the ear or the nose? Why does it have to be [that]?"
Rudd referred to the bizarre idea as "The Thanus Theory."
The Russo brothers dropped a fan theory truth bomb
When asked about fan theories during an interview with Nerdist, the Russo Brothers explained why it's so difficult for anyone to predict what will happen in Avengers: Endgame, but they still appreciate the effort.
Anthony explained: "Joe and I spent our entire lives as fans, so the idea that the audience can participate in these stories is important to us. The idea that they're out there using their own imaginations and creativity to think about where these characters can go, where these stories can go… it's magnificent."
He added: "Sometimes, you know, people will say things that's kind of next door to something we're doing, but oddly enough nobody ever, no one ever thinks of it exactly. There's so much variation and so many odds in terms of how these things unfold that the specific narrative, nobody actually guesses that."