Pentatonix Features Whitney Houston on New Album, 'The Best of Pentatonix Christmas'
In 2012, Pentatonix covered Whitney Houston's "How Will I Know." In 2019, the group featured the music icon on their cover of "Do You Hear What I Hear," available on their latest album, The Best of Pentatonix Christmas. Learn more about The Best of Pentatonix Christmas, the group's upcoming tour, and their collaborations on this album here.
Pentatonix released 'The Best of Pentatonix Christmas' on Oct. 25, 2019
The holidays are still a few weeks away, but nothing gets you in the spirit like a Christmas song from Pentatonix. The group released a Christmas compilation on Oct. 25, complete with old favorites and a few new songs. This album, The Best of Pentatonix Christmas is their fifth Christmas collection. During an interview with Billboard, Scott Hoying commented on Pentatonix's relationship with Christmas.
"It's the best part of the year. You get to be with family, and it's just so warm and cozy. A cappella blends with Christmas so well, and that's why we did our first Christmas EP. 'Carol of the Bells' [from 2012's PTXmas] did really well on YouTube, and it's so much fun, so we made another album after that," Hoying said.
Whitney Houston is featured on Pentatonix's cover of 'Do You Hear What I Hear?'
This Pentatonix album features other artists in addition to the a capella group. That includes Jazmine Sullivan for "Joyful, Joyful." Their medley of "Winter Wonderland" and "Don't Worry Be Happy," featuring Tori Kelly, appears on this album. However, it was previously available on the 2015 album, That's Christmas To Me. The Christmas Is Here! song, "Grown-Up Christmas List," featuring Kelly Clarkson, is also on this album.
Perhaps the biggest surprise of this album was Whitney Houston, who the group featured on their cover of "Do You Hear What I Hear?" Whitney Houston first released her version of the Christmas song in 1987 and since then, it has been a Holiday staple. Since its release, the Pentatonix version of this song earned over 25,000 plays.
After Pentatonix released this album, the group tweeted, "Our collaboration with #WhitneyHouston for "Do You Hear What I Hear?" is one for the books. We'll never forget this chance to blend all of our voices together. Whitney is truly one of the greatest vocalists of all time!"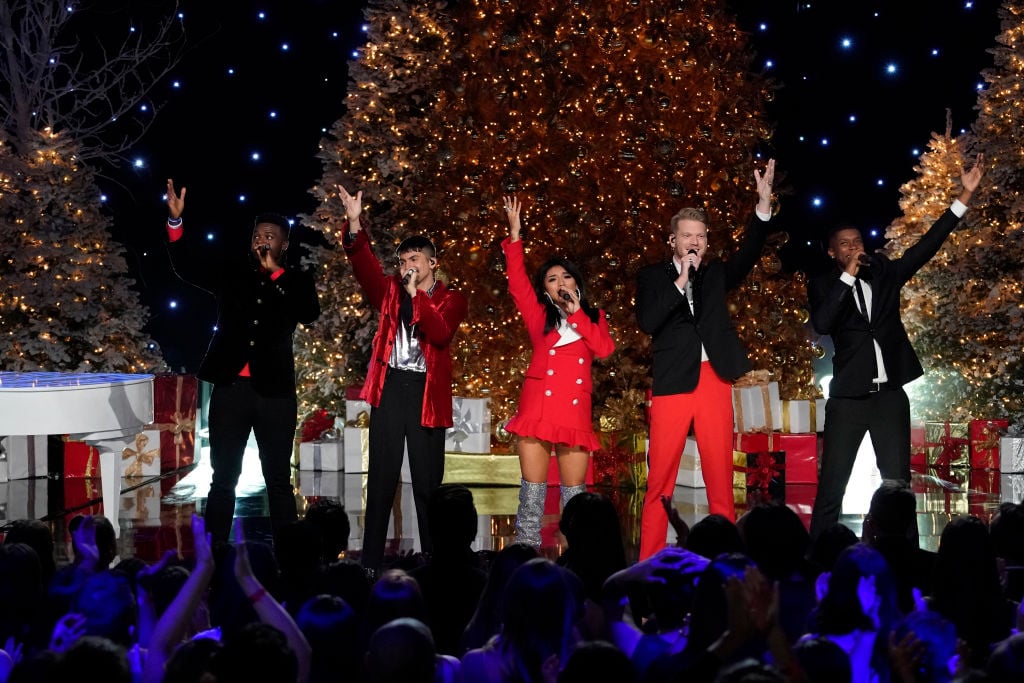 Pentatonix continues to spread Christmas cheer with their upcoming tour
Why listen to a recording of Pentatonix when you can watch the group live? This year, Pentatonix is embarking on a holiday-themed tour, beginning in New York on Nov. 30, 2019. This tour primarily takes place in the United States and runs until Dec. 23, 2019.
There's no word regarding whether or not the group will have a new version of A Pentatonix Christmas Special premiere on television. In the past, Pentatonix featured celebrities like Kelly Clarkson, Reba McEntire, and even Dolly Parton during their holiday television specials.
Music by Pentatonix, including The Best of Pentatonix Christmas, is available on Spotify, Apple Music, and most major streaming platforms. To learn more about Pentatonix's Christmas tour, visit their website.