People Are Convinced Kim Kardashian Gets Her Fashion Inspiration From This Legendary Model
They say imitation is the best form of flattering.
That seems to be true for Kim Kardashian West.
The reality star is known for her head turning and unique fashion sense, but has recently been drawing some of her fashion inspiration from another source.
Though the reality star still nothing short of amazing, many are starting to realize Kardashian's latest outfits are similar to the ones once worn by legendary model Naomi Campbell.
Kim recently wore a Naomi Campbell original
Everyone knows that Kim Kardashian West is a trendsetter who is always spotted at lavish events in showstopping outfits.
This past weekend was no different.
Kardashian and her husband, Kanye West, attended Chance the Rapper's wedding.
Even though the couple was a few hours late due to Kim getting glam (cough, cough same) they eventually walked in to the wedding with Kardashian West wearing a beautiful purple, green, and aqua vintage Versace dress. 
It was no question Kim Kardashian West looked absolutely stunning in the dress, but fans immediately realized that she was wearing the exact same dress Naomi Campbell wore back in 1996.
Campbell, who is known to many as one of the most iconic runway models ever, wore the same Versace dress 23 years ago for the brand's Fall collection.
Kardashian West has recently been on a 90s fashion kick
This is not the first time Kim Kardashian West has taken a page out of Naomi Campbell's book of fashion.
Over the past few weeks, the reality star has been sharing her 90s inspired looks on Instagram and the red carpet.
Though her looks pay tribute to the era of iconic high fashion, Naomi Campbell is Kardashian main muse when it comes to her most recent looks.
Kardashian West has worn a few outfits that were made famous by the insanely beautiful Naomi Campbell.
While the Keeping Up With The Kardashians star was in Paris, she showcased a few looks that wear once worn by Campbell.
Kardashian stepped out in a sheer cheetah-print Azzedine Alaïa catsuit, both worn by Naomi Campbell in the past.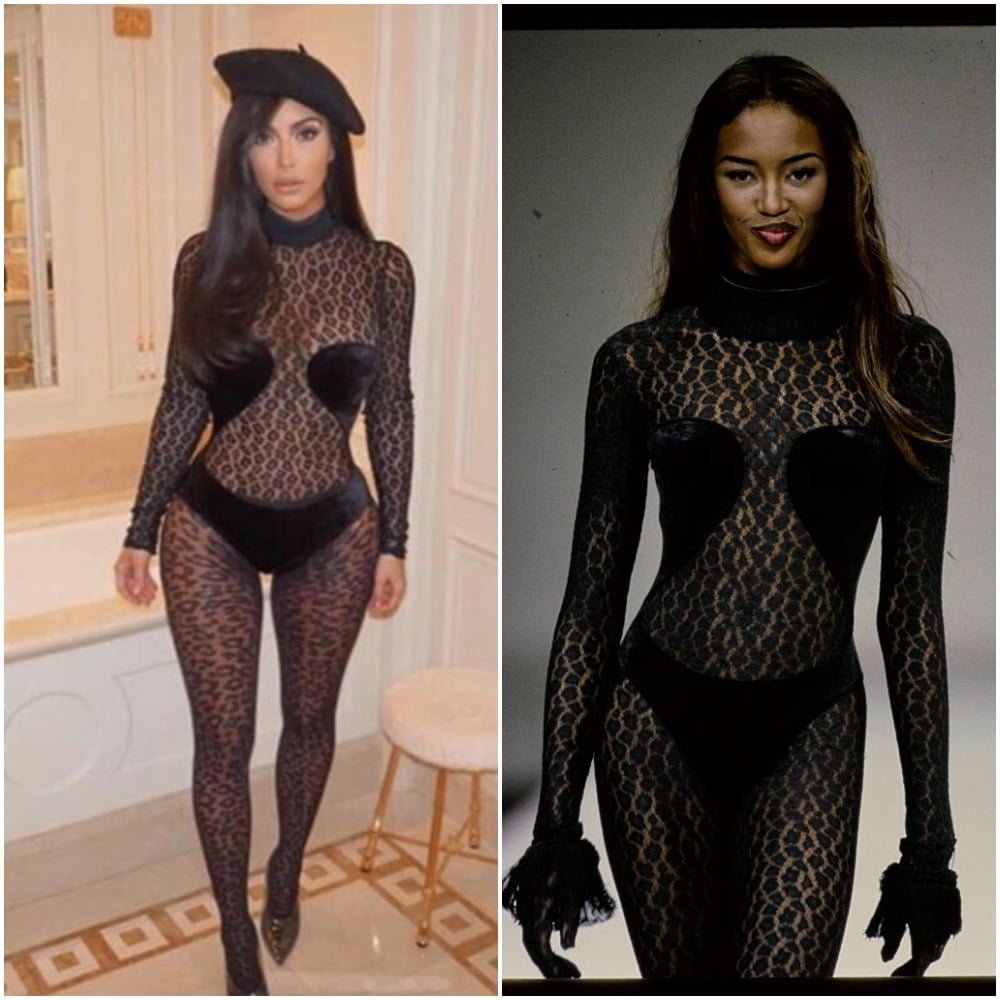 She also sported an all cheetah print outfit that Naomi Campbell famously posed in back in the mid 90s.
Back in 2018, Kardashian West wore a black bondage-style vintage Versace mini dress to a Met Gala afterparty. Campbell wore the same exact dress while filming an episode of her show, The Face, in 2014.
Is Kim actually copying Naomi Campbell?
Though it seems like Kim Kardashian is copying every iconic Naomi Campbell look, she has actually always been inspired by the fashion icon.
Since Kardashian West is paying homage to iconic 90s fashion, what better way to do that other than to showcase amazing fashion that Naomi Campbell first brought attention to?
With so many internet trolls calling the reality star out for purposefully copying the supermodel, fans immediately came to Kardashian's rescue.
"Why can't y'all just let Kim be inspired by Naomi. Y'all always thinking somebody copying somebody," one fan wrote on Twitter.
Another tweeted, "Kim k haters just love the reach! Where and when did she ever say she's the original creator of anything? That woman just loves to wear what she finds cute it's not her fault her everything she does garners attention."
Kim Kardashian West is just like the rest of us who look up to iconic celebrities for their fashion sense.