People Are Saying This is Proof That Jenna Fischer is Actually Pam in Real Life
The Office is a show about the hilarity of people's mundane, everyday lives. While it may not have been super popular during all of its nine years on the air, it has proved itself as Netflix's most-watched show.
That makes it more watched than both Friends and Stranger Things. This sitcom, set at the fictional Dunder Mifflin Paper Company, first aired in 2005 and featured an ensemble cast. The group of employees on the show represented the many characters of office life, but one who is similar to her character is Jenna Fischer, who played Pam Beesly.
A recent photo from Chuck E. Cheese pointed out what the two have in common.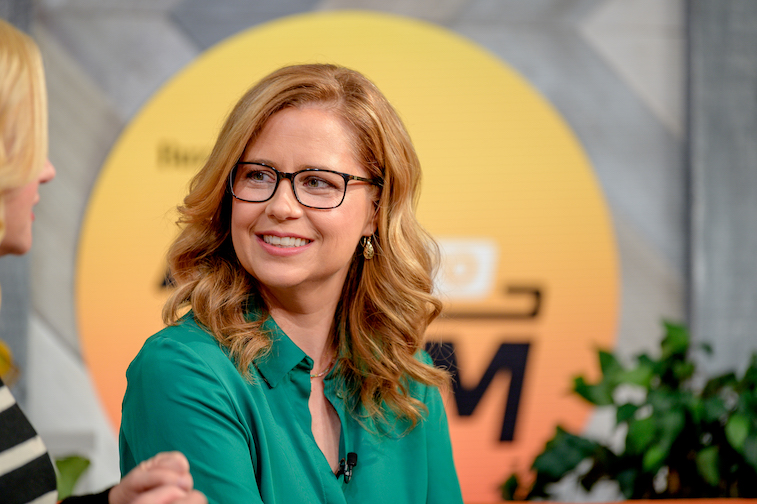 Who was Pam Beesly?
Pam Beesly was generally sweet and nice to all her co-workers. She spent many years ambivalently engaged to Roy and working as the receptionist. By season four, she started learning to be more assertive and to pursue her passions.
She began dating Jim Halpert and taking art classes. Pam and Jim married in season six. Her career evolved as well, and she switched from receptionist to saleswoman to office administrator.
Pam banned from Chili's
While Pam is known for generally being well behaved, even she had her moments of craziness. In the first episode of season two, Michael held the Dundie Awards at a local Chili's.
To endure the evening, Pam had a lot to drink. After winning the "Whitest Sneakers Award," Pam famously said, "I feel God in this Chili's tonight." She then drunkenly kissed Jim in front of everyone. Later she drew even more attention by falling off of a bar stool.
At the end of the episode, the Chili's manager said that Pam had been banned from Chili's for sneaking drinks from other tables.
Pam (and Jenna) allowed at Chili's
In a blurring of worlds, in 2017, Jenna Fischer tweeted a photo of herself in front of a Chili's restaurant with the question "Should I try to go in?" Chili's responded to her joke, tweeting, "we hope you felt God tonight."
Within a day, Chili's lifted the ban on Pam. "'After reviewing the good conduct of Pam, I have decided to lift the now 11-year ban,' said Kelli Valade, President of Chili's. 'Pam is an inspiration to many and we welcome her with open arms.'" People responded with excitement on Twitter, sharing their love of both Chili's and Pam.
In response to Chili's tweet saying, "BREAKING: Chili's lifts permanent ban on Pam (@JennaFischer), welcomes her back to any #Chilis restaurant," Jenna Fischer tweeted "OMG! Second drink!!!"
Jenna at Chuck E. Cheese
Jenna Fischer's connection with national chain restaurants continued in a recent Instagram post, which shows a photo of her at Chuck E. Cheese holding a huge number of tickets, presumably won by her kids. She's captioned it "Parenthood @chuckecheese."
Chuck E. Cheese does of course connect with an episode of The Office. Jim and Michael took Dwight, who had a concussion, to the hospital in season two. When Dwight asked where they're going, Jim said, "We're going to Chuck E. Cheese."
Michael believed him and answered, "Chuck E. Cheese? Oh god, I'm so sick of Chuck E. Cheese."
In response to the Instagram post, people recalled this moment and also mentioned that the tickets looked like Dwight's "Schrute Bucks."
Comparing Pam's drunken night at Chili's and Jenna's visit to Chuck E. Cheese highlights how accurate The Office is at capturing the goofiness of small moments in normal life.
As Pam Beesly Halpert said in the last line of the entire series: "There's a lot of beauty in ordinary things. Isn't that kind of the point?"