People Are Slamming Kim Kardashian For Her Daughter's Outfits: 'Teach Your Child to Match'
Over the last few years, Kim Kardashian has gone from career-focused supermodel to hands-on mother. Though she still has a demanding career, especially with her KKW Beauty venture, she makes as much time for her kids as she can. And Kardashian recently raved about her daughter's fashion sense to all of her Instagram followers. But North West's outfits weren't exactly met with the praise Kardashian might have expected.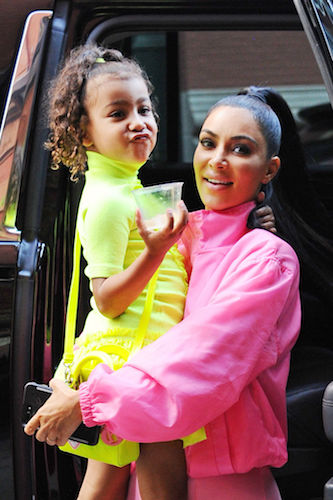 Kardashian's oldest child has made many appearances on her Instagram
The Kardashians have recently become less about showing off themselves and more about showing off their children. Now that five of the six Kardashian-Jenner children have kids of their own, Instagram has become noticeably more flooded with family photos. And Kardashian doesn't shy away from posting photos of her oldest child, North. Kardashian recently took a trip to Japan and made sure to showcase her husband, Kanye West, and her two oldest kids, North and Saint. But Kardashian's latest post featuring her daughter wasn't met with the same excitement that she had when she took the photos.
Kardashian recently referred to North as a 'fashionista' in an Instagram post
Kardashian took to Instagram to share a photo collage of her daughter, North, wearing outfits she had picked out herself. "My Northie girl is the ultimate fashionista!" Kardashian wrote. "She's having fun and I am so happy she's so expressive." Kardashian provided several photos featuring North's outfits choices, which included flowered leggings and fuzzy slide-style shoes. One day, she wore a tie-dye shirt and two different-colored shoes, along with hot pink pants. She seemed to be all about bright colors in every outfit.
Critics slammed the child's outfits: 'Teach your child to match'
Though Kardashian was proud of her daughter and excited to show off her style, critics were quick to shut down her excitement. People took to Instagram to send harsh words to Kardashian about her daughter's style. "No. Just no. Teach your child to match," one user wrote. "Fashionista? Don't think so," another user commented. "You call that fashion?" another comment read. The harsh criticisms were met with people both defending North's look and others agreeing that the child's fashion sense was less than ideal. But ultimately, the photo collage served as a harsh reminder.
The photo serves as a reminder that no one on social media is safe
Though Kardashian was proud of her daughter, the post shows that those on the Internet will go to great lengths to damage someone's self-esteem. Sure, the outfits were a bit out of the ordinary, but Kardashian was mostly trying to show off that her daughter had an immense amount of self-expression and excitement about getting involved in fashion. While some criticized the photos, others loved them. "Beauty begins when you decide to be yourself," one user wrote. "Our precious creative girl!!!!" Kris Jenner commented. Plenty of people defended North's looks and were happy to see someone so young showing so much interest in something. "She is the coolest," makeup artist Mary Phillips wrote.