Pete Davidson and Kate Beckinsale Spotted Holding Hands at SNL Party
Kate Beckinsale and Pete Davidson continue to fuel the dating rumors — they were spotted holding hands at the SNL after-party overnight in New York City and the photos landed on Twitter.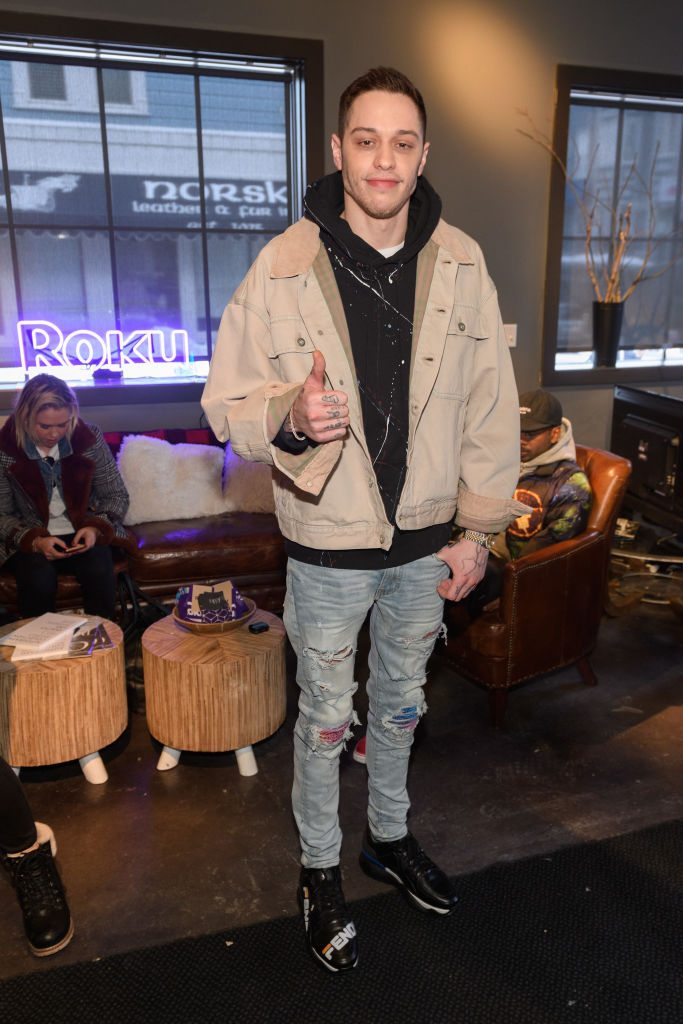 Davidson's unusual shirt has a John Mulaney connection
Beckinsale and Davidson were seen coming and going from the SNL after-party, with the actress wearing all black and the comedian sporting jeans, a black t-shirt, and a colorful puffy jacket. Those wondering whose image graced Davidson's shirt — well, it turns out it's not such a mystery, as his pal John Mulaney wore the same shirt on Saturday Night Live.
The woman on the shirt? That's Mulaney's wife, Anna Mulaney! The SNL host explained on Instagram: "The greatest woman in the world made me a t-shirt for SNL GOODNIGHTS featuring the only good photo I have ever taken. Luckily it's of her. Oh and after he saw it she made one for Pete too."
Beckinsale and Davidson dating rumors started at the Golden Globes
The first rumors of Davidson and Beckinsale dating were sparked when they were seen together after the Golden Globes earlier this year.
A source told Us Weekly at the time: "She was following him around a bit and waiting for him," adding, "People approached her and she didn't want to talk to anyone else… It definitely seemed like Kate was interested in him."
The two were also seen holding hands leaving one of his shows at a club in Los Angeles earlier this month, and again were seen dining out in New York on Thursday evening.
Beckinsale addressed the dating rumors (kind of)
While neither Davidson nor Beckinsale have outright spoken publicly of one another, when a user commented on one of Beckinsale's Instagram photos, noting, "Disappointed in your dating choices," she responded: "Fairly let down by your wonky beard but thought rude to say."
When she posted a photo of her mother on Instagram, someone commented: "Dear heavens, Kate. Not Pete Davidson," to which she replied, "No that's my mother. Easy mistake."
A source told Us Weekly: "Kate is into Pete and he's exactly her type… she likes young guys who make her laugh."
Is Pete Davidson her type?
Beckinsale reportedly is enjoying the time with Davidson, with a source close to the actress saying: "She has fun and doesn't take anything too seriously. She has spent some time with him and thinks he's very funny and charming. It's definitely not anything intense."
The insider added, "But she thinks he's great and she just loves all the laughs she has with him." Beckinsale has dated younger men since divorcing from director/producer Len Wisman in 2016, with a source explaining, "Kate's not looking to get serious with someone. She was really hurt after her marriage with Len ended."
"She wants to have fun with guys and date around. She loves the attention from the younger men she dates," the source noted.
Beckinsale dated 23-year-old comedian and actor Matt Rife for a couple of months last year and also dated 30-year-old British actor and comedian Jack Whitehall in November.