Pete Davidson or Kate Beckinsale: Which Star Has the Higher Net Worth?
Pete Davidson didn't wait very long to move on from Ariana Grande. The Saturday Night Live star recently began dating actress Kate Beckinsale. The two were seen canoodling at a New York Rangers game this past week, and they seem to truly enjoy spending time together. But which of these stars has the higher net worth?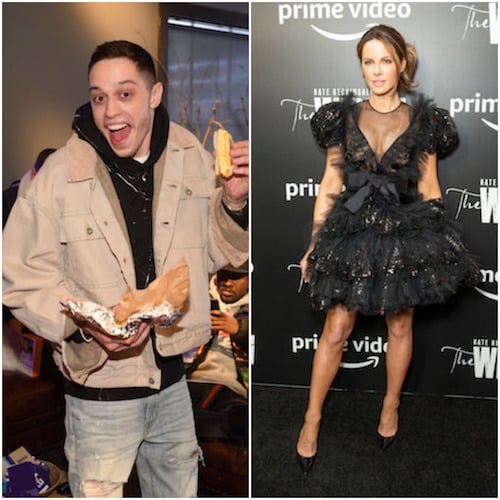 Kate Beckinsale has a reported net worth of around $16 million
Beckinsale is a British actress who was born and raised in London, England. She broke into acting when she was just four years old and has been doing so ever since. She's had starring roles in films such as Pearl Harbor, Serendipity, and Tiptoes. She's been nominated for various awards at the Screen Actors Guild Awards, MTV Movie Awards, and People's Choice Awards, and has won several awards over in the United Kingdom. Beckinsale is known for her role in the Underworld series as well as Van Helsing and Total Recall. Today, she's worth an estimated $16 million.
Pete Davidson is worth an estimated $2 million
Davidson is a comedian who is best known for his recurring role on Saturday Night Live. Davidon's life growing up wasn't easy; he was born and raised in Staten Island, New York, and his father was a New York City firefighter who lost his life attempting to rescue others in the September 11 attacks. Davidson struggled to cope with the loss and has admitted to having suicidal thoughts growing up. But he turned to comedy, which has helped him greatly. Davidson got his first on-screen appearances on MTV and guest starred on the show Guy Code. In 2014, he joined the cast of Saturday Night Live, which was essentially the comedian's big break. Since then, he's become one of SNL's most famous hosts. He's now worth an estimated $2 million.
Davidson recently defended the age gap between him and Beckinsale
Davidson and Beckinsale recently began dating. The two made a public appearance together at a New York Rangers game where they were seen affectionately kissing mid-game. It made headlines, and people immediately began to question the large age gap between the two. (Beckinsale is 20 years older than Davidson.) However, Davidson used his SNL platform to clap back at those throwing shade at the age gap. He rattled off plenty of celebrities, including Kelsey Grammer, Mick Jagger, and Rod Stewart, who also have large age gaps with the women they're dating. Davidson pointed out the double standard with men who date younger women versus women who date younger men.
Davidson was previously engaged to singer Ariana Grande
If you're wondering where you remember the name Pete Davidson, it's because he shot to fame after getting engaged to singer Ariana Grande only weeks after the two began dating. Grande had been through a lot in the past year between the tragedy at her Manchester concert and losing former boyfriend Mac Miller to a drug overdose, and she eventually called off the engagement between the two. Davidson appears to have moved on quickly, though, since things between him and Beckinsale seem to be going well.
Check out The Cheat Sheet on Facebook!