Peter Weber Asks Hannah Brown To Join His Season Of 'The Bachelor'
Bachelor Nation first met Peter Weber on Hannah Brown's season of The Bachelorette. The pilot made it to Fantasy Suites where the couple stayed the night in a windmill that would go down in Bachelorette history.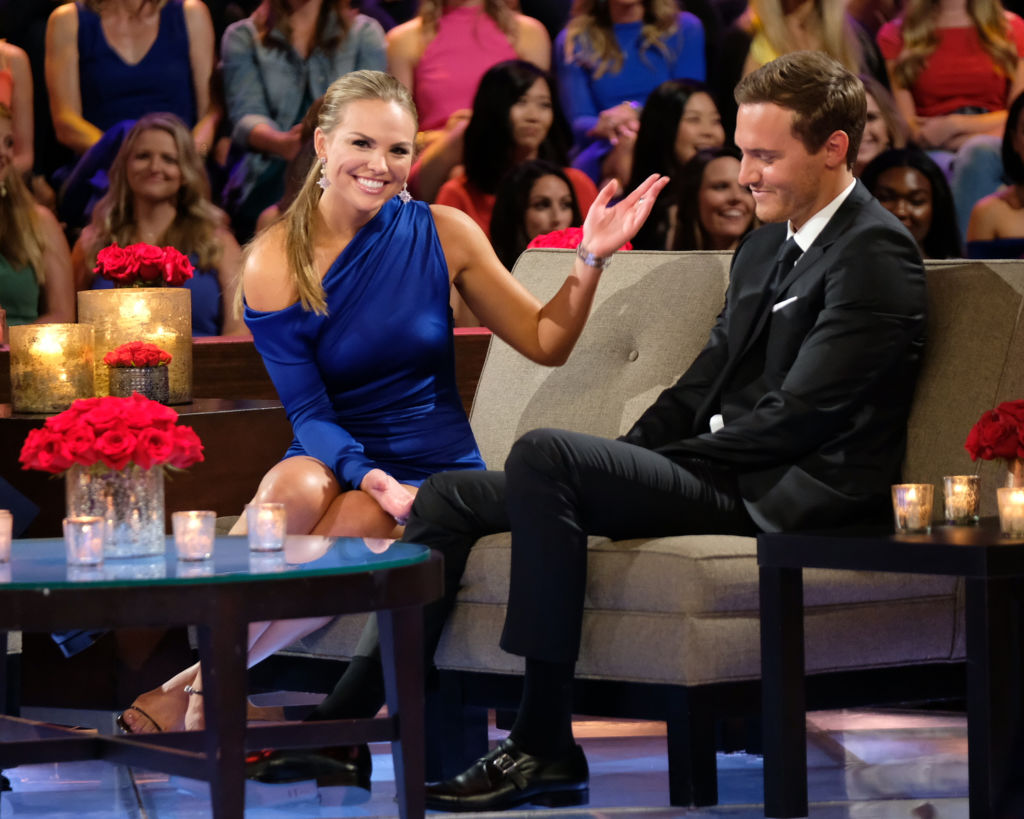 Brown recently spoke to Entertainment Tonight about Weber's Bachelor promo being so… windmill-focused.
"It was a memorable moment, I think, for everyone," Brown told ET last week. "So, they had to put it in the promo."
Brown also recently offered some advice to Weber about being in the lead role (since Brown's advice, the new bachelor's given out his final rose).
"I think it's just taking those moments to really get to know the person without the cameras and to make sure that you're really vulnerable and honest with each other," Brown said. "Just because the show has ended, your life is still starting, and to really get to know what you're in and be able to make confident decisions for yourself moving forward, too."

"Just because the show ends, doesn't mean that's the ending. You really need to understand what your relationship is, and I hope that his is a fairy tale and something he's always been looking for," she added. 
Hannah Brown is in Peter Weber's 'Bachelor' Promo
In the latest promo for Weber's season of The Bachelor, who shows up but former bachelorette Hannah Brown.
"I'm so confused right now. What are you doing here?" Weber asks Brown in the trailer. The two are sitting closely on a couch, cuddling. 
We hear her say: "Making decisions for my heart, because I know there's still something there, and I would do anything for a relationship."
Then, Weber hits the former bachelorette with this proposition: "Hannah Brown, what I'm about to say is extremely crazy. What would you say if I asked you to come be part of the house?"
Brown's been competing on Dancing With The Stars the last several months so the timing doesn't really work out for Brown joining the cast, but it's certainly an interesting proposition.
The rest of Peter Weber's 'Bachelor' trailer
The trailer shows Weber getting cozy with plenty of other women. We hear contestants professing their attraction and love for Weber, all in different beautiful locations. We also hear one woman tell Weber that he can't get physical with other contestants.  
"You can't do these things with other women, or I'm leaving," she says. 
"I don't want this to just feel like it's all about sex, but I have been intimate," Weber replies. "I can't lie to you about that."
There's also plenty of footage of contestants crying. It's safe to say it's going to be a dramatic season.
Read more: Hannah Brown's Been So Busy She 'Still [Hasn't] Completely Dealt With' What Happened To Her On 'The Bachelorette'