Peyton Manning Wants to Come Back to Football But Is Still Too Busy
Peyton Manning is one of the most iconic NFL players of all time. The talented former pro quarterback has earned a place in the Hall of Fame and is known and beloved by generations of fans.
Although Manning retired in the spring of 2016, he has not faded into memory like most other sports stars. In fact, Manning has remained at the forefront of the cultural consciousness and become somewhat of a pop culture icon, lending his talents to a wide variety of projects, from feature films to television commercials.
Still, football fans have long wondered whether or not Manning could ever be tempted back — recently, his father opened up about Manning's future plans, providing some insight into what's next for the iconic athlete.
Peyton Manning's journey into pop culture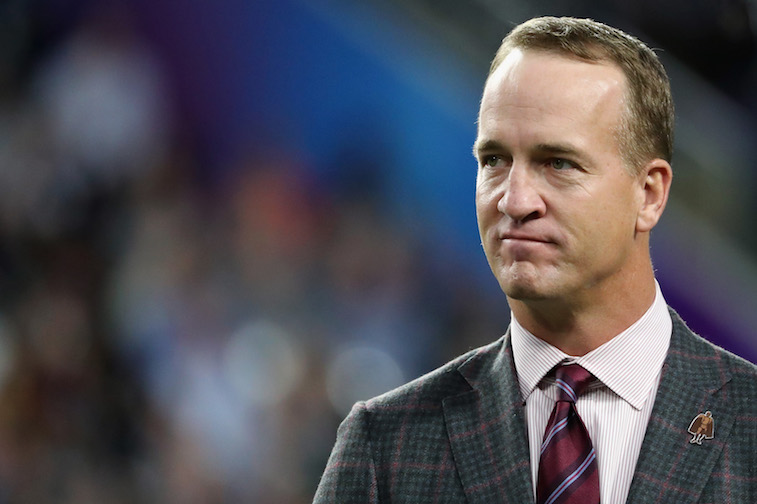 For years, Manning was the face of first the Indianapolis Colts and then the Denver Broncos. As one of the top quarterbacks in the NFL, Manning earned numerous awards and honors and is widely considered to be one of the greatest football players of all time. When he announced his retirement in 2016, fans mourned the loss to the game, but fortunately, Manning has remained a firm fixture in other areas of entertainment.
Even before his retirement, Manning hosted Saturday Night Live, establishing himself as a pop culture presence. He has also lent his voice to an episode of The Simpsons and to the 2017 animated film Ferdinand.
Aside from football, Manning is probably best known for his appearances in television commercials. Manning has appeared in literally dozens of commercials, for companies such as Nationwide Insurance, Papa John's Pizza, DirecTV, MasterCard, and more. The football star has charmed fans with his sense of comic timing and relatable good humor, and Manning's presence in a TV spot almost guarantees success. 
Peyton Manning has been too busy to return to football
Partially due to his second career in commercials, Manning has not yet made a full return to football, though he's hosted a few events over the years, including the ESPY's. Fans have been expecting to see Manning announce a broadcasting gig sometime soon, but he's not yet made such a move. In a recent interview with Archie Manning, Peyton Manning's father, the patriarch claimed that his son would like to get back into football "somewhere along the line — in ownership or front office or something."
Still, Archie Manning said that it likely won't happen anytime soon because Peyton Manning is focusing on a wide variety of other projects, including spending time with his family. Manning has been approached by multiple outlets over the years, but has been turning them down up until this point — and it seems like fans shouldn't expect to see Manning in the broadcaster's booth for at least another year or so. In fact, last year, Manning blamed his involvement with television commercials as the reason he isn't ready to come back to the sport he loves so much.
What's next for Peyton Manning?
Proving that he's still got a viable career in television advertising, Tide laundry detergent recently debuted a series of commercials featuring Peyton Manning. The commercials have been playing during Sunday Night Football and fans are already speculating what major projects Manning could have up his sleeve for the big game in 2020.
In addition to his new series of Tide commercials, Manning has been working on a new series for ESPN that discusses NFL history. Perhaps by late next year, football fans will be getting some exciting news about when Manning could be returning to a permanent broadcasting or commentator role. 
Stay tuned to Showbiz Cheat Sheet for all the latest Peyton Manning news!